Rajiv opens new avenues for young singing stars
By Sanath Weerasuriya
View(s):
The last six months of the year 2021 seem to be the darkest period since Independence for the Sri Lankan music scene.  After months of painful dark days, sad events and loses of lives, Sri Lankan music scene is still struggling to survive the hard hit pandemic era of 2021. Most of the musicians, singers and entertainment related people are fight vigorously to keep their livelihood running. Most from the world of entertainment have turned to the digital side of the business and some have started to create new ventures and avenues. Slowly coming back to 'new normal status', few musicians have returned to the studios to continue, from where they have stopped.
While the whole world was drowned with glumness due to covid-19, Rajiv Sebastian kept on working hard in making a positive vibes during the lockdown period.
After releasing his last creation 'Star Lanka Musical Parade Volume 1' in March this year, Rajiv utilised the lull pandemic lockdown period to work out on more new creations.
Sri Lanka's newest singing sensation, Yohani de Silva's latest song 'Haal Massa' (Viyole Viyole) is a creation of Rajiv Sebastian.
'We all know what an immensely tough year 2021 has been for the music industry as a result of Covid pandemic. We have already passed eight months from 2021 and not done any progressive work. The entertainment industry has been significantly affected. But I find this as blessings in disguise. I used these 'blank days' to write new songs and create new music for young generation of Lankan music. Yohani's new song 'Haal Messa' is a result of that' Rajiv explained.
Popular singer/composer Rajiv is now in the final phase of his new songs done for Krishan Marlon Perera, the ex keyboardist of the band 'Doctor' and Jackie Hettiarachchi of 'Chandani with C & C' fame.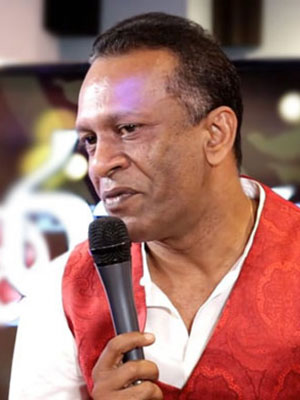 'Mama Kolla Kale Natapu Netum', a catchy new song will be the first ever solo single by Ex Doctor Krishan Perera and 'Mage Aale Pathagena' a romantic song by Jackie Hettiarachchi are  Rajive's latest creations. The lyrics, composing and music arrangements for both songs were done by Rajiv.
Rajiv speaks a universal language to the audience by augmenting simple or deeply meaningful thoughts and ideas into well composed musical magnum opus. Rajiv's pen and the notebooks got busy right round the clock, beating all negativity around the Covid crisis. Rajiv's recent productions feature brand new and young talents to the music industry such as Fallen Andrea, Tashni Perera and Yohani De Silva. Worth mentioning in the same note, not just the young and new talented musicians, or famous pop legends, Rajiv's most recent production was with a classical musician Amarasiri Peiris.
'Mage Konde Nathath' sung by Corrine Almeida, 'Sarama' sung by Sunil, Annesley and Rajiv, 'Parangi Landesi' by Bandula/Ishaq/Luke Henriques, 'Manussa Lokey' by Falan Andrea Jansen, 'Eroppen Naw Nagga' by Desmond De Silva/Dezmond Rodrigo and 'Obata Pemkala Tharamatama' by Amarasiri Peiris are some of the popular hits created by Rajiv for his credit.
'At present most of the original celebrities whom emerged during the golden era of Sri Lankan Showbiz are at the edge of their retirement. On the other hand, the music loving public is not too pleased with the new creations of the youth, hence the new creations short live. As an answer to this timely crisis, I managed to create the bridge between these levels' he said.
Rajiv managed to produce musical artifacts with bridging artistes of all calibres and generations; 70s music to the 2021 via Millennia. The man from the Clan who was responsible in uniting many pop legends musically through his creativity with exciting hits such as 'Ruhune Yapane' by Desmond de Silva/A. E. Manoharan, 'Sarama' by Desmond de Silva/Annesley Malawana/Sunil Perera/ Rajiv Sebastian and the recent hit 'Nana' by Ishaq Baig/Rajiv Sebastian.
His last release 'Star Lanka Musical Parade Volume feature 12 songs sung by various artistes including Amarasiri Peiris, Annesley Malawana, Bandula Wijeweera, Desmond de Silva, Sunil Perera, Luke Henriques, Dezmond Rodrigo, Ishaq Baig, Tashni Perera, Yohani De Silva and Falan Andrea.
The melody, composing and lyrics and music arrangements of these 11 songs were done by Rajiv himself. The project is assisted by Ernest Soyza, Hemapala Perera, Mahinda Bandara, Chandral Fonseka, Jayantha Dissanayake, Nihal Fernando, Dhananjaya Somasiri, Sanath Sarathchandra and Jagath Sena.