A 1000 trees for Ozone Day
View(s):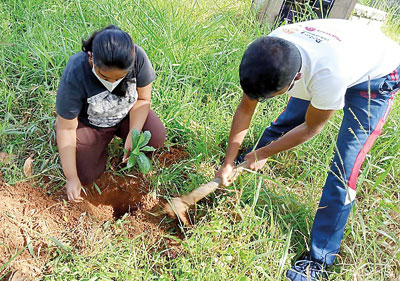 The Vote for Ozone project initiated by the Rotaract Club of Peace City Hatton to commemorate World Ozone Day on September 19, brought together Rotaractors, Rotarians, environmentalists and enthusiasts from across the island on a mission to plant 1000 trees.
The project was conducted by the Rotaract Clubs of Athugalpura, Chulipuram, Chunnakam, Faculty of Engineering – University of Jaffna, Hatton-Kotagala, Jaffna, Jaffna Midtown, Jaffna Peninsula, Kilinochchi Town, Kurunegala, Manipay, Nallur, Nallur Heritage, Peace City Hatton, Uduvil and Wayamba. The tree planting drive was also carried out in Colombo, Kurunegala and Jaffna by the supporting Rotary clubs of the region.
Each club planted around 70-100 trees in their respective locale, and in total 1000 trees were planted across various parts of the country.
To drive further awareness on this topic, a virtual discussion on the ecological impact of ozone depletion, ways to conserve the ozone layer and the importance of tree planting was conducted with Sumathy Rajasingham – Quality Improvement Environment Manager, UNIDO and Founder – GreenLayer Environmental Organisation, Jaffna Mr Sasikumar.