Sri Lanka demoted to Division IV in 2022
By Shamzeer Jaleel
Davis Cup Asia Oceanic Group III -- Amman, Jordan
View(s):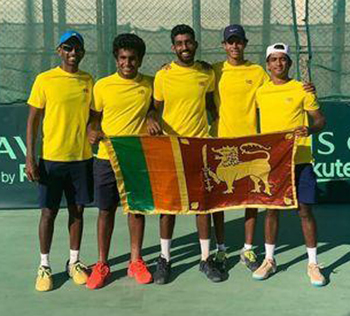 After losing their Davis Cup Asia Pacific Oceanic Group III ties against Syria and Jordan, Sri Lanka have been demoted to play Division IV in 2022 calendar.
Sri Lanka, after losing their first tie to Syria, played cohesively to earn some respect before going down to hosts, Jordan 2/1 in their second game of the Asia Pacific Oceanic Group III contest at the Tennis Federation Courts in Amman, Jordan.
Yasith de Silva, who was in sparkling form, beat Jordan's Seif Adas 6/4 and 7/6 to set the winning tone for Sri Lanka. Chaturya Nilaweera took his game against Mousa Alkotop to a three-setter, despite losing it. Mousa took the first set 6/2 but Nilaweera fought back bravely to take the second set 6/3. In a thrilling third set, Mousa prevailed with a close 7/5 win to seal the game in favour of Jordan, as both countries were tied with one win each.
In the Doubles Hamzeh Aswan and Mousa Alkotop were not given an easy outing by Yasith de Silva and Thehan Wijemanne, but the hosts grabbed the win 7/6 and 6/4 to seal the series 2/1.
Against the Syrians, Sri Lanka displayed fighting quality as Yasith de Silva forced the game in to a third-setter before losing to Yacoub Makzoume 4/6, 6/2 and 7/6 in a game that stretched for nearly three hours. Thehan Wijemanne too showed lot of promise against his Syrian opponent though losing in two sets, in a four-setter game which included a tie.
Teams which were placed first and second from each group battled it out for the promotion while the third placed teams were demoted to Division IV in 2022. Hong Kong, Vietnam, Oceanic, Malaysia, Jordan and Syria are the teams that will vie for the promotion on the final day of the event. Out of the six teams, three will move to the next qualifying round in the 2022 event.
Teams that were demoted are Kuwait, Qatar and Sri Lanka.
"We fought all the way despite challenges. I am not trying to give reasons, but we were locked up in hotel quarantine for seven days and got in to the courts only a day before the tournament. We had limited time to train. We last played nearly 6 months back due to Covid-19. With all those, I can consider this as a brilliant effort from the boys and we will come back stronger next year," said Sri Lankan skipper, Renouk Wijemanne from Jordan.