Sports City – Bane or Boost?
View(s):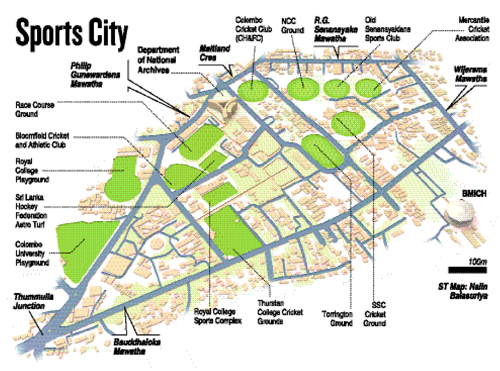 In early September, DM Sports, our sister publication exposed a lesser known bit of quiet legislation approved by the Cabinet on a proposal submitted by the Youth and Sports Minister. The DM article goes on to caste some concerns about the ultimate objectives of this grandiose concept but what this discourse attempts to do is examine the veracity of such a radical shift in sports infrastructure management; in particular the conceptual framework of its bold PPP plan of action.
The idea we are informed has been germinating for some time and it is believed that it is the Sports Secretary himself who articulates the rationale of this enterprise of the government at several fora. The hope is that sports can attract and bring in revenues if well managed, thus drawing on the engines of commerce; not such a bad idea after all, if only it is properly and transparently implemented, is the thought process!
We have the Port City as a model on a somewhat continental scale, but a Sports City can be beautifully created as an enclave that fosters a superlative healthy environment along with the powerhouse of sports accomplishment. With that in mind, this foray dares to conceive an experimental graphic that may hopefully provoke some critical and lateral thinking among enthusiasts, experts and entrepreneurs in the productive business of sports.
One may well remember that it was the HE President himself, who pioneered the beautification of Colombo and transformed the Old Racecourse into the stadium that we see today. From that edifice, stems a discussion as to how all the property that surrounds the precincts of Independence Square, Torrington, Buller's, Maitland and Reid can be encapsulated, to create a sports confluence of magnificent proportion. This enclave is composed of some of the most valuable property in the country and thus unproductive or under-productive use of every perch must be carefully examined and addressed.
The Sports Secretary rightly pointed out that it was the new Minister of Finance who had advised all public sector bureaucrats to take a good hard look at state assets that are maligned by gross indifference or/and pure ignorance! To realise its full value, constant development and maintenance is vital. Relocation of some institutions such as the National Archives may be required, and one can easily identify, alternate and more sensible locations for such monolithic establishments. Others are pure monstrosities, juxtaposed between landmark buildings. Most of this can be arguably transplanted because they are mostly state enterprises. Property owned by private establishments can be drawn to the loop, as some of them such as the Gymkhana Club, have moved in that direction; albeit not an attractive façade as yet! The renovated 80 Club is a classic example of what is possible!
Attorney-At-Law Panduka Keerthinanda, who has for some time now dabbled with sports laws and constitutions has been quick to point out that that business houses are not merely going to invest funds without a fair return. There is more than an iota of good sense in that statement. But what is also true is that such a plan demands a sustainable and lucrative rationale for business to enter the equation as equal partners.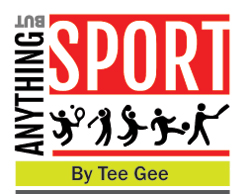 There may arise a selective process which is best realised by well-composed pre-qualification criteria that recognises why the distinction is made to identify compatible partners. So long as the intention is noble, the price will be paid and the expertise will kick in. A Sports City like enclave will obviously attract a certain coterie of enterprise, something our city planners at UDA can adroitly accommodate in its design. There is room for Retail, Hospitality, Medical, Banking and Education all cleverly laid out in a masterplan that is both inviting and inventive!
The challenge will no doubt rest with management. And this is where the MoS miserably fails. Perhaps the National Sports Council (NSC) can deal with the subject under the Sugathadasa Management Structure or establish an altogether new authority (National Sports Infrastructure Authority – NSIA) that will oversee this entire project. Representatives from the various government agencies would no doubt have a role to play, but equally important, is a competent private sector leadership that must play an important role in such a far-sighted project. The NSC has the character to understand and spearhead such an enterprise, which must from the outset be self-sufficient and not be allowed to fall into the rut of relying on government funds. They must be given the authority to manage, but the key where-with-all is something they must generate.
If the ministerial fiat wishes to bring in private sector companies to manage sports complexes such as the Sugathadasa and Premadasa Stadiums, so be it! That can be a separate exercise or it can well be tucked into NSIA and managed under separate divisions. The fear that such a paradigm change will deprive sportsmen and sportswomen of such facilities is a legitimate concern.
That is why a PPP will be a structural challenge but is it not insurmountable! The investor ROI dilemma must be met in each and every proposition and not be left to wishful thinking or frightful administrative changes that are constant government threats businessmen face. These concerns must be negated, so that these are not factored into cost structures and short tern measures. A strict disciplined role by the government authority that provides the latitude for the PPP to operate, could transform and add tremendous value to the exciting prime sites of our sports infrastructure landscape! And give our best athletes an attractive place in the sun.
NEXT WEEK –
Sports Infrastructure
maintenance vital ingredient