Raducanu, Fernandez, Djokovic and Medvedev
Commendable US Open of 2021
View(s):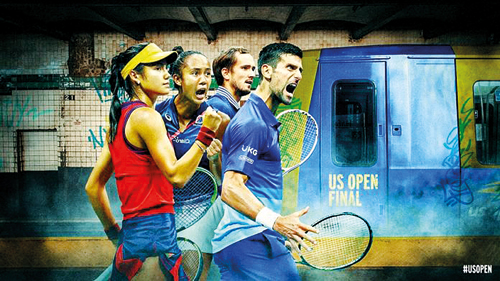 Two weeks ago, Emma Raducanu and Leylah Fernandez were mere teenage entrants into the US Open 21 qualifying rounds. They surprised the tennis world storming their way into women's final. Their performances stunned, surprised and pleased millions of tennis aficionados. The two have created a wave, being the first to reach the finals from the qualifying rounds. In tennis history, this has never happened before in either gender.
Both are of mixed nationality parentage. Emma Raducanu is a British with Romanian-Chinese parentage. She was born in Canada now living in London. Leylah Fernadez is Canadian with Ecuador-Philippine parentage, stationed in Florida USA. Raducanu is just 18 and Fernandez is 19. Their personalities are appealing and their feat is a fairy tale story in tennis.
Unprecedented
The story does not end there, never before a qualifier has won a Grand Slam event in the history of the game. Between them, they took four million dollars home, being the winner and runner-up of the Women's Singles. This too has not happened before. They made their way into the record books with many firsts in the US Open of 2021.
The semi-finals of women saw Greek's Sakkari making history by being the first from her country to play in the semi-finals of a Grand Slam. Sakkari lost to Raducanu in straight sets. Other semi-finalist was Sabalenka of Belarus. She was very close to beat Lehlah Fernandez. Sabalenka, held back little too much and Fernandez did the home run to close match. Raducanu won the title without dropping a set. This too is unprecedented in Grand Slam history.
Different stroke making and tactics
The stroke making of Raducanu and Fernadez are somewhat similar. Distinctly different to traditional stroke making approach. To my memory, it began with Radwaska of Poland and used by Bouchard of Canada. Serena Williams mastered it and exploited it create an impressive record.
The entire string of New-Gen players Osaka, Kenin, Andreescu, Radukanu and Fernandez have it. What is the common factor among all of them? It is the North American continent. Lehlah Fernandez is Canadian and Emma Raducanu started her tennis in Canada. The Spanish-South American rhythm of getting any early position and executing the stroke has been dominating tennis for a while. Nadal is the master of it. [Often described as one, two rhythm] Just that, modern version is done standing on the base line or positioning inside the court. Spaniards stayed behind the court.
Attacks with this new tactical version surprises the opponents. It is attack 'As Early As Possible' [AEAP] approach. With the game getting to be athletic and speed increasing, textbook and coaching manual certification techniques are proving to be obsolete. Emma and Lehlah exhibited blitz reaction, firepower and consistency. It worked!
Medvedev, the man
Deservingly, well known Djokovic was just one match short of joining the exclusive Men's Calendar Grand-Slam club this year. In his illustrious carrier, which is still very much alive, he is the first man who has come this close to it in 52 years. [Rod laver was the last to achieve it in 1969] The final of the US Open 21 was the last hurdle Djokovic had to clear for this. His opponent was Daniil Medvedev of Russia, world's number 2.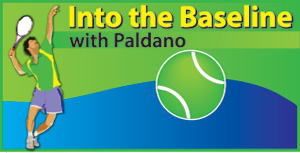 This year Djokovic beat Medvedev in the final of the Australian Open 2021, the first grand slam of the year. Many were expecting Djokovic to win and achieve the Calendar Grand Slam. It did not happen. Medvedev won the US Open 21 final in straight sets.
Few factors went to the advantage of Medvedev. First is, he always played tactically with very low unforced error rate. His game has very little weak areas opponents can exploit. He beat up and coming Auger Ali Assime of Canada easily in the semi-finals, it showed how 'crisp' his game has become on hard courts. He won the event losing just one set. This too is unprecedented.
Djokovic played a very physically taxing match against Zverev in the semi-finals. It went past three and a half hour mark. So energy sapping it was Djokovic carried the fatigue going into the final against Medvedev. [It has happened before. Argentina's Del Potro taxed Federer in the semi-final of London Olympics. Federer was too tired against Murray in the final]
The Russian cluster of players has been evolving for the past 10 years. The game Medvedev plays has very low unforced errors. He is capable of finishing a rally with a winner with every department of his stroke making. These are main reason for him beating Djokovic. This places another player into the Grand Slam winners, Daniil Sergeyevich Medvedev of Russia.
Other notables of
US Open 21
Carlos Alcaraz, hailed as Nadal's successor from Spain, just 18, and reached quarter-finals. The last man to do this was Thomas Koch of Brazil in 1963. Another goodbye note came from Naomi Osaka. Her case will be a study to support mental health of players.
Tsitsipas noted for un-sportsman-like conduct. Two toilet breaks against Andy Murray went past seven minutes each also took injury times. My question is where was the umpire? They control the game. Tsitsipas was, booed out of the court.
US Open 21 did not have linesmen, electronic line keeping was in operation. Cameras fixed to the roof. Estimated 46% accurate and the players are happy with it.
Audience play a role in US Open matches. Some players initiate and encourage audience to intimidate opponents. Players are also getting threatening mails by the hundreds after a loss. Sloane Stephens came out into the open. Players have an issue here.
—George Paldano, Former international player; accredited coach of German Tennis Federation; national coach Brunei and Sri Lanka, coached ATP, WTA and ITF top 200 ranked players, Davis Cup, Federation Cup coach. — geodano2015@gmail.com