Appreciations
View(s):

We will hold you close to our hearts

Suresh Goonesekere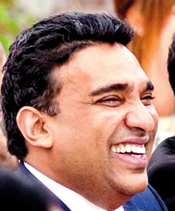 Where do I begin to write about my nephew Suresh?
Suresh came into my life at a tender age, being my nephew Hishan's college buddy and neighbour. They grew up together in Mount Lavinia and attended S. Thomas College. This shy little boy I would see in our home as Hishan's buddy soon won the heart of his sister Yoshini. Friendship blossomed into romance and 'Nanga', as we fondly call her, went on to become Suresh's wife.
It's been 25 years since Suresh joined our family when he married my favourite niece. Niraj and I watched him grow from a shy little boy to a wonderful, confident young man who lit up any room he walked into with his charming personality- always laughing, always happy! He would mischievously refer to me as his 'mad aunt', but lovingly called me 'Punchi'.
A few years after their marriage, Suresh and Yoshi made London their home, but visited Sri Lanka often to see his mum Shanthi and brother Ramesh- he was a very dutiful son and brother, and absolutely adored them.
Suresh lived life to the fullest, just the way he wanted to. He travelled the world, enjoyed the best cuisine, relished the company of his friends and family, and played his favourite game of golf all over the world… but never failed to make sure that he shared the best with his family. He was a very loving husband to Yoshi and a wonderful, inspiring dad to Zidan. To put it in Zidan's own words, "Dad always challenged me to become the best version of myself". Suresh was an extremely proud dad when Zidan received an offer to King's College London and would have been elated to see him attend university next month. I have no doubt that he is watching over Zidan, and will guide him all his life.
Suresh was, as many people would recall, an exceptional cricketer. He followed in the footsteps of his dad Premalal in captaining his alma mater. I still recollect all those years gone by, the laughter we shared during the annual Royal-Thomian encounter, with Niraj being the lone Royalist on my side of the family and Suresh spiritedly championing the Thomians – all great memories that will remain with us forever. Suresh, we will always miss your laughter in our home and hold you close in our hearts till we meet again. You left us far too soon.
I will be failing in my duty if I didn't mention my sister Shirani and brother-in-law Lincoln who loved Suresh like a son and miss him terribly. To Niraj and myself, you were our own.  To your Ammi and Malli, may God give them the strength to carry on without you until you meet again, on that shore!
"The butterfly counts not months but moments, and has time enough"  -         Rabindranath Tagore
Rosita Wickremesinghe
---
An inspirational person who leaves behind a lifetime of happy memories
Dr Don Bandula Wijetunge
It is with deep gratitude for the life of a wonderful and loving brother, Dr Don Bandula Wijetunge,  that I write this appreciation on his seventh death anniversary.
Bandula (Don) was born to the respected family of Don Denes and Prema Wijetunge from Poregedara in Padukka. He had his early education at the village school, and proceeded to Nalanda College in Colombo where he excelled, sailing through the public examinations and gaining entry into the Faculty of Medicine, University of Ceylon, Peradeniya.  He graduated in 1967.
His first appointment as an Intern House Officer was with the eminent Obstetrician Dr Nanayakkara, at the Castle Street Hospital, Colombo and he subsequently interned with the two eminent Neurosurgeons Dr Darrel Wyman and Dr Cabraal at the Neurosurgical Unit in Colombo General Hospital. His first SHO appointment was at the Government Hospital in Panadura under Consultant Surgeon Dr Christopher Canagaretna.  From the outset, he had a dedicated and conscientious approach to his work and he was soon well respected.
Bandula migrated to England in 1972 to gain advanced surgical qualifications and training and obtained his FRCS, FFAEM and FACEP.
In 1979 he went to Saudi Arabia for a short period as Consultant Surgeon to head the Surgical Department in one of the first hospitals to be built there.  He returned to England in 1985 to join St George's Teaching Hospital, London as Consultant in Emergency Medicine taking an active role in research, postgraduate training and in modernising the department. He took great pride in his career as a surgeon and as a senior lecturer in emergency medicine.
After retiring in 2002 he pursued his interests in travelling, following Sri Lankan cricket and supporting Arsenal Football Club.
His empathy for the less fortunate was endless. He generously supported many students, especially medical students, with practical help in their higher education. He was a genuine and dependable friend,   and never let family or friends down. The most endearing quality about him was his genuine concern for the welfare of the people who worked for him. He was simple, sincere, and unassuming with a noble magnanimous heart. He cherished his schooldays and the values he was taught at home and in school; to stay humble; cultivate good qualities and of hard work. He never sought material assets and prominence. What was important was work and the sense of fulfilment he gained.
We are sad beyond words to have lost him. My dearest brother has left an irreplaceable void in our family and those close tohim. He was an inspirational person and has left us with a lifetime of happy memories to cherish.
He was the proud grandfather of Olivia, and Ella – the youngest granddaughter who he met just a few days before his death.  He was sadly predeceased by his daughter Sonalee, 22 years ago, who was also a doctor. He leaves his loving wife Indra and his son Aruna, (a Consultant Psychiatrist, U.K.), daughter-in-law Sally and grand- daughters Olivia and Ella.
May he attain the Supreme Bliss of Nirvana.
Thilaka Perera
---
My Ammi, my pillar of strength and voice of reason
 Shirani Wijayatilake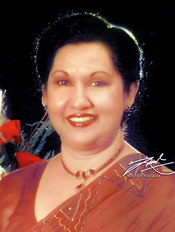 My mother and I couldn't be more different. We were absolute opposites. She was always so elegant and well dressed with matching accessories whereas I would opt for jeans and t'shirt. She absolutely hated it! However, despite our many differences, she was my pillar of strength!
She always encouraged me to be independent. If it wasn't for her, I would not have had the courage to face the difficulties and challenges life had in store for me. She was my voice of reason. Although that voice would sometimes be a constant nag, at the end of the day, she was right. Today I would do anything to hear that nagging just one last time.
Shirani Wijayatilake was the eldest daughter of late K. P. C. and Wimala Abeyratne of Hasthigiri Hotel and Bakery. She was a good wife to my father, Kosala Wijayatilake (President's Counsel), taking good care of him during his many illnesses throughout the years. She had a weakness for fast food and carbonated drinks. McDonalds was her favourite especially the ice cream sundaes!
Her favourite pastime was spending time with her three sisters. The four of them were inseparable. Every Saturday they would plan and go out for dinner with their spouses and sometimes the kids were included. Their conversations were always so entertaining. Even if they met daily, they always had something to talk about. It was an incredible bond. And because of their bond, all of us cousins too have a close relationship and the concept of extended family became important to us. It is their bond and their sense of responsibility to each other that instilled lifelong family values in us. Even for my brother and myself, she often emphasized the importance of having a good sibling relationship.
This week would be three months since my mother lost her battle with COVID. Never did any of us imagine that she would succumb to this dreadful virus especially since she had taken her first dose of the vaccine in late February. She was hospitalized for six weeks. The first six days we thought that like most others, once her 14 days of quarantine ended, she would be going home. But it was not to be. As I sat with her in hospital, I watched her going from bad to worse. Some days were good, giving us a little bit of hope. But with each day I watched her struggling to breathe and needing constant oxygen. Her oxygen saturation levels never became stable. Even if it did it was only for a day or two.
It was heartbreaking and the feeling of helplessness is just unimaginable. The last couple of days were the hardest. By then she was on the ventilator for almost two weeks. I use to watch her monitors like a hawk as I knew the days were numbered. On that fateful day as I sat by her bedside watching her journey in this life come to an end, the sense of loss I felt is just unexplainable. I am ever so grateful that I was able to be there with her, trying to encourage her and most of all trying to be strong for the both of us. Those six weeks will always be etched in my mind and my heart forever. Losing one parent was hard, but losing both within a short span of three years, there are no words to describe the emotions.
Even after three months, it is still hard to believe what happened. In the mornings I expect to hear the sound of her room door opening, or her footsteps coming down the stairs, or expect to see her sitting on the verandah chair when I come home from work.
Not a day goes by that I don't think of her. Every little thing is a reminder of her and our life together. Being in this house without her is extremely hard and painful. Nothing is ever going to be the same again. We all miss you so very much Ammi…May you attain the supreme bliss of Nirvana!
Your life was a blessing, Your memory a treasure, You are loved beyond words and missed beyond measure.  – Unknown
Sushani
---
Dynamic and creative she lived a happy and contented life
Chloe de Soysa
It was in the early 1970s that my husband Sriyantha was appointed Managing Director of the newly resurrected Walkers Tours, with the recently retired Chairman of the Ceylon Tourist Board, A. C. H. (Cecil) de Soysa as its Chairman. ACH was Chloe's husband and this resulted in my getting to know Chloe extremely well.
Having seen the potential of tourism in the country, the Board decided to develop a project at Habarana – then an unknown little village. They built the Habarana Village Hotel, which was the first hotel in the country to have single cottages instead of separate rooms set in one building. Subsequently Sriyantha left Walkers Tours and created Gemini Tours who were responsible for the construction of Sigiriya Village Hotel.  Cecil also joined him in this project.  In both these ventures Chloe played an important role in getting the team of architects, interior decorators and landscape designers together to create a novel hotel design. Chloe together with Laki Senanayake worked on the interior design and Bevis Bawa was the landscape designer for both hotels.
It was Chloe with her incredible decorative skills, who attended to all the décor of the cottages. She gave each cottage a name and decorated it accordingly with matching colours and exquisite artistic details. She also designed relaxing low chairs woven with a special kind of jute and also got mats and carpets made from this special material which were used in the service areas and also in some of the rooms.
I will never forget the great fun Chloe and I shared watching Bevis Bawa doing the garden at Sigiriya Village.  Once he got workmen to dig a gigantic pit where he transferred a large tree which he had got root-balled from nearby.  The tree was carried by a huge truck with several men holding the large branches which fell over the sides and then placed with great effort into the pit.  When it was ready to be filled up with the mountain of soil which had been removed when the pit was dug, Bevis told them to hold on. He walked from side to side for a long time before deciding the tree should be planted a little further to the right so that the view of the other side would be better!  Chloe and I were seated on a rock nearby watching all this! Two days later after the workers made the adjustments – the tree was put in and stood firm and secure!
Our friendship grew over the years. We visited Chloe and Cecil often and every visit continued to astound me in the calming ambience maintained in their home and surroundings.
Their house at Boyd Place was a beautiful large 'walauwa' style house set in a magical garden reached through a pathway surrounded by trees and colourful plants. There was a little pond around which were placed little animal shaped artifacts.  Admiring these we were startled when one stood up   – it was a real cat.  The brass vessel by the doorway was filled with jasmines floating in the water. The house had original paintings on the walls and various handcrafted artifacts. Chloe, a lover of nature, filled the garden with large trees, flowering plants, vegetables, herbs and fruits. There were also bird baths and the sight of the birds having their baths, butterflies fluttering around,  the clicking sounds of cicadas,  and fireflies lighting up the surrounding bushes is fresh in my mind.
It was Chloe who introduced me to iced soups, beetroot and also Vichyssoise – a thick pureed soup that could be taken hot or cold- but we always had it cold! She also had a fascinating bi-coloured soup -  made with bell peppers.
Chloe used her artistic talents to be an entrepreneur in batik and opened her own shop Mariposa (the Spanish word for butterfly) which had the most beautiful batik garments and other handcrafted items.
She was dedicated to charity work and was the founder chairperson of the Women's Chamber of Industry and Commerce. She was also the Chairperson of the Board of the Symphony Orchestra of Sri Lanka for many years.
After Cecil died, Chloe stayed busy with all her activities including the management of her properties. Even in her latter years – in her 90s -she never failed to go down to her office for a few hours every day. She was determined to 'go on with life'.
I would visit her often to have a chat about the good old days, while having a cup of tea and short eats, of course! She was a great inspiration to all of us to 'go on with our lives'.  Sriyantha and I will really miss having Chloe with us but are grateful that she lived a happy and contented life. May her soul rest in peace.
Anthea Senaratne
---
Memories of my best friend
 Shanthakumara Baminiwatte
Shanthakumara Baminiwatte also known as Bamini or Bams who passed away on July 7, was my best friend.  We chummed up at Kingswood College Kandy, becoming classmates until leaving college in the late '60s. Bams was a boarder in Kingswood's Randle Hostel while I was a day-scholar.
Bamini hardly got punished in school because he was smart enough not to get caught. He was a prefect in the mid '60s and on leaving school was offered a scholarship to East Germany – then GDR – to specialize in Forestry.
In his first letter from the GDR to me he wrote: "This is an orderly, friendly, self-sufficient country…but, not as sweet as our little Kandy."  Despite all odds, the best time of his life was the decade or so he was abroad, as he met interesting people, globe-trotted, developed quiet manners and became fluent in German.
On his return, the Forest Department offered him employment and he worked with dedication until his retirement as an Assistant Conservator of Forests. He was called in for many post-retirement contracts as he was about the only German speaking forester in the country.
Bamini was happily married to archivist Dr. Saroja Wettasinghe. Saroja is the former Directress of the Department of National Archives.
Bamini's parents were respectable school heads from Girihagama, Arambekade. His father died early but his mother lived to be a nonagenarian, whom Bamini nursed lovingly till the end. His younger sister is Dr Damayanthi Baminiwatte, an eye-surgeon in Kandy.
He loved his daughter Narmada and son Ranga very much.
My best friend, you led an edifying life
With neighbours, siblings, children and wife
You preceded me to the after-life
Glad if I could meet you in my second life!
Bandula Jayaratne
---
A bouquet of red roses for you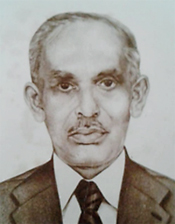 A.  S. Goonawardane
Holding back the tears and
The sorrow in our hearts,
Retaining all the golden advice and memories
Let us garland you with
A bouquet of red roses,
Wishing to be our precious Dad again in this Sansara!
May you attain Nibbana!
Loving daughter,
Indra Gunawardane
---