Herbal drink to build immunity, not coronavirus medicine
View(s):

A sachet of herbal concoctions, containing ginger and coriander among other things, is being distributed to households to help boost immunity, amid the coronavirus disease that continues to sicken thousands and kill hundreds.

The Department of Ayurveda cautions that the herbal preparation is not a cure for the coronavirus disease.

No specific clinical studies have been done.

"Suwa Dharani" is being given to families and each sachet is for five days. The sachet has five herbal ingredients that have to be mixed in water to drink.

Commissioner Dr. Dhammika Abeygunawardena said the department had approved and recommended certain medicines to boost immunity and these preparations could be obtained from regional Ayurvedic officers.

Fourteen such medicines including "Suwa Dharani'' are said to be effective and have been approved.

"However, our intention is to treat the patient, not the [coronavirus] disease,'' he said.

"Still we are processing more medicines. Meanwhile, we are dealing with post-Covid management.''

Treatment at Ayurvedic Hospitals combines both Ayurvedic and Western practices.

Most of the recovered coronavirus patients continue to report a range of signs and symptoms including cough, and fatigue, shortness of breath, chest pain, headache, muscle pains and weakness, all of which may relapse.

Rajagiriya, Navinna and Pallekele and 15 other Ayurvedic hospitals have been set aside for the treatment of coronavirus disease patients.

Dr Abeygunawardena said 1,305 patients can be accommodated in these hospitals and the number of beds is to be increased by 2,500.

"We admit patients to our hospitals under the supervision of the Medical Health Officers under the Covid-19 protocol. The recovery rate at the Covid-19 centre set up at the institute has been more than 99 percent."

Dr. Vikum Chandrarathne, Community physician of the Department of Ayurveda in the Western Province, said medicine was recommended based on symptoms. Medicines are delivered to those in home quarantine.

He said the preparations could be obtained from the regional Ayurvedic officers for free. "The contact numbers are available on our official website."

Dr. Chandrarathne said the intention was to "reduce complications as much as possible and limit the number of patients being referred to ICU care, as we know hospitals have exceeded their bed capacity."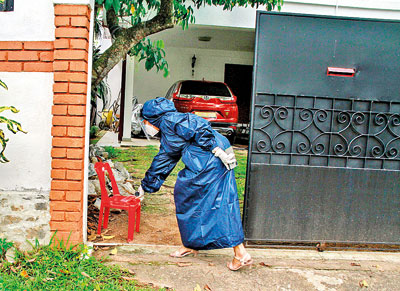 "Although we have not conducted specific clinical research into COVID-19, our intention is to prepare our bodies against infection." A follow up is done after the 14-day quarantine. "Since the first wave we have been giving these immunity boosters targeting the frontline workers," Dr Chandrarathne, said.
"Herbal medicines also help to treat chronic diseases," he said, suggesting taking herbals in parallel with a healthy lifestyle.
Maintaining personal hygiene as well as healthy habits helps. The herbal drink is made in Meerigama and Meegoda, he added.
Dr. Kasun Kirulupana, the community physician in Kalutara District said: "Unlike the early stage of the pandemic, now we are treating patients presenting with symptoms."
"So far, in Western Medicine, no cure has been found, which is specific to COVID-19. However, our intention is to improve immunity."
He said sachets of "Suwa Dharani'' were being distributed among affected families at 14 Divisional Secretariat and Grama Niladhari Divisions.
Two Ayurvedic Hospitals are to be opened within this month to treat COVID-19 patients in Nagoda and Neboda.
The Western Province Department of Ayurveda has handed over herbal packets to the Governor of the Western Province, Marshal of the Sri Lanka Air Force Roshan Goonetileke at this office.