The iPhone 13: What you need to know
By Mahesh De Andrado
View(s):
A few days ago, Apple unveiled their latest line-up of the new iPhone, the iPhone 13. The full line-up consists of the iPhone 13 Mini, iPhone 13, iPhone 13 Pro and iPhone 13 Pro Max. Both the iPhone 13 Mini and iPhone 13 will come in five new colours: pink, blue, midnight, starlight and Product Red. The iPhone 13 Pro and 13 Pro Max will come in graphite, gold, silver, and sierra blue.
For the iPhone 13 Pro and Pro Max, Apple announced updated storage options with upto 1TB of NVMe storage for both devices. The Pro and Pro Max also pack a new Super Retina XDR display (6.1-inch and 6.7-inch, respectively), with ProMotion that scale dynamically from 10Hz to 120Hz. This basically means scrolling through photos, web pages or social media should be a lot smoother, but will also cut back when not needed, resulting in better battery life. We've seen this on Android devices for a while and Apple too has jumped onboard.
The notch on the new iPhones is 20% smaller than previous iPhones but the camera and all necessary sensors are still in place, giving you the same security and functionality, with more screen space. The iPhone 13 Mini and iPhone 13 pack dual 12MP Wide and Ultrawide cameras are in a new diagonal shape, whilst the Pro and Pro Max come with Pro grade cameras with a 12MP Telephoto, Wide and Ultra Wide Lens with a 3x optical zoom.
Powering all this is Apple's new A15 Bionic chip packing a 6-core CPU in a 2-4 ratio with two high performance cores and four high efficiency cores coupled with a 5-core GPU. There's also a new 16-core Neural Engine that according to Apple, is capable of upto 15.8 trillion operations per second. This means a significant boost to machine learning in tasks such as live captions via the Camera in iOS 15. In terms of battery life, according to Apple, the iPhone 13 Mini promises an extra 1.5 hours compared to its predecessor and the iPhone 13 gets a bump of 2.5 hours, compared to its last-gen counterpart. These figures also stay the same for the iPhone 13 Pro and Pro Max as well.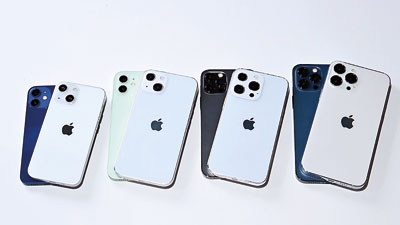 In terms of pricing, the new iPhones are more or less taking over the existing price spots as their predecessors. As such, the iPhone 13 Mini starts off at $699, the iPhone 13 would be $799 followed by $999 and $1099 for the Pro and the Pro Max models. A fully maxed out iPhone 13 Pro Max with 1TB of storage will set you back around $1599.
That's not all Apple released. The company also published a new support document warning iPhone users that the cameras on their iPhones are susceptible to damage caused by certain vibrational frequencies generated from the likes of high-powered motorcycle engines. According to the warning, the lenses in an iPhone camera that have optical image stabilization or closed-loop autofocus are prone to damage due to their use of gyroscopes coupled with magnetic sensors. These sensors are what allow the iPhone to compensate for sudden movement and vibration when shooting photos or video, thus allowing images and videos to be blur free.
Apple states that "the OIS and closed-loop AF systems in iPhone are designed for durability. However, as is the case with many consumer electronics that include systems like OIS, long-term direct exposure to high-amplitude vibrations within certain frequency ranges may degrade the performance of these systems and lead to reduced image quality for photos and videos. It is recommended to avoid exposing your iPhone to extended high-amplitude vibrations."
So how can you prevent your new iPhone 13 from getting damaged? Well for starters, Apple recommends not attaching the device directly to the chassis or handlebar of high powered motorcycles. The company also recommends using a vibration dampening mount if your vehicle is lower powered like a moped or a scooter.
Speaking of frequencies, all iPhone 13 models are 5G compatible making them future proof in the event that wide scale 5G adoption becomes a thing. Dialog has initiated a test phase for 5G for those who want to get a taste of what it's like. The trial network is now live and there are several areas that are covered within the trial. Head on over to https://social.dialog.lk/5g/) and register. If your device is 5G compatible and on the list, then you're good to go. Other devices are being added as well, so you might have to give it some time to see your device.
The release date for the iPhone 13, 13 Mini, Pro and Pro Max is set for  September 24. Pre-orders for the devices will be available from Friday, September 17.