First ever CinemaWorld Country Showcase focuses in Sri Lanka
By Susitha Fernando
Features Sanjeewa Pushpakumara's 'Burning Birds' and three shorts
View(s):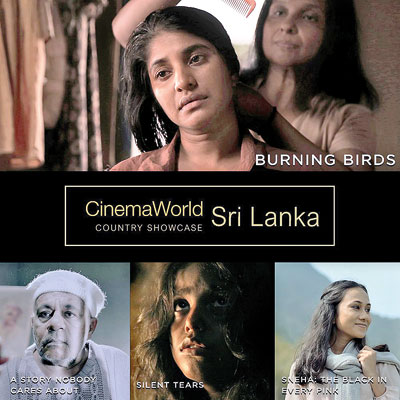 While Covid-19 pandemic has completely shut down cinema in public spaces like theatres, some of Sri Lankan directions have been in limelight in online and streaming platforms.
CinemaWorld, the premier movie channel for box-office hits, award-winning and critically acclaimed international movies, will focus on Sri Lanka in its first Country Showcase.
Incorporated and headquartered in Singapore, CinemaWorld is a multimedia entertainment company founded by ex-HBO senior executives and it is the first and only pan-Asian movie service dedicated to the best of international films.
A new endeavour – CinemaWorld Country Showcase will spotlight on quality storytelling and talent from specific origin countries. Through a curated mix of feature-length and short films, the Showcase offers international audiences a rare but eye-opening glimpse into the film culture of countries that often slip off the radar within the world cinema circuit.
Sri Lanka is the country at the helm of this Country Showcase, as it is a country with rich and quirky stories to tell. In addition to being one of CinemaWorld's most enthusiastic supporters, Sri Lanka contains hidden gems of talent that CinemaWorld wants to share with its international audiences. This showcase is in part, a way to return the appreciation to its Sri Lankan audiences as well.
"We believe CinemaWorld satisfies an increasingly growing segment of the market which appreciates and desires quality international movies as well as precious gems beyond the usual Hollywood fare that are not widely available in local cinemas," states CinemaWorld co-founder and co-CEO, Ms. Suarina Chua. "We are honored to be able to spotlight Sri Lankan stories to our film audience in Singapore, Malaysia, Indonesia, Philippines, Taiwan, Vietnam and many more territories."
The Sri Lankan Showcase will open on the 19th of September, Sunday at 6.10pm SLST with the premiere of "Silent Tears", an award-winning Tamil short film by director Ilango Ram. In 2015, it won Best Foreign Language Short Film at the International Filmmaker Festival of World Cinema in London.
Following that, at 6.30pm SLST Sanjeewa Pushpakumara's second feature film "Burning Birds" will premiere.
"Burning Birds" will be the first Sri Lankan feature film to premiere on the CinemaWorld channel. It has travelled to numerous film festivals across the world, including the 35th Munich International Film Festival and has won the Special Jury Prize at the Tokyo FILMeX in 2016.
The Showcase continues the next day, 20th September, with the premiere of Thisara Mangala Bandara's short film "A Story Nobody Cares About" at 9pm SLST. Director Thisara won the Special Jury Award: Bronze for the film at the 1st South Asian Short Film Festival in 2018, and the film also won Cinema Of Tomorrow, Best Short Film prize at the 6thDerana Film Awards in 2018.
After that, Mahela Hettiarachchi's thriller short, "Sneha: The Black In Every Pink", the first Sri Lankan work to feature on CinemaWorld (in July 2021) is an emotionally powerful portrait of the choices and consequences that comes with loving and losing.
Finally, the encore play of "Silent Tears" closes the Showcase at 9.20pm SLST.
CinemaWorld, and the Sri Lankan Showcase, is available for viewing in Sri Lanka on both Dialogand SLTMOBITEL – PEOTV.