The irreplaceable loss of Sri Lanka cricket
View(s):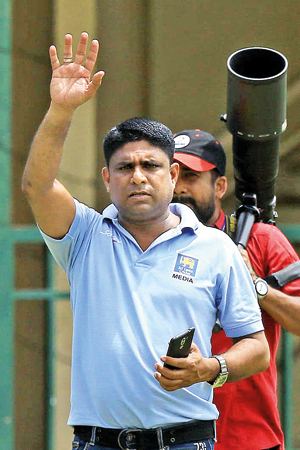 Last Tuesday, September 7, was probably the day Sri Lankan cricket followers breathed gleefully after many moons. There were two reasons behind that — a 2-1 a series win against the visiting South Africans in the One Day Internationals, and leapfrogging from rather bottom to the fifth position of the ICC Men's Cricket World Cup Super League 2020-22.
Local cricket followers may look forward that Sri Lanka would emulate the same fashion as the three-match T20 International got underway on Friday, with the momentum gained. But to many behind the curtain who work their sweat and blood, especially the correspondents, journalists, and columnists, their zeal to report has been somewhat eclipsed by a most distressing, yet tearful news of the demise of one individual, on whom they most relied inside the media or press boxes of international venues here.
He is none other than Mr. Chanaka Silva, a dutiful servant of Sri Lanka Cricket (SLC), who justified his position as Media Assistant for slightly over two decades and the first to take up this position after operations at SLC became more professional, than it used to be prior to the millennium.
'Chana' as he is fondly addressed by the pressmen both here and from all ICC full member nations, became an integral cog in SLC's Media Unit, since joining the establishment in 2000. One of his important tasks was to make sure all accredited journalists who were doing their profession during an international game in Sri Lanka, are well looked after and received all that's needed to fulfill their task. From his first assignment, until he was taken away from duties after 18 years, and stationed at Surrey Cricket ground in Maggona as Venue Coordinator, Chana never failed to impress in his duties. Veteran and senior journalists, be it local or foreign, knew that if Chana was around, all is being taken care of and their jobs are made easier. At the same time Chana was vigilant, to identify press box 'intruders' and use his professional experience to handle any such situation, without anyone being misunderstood, especially his employer.
Such was his dedication to the duties assigned as Media Assistant. As for newcomers or rookie journalists, Chana would make sure they are inside the press box to perform duties, not otherwise. He was stern on such characters, who would later make sure they strictly follow protocols or guidelines laid by SLC to all pressmen, and justify those, mainly the ones who have been devotedly carrying on their duties for years in front of Chana eyes.
Chana respected all journalists and in return, he gained not only respect but love and friendship. Over the years Chana could be ideally named the only employee from SLC to earn friends, in numbers. Yet he was loyal to SLC and its different administrations that came under from time to time. He was a straightforward character, who knew his limits and lines. At times certain individuals inside SLC suspected that Chana was a 'whistleblower', a totally baseless rumour he smilingly ignored and a fact all local and international journalists will simply laugh off to.
Providing information beyond what he has control of and related to, was where Chana's true professionalism and honesty would come to play. He would simply direct those journalists to his immediate boss or someone superior by saying 'I serve SLC and cricket, not individuals'. But his bond with the pressmen came under the heavy radar of administrators, as time went by. Eventually, that virtually became the reason for his transfer to Surrey Cricket ground, a move he took with a heavy heart.
During his last years at the SLC Media Unit, Chana had developed to become a versatile character professionally. He would stream press conferences and interviews on behalf of SLC, live via social media platforms and even became the in-house videographer. At the same pace he earned friends over the years, Chana knew what it would take to make his job easier and be intact with the new times and trends.
It was during that phase that Chana was sent to Maggona, a location close to his home in Katukurunda. He would make up his mind and leave Maitland Place after almost 19 years. Yet as one say that 'natural justice always prevails', the press box has not been the same with the outbreak of COVID-19. Though inbound tours have taken place since late 2019, strict limitations are in place, prompting a handful of journalists to apply for the usual accreditations, followed by health guidelines. More importantly, the usual Chana was missing from the press box.
Over the past year or so his media friends have been in constant touch with Chana but it was evident that the usual charisma in him was amiss. With a deteriorating monthly earning, he was more worried about the education of his two children. Though he would not show off, it was clear that Chana was hurt inside as most people and colleagues, who used to be around him, had conveniently forgotten that he existed. Yet there were a few pressmen who checked on his wellbeing, even on the day the news broke that Chana has gone forever.
Chana was a silent servant of SLC and cricket, though many fail to identify the fact. Such was his love for the establishment he was employed at and the game every Sri Lankan love and adore.
Chana was 40 at the time of his untimely death that is believed to have been caused by a cardio arrest. He leaves his wife and two children, a daughter and a son. But it's a fact that he leaves a family bigger than he could ever imagine, the journalists and close colleagues. Chana's values and characteristics could be easily compared to the legendary Media Manager, late Ray Illangakoon, who would address the journalists with his magical word 'lokka' or 'chief' with great respect and the one-and-only Rukmal Perera, the Head of Media of Football Federation of Sri Lanka, who had immense respect among journalists.
Chana was more than a good friend to many, a legend in the making for his professional conduct, and moreover a great loss to cricket. Gone soon, but not forgotten.
May the turf, or rather the pitch, lie softly on Chana.