Appreciations
View(s):

He died the way he lived; ministering to the ones who needed him most

Dr Tiraj Mendis

Today, we buried a much loved cousin and humanitarian. A paediatrician attached to Diyatalawa Hospital, he had worked in the Uva province for many years and was actively involved in the health and wellbeing of the many disadvantaged children who flocked to him from far-flung regions.

And he died, one would think, in the way he wanted; in the hospital that he visited every day, including weekends, ministering to the ones who needed him most. All the efforts of his fellow colleagues and allied staff, of which there were many, were futile in the end.

And, as with thousands of others in similar plight in these dreadful times, we watched from many corners of the world the final rites of an exceptional human being; unable to be present, tearful and frustrated, that no one not even his beloved wife Nuala and three sons Geethika, Nushane and Thasun could be near him to hold his hand, to let him know how much they loved him, to hear the sorrow and weeping of parents and the little ones he had cared for and nursed through so many years. And the ones to come.

I first met him when he was a little boy growing up in their modest home in Lunawa; an exceptionally talented pianist from an early age, his little feet too short to reach the pedals but nevertheless, pounding away at that keyboard. Marriage to one of his first cousins enabled me to keep in touch with his growing up and educational successes dotted with scholarships, both in Sri Lanka and overseas. He had a wide and varied education in the U.S and Britain that brought to light his intelligence and commitment, an unwavering drive to serve his Motherland, to repay the debt he owed to the land that nurtured and educated him. No lucrative offers of employment from well-known medical institutions in many western countries tempted him. He had only one home, Sri Lanka.

A few years ago, I spent a couple of days at his and Nuala's beautiful home in Bandarawela. He was, as usual, extremely busy with his work but made time to talk about family and our lives and work in Australia. He was never busy to visit or enquire into the health and well-being of his wide family circle during his visits to Moratuwa. We met him again, very briefly, when he attended his niece's wedding in Melbourne, but rushed back as he had been granted only a week's leave by his department.

So he went, as so many good people have under the circumstances we all live in these days, without the honour and acclaim they so richly deserve, working selflessly to serve those in need with no thought of the sacrifices they make, the risks and dangers they take, to make all our lives and our world better.

And we, who can only watch helplessly from the sidelines, can only be consoled and comforted by the way such people have enriched our lives.

Rest in peace, dear Tiraj, what an honour and privilege it was to have known you.

Elmo Perera
---
A lifelong friend and great teacher to thousands
 Dr Cyril Paranavithana
It was with profound sorrow that we came to know of the departure of our friend Parane just two days prior to his 75th birthday (July 28). The intended warm birthday greetings were hurriedly turned into condolences.
Cyril Paranavithana entered the Peradeniya University in 1964 among us, all strangers coming from all corners of the country. Paranavithana soon befriended us with his easygoing, humble and charming manners. For us, he was always 'Parane'.
Parane hailed from Unawatuna from a well respected family with links to the famous archaeologist, Prof. Senarath Paranavithana. He always recounted the great support he received from his mother and the sister after his father passed away at an early age.  He was groomed by Hikkaduwa Central College having proceeded there on a Fifth Standard government scholarship.
At Peradeniya, he offered the rare combination of Mathematics with arts subjects in his first year, and came out with flying colours at the General Arts Qualifying Examination in 1965.  He opted to specialize in Statistics well knowing the absence of qualified lecturers in the Department and succeeded in convincing the formidable Prof. H.A. De S. Gunasekera,  the Chair and Dean of the Faculty of Arts at the time, to allow him to follow his chosen field with self-study.
Parane was meticulous in his studies, combing through the seven storeyed University Library to ensure that he did not overlook any book on Statistics. He spent the next three years rigorously following his studies, sharing his knowledge, and enjoying campus life like all of us.
He sat the final examination in 1968 and secured a Second Class Upper Division Honours Degree in Statistics – the first student to do so in many years. He was one of the first to be absorbed into the permanent academic staff in the Department of Economics. Proceeding to the UK on a Commonwealth scholarship, he earned his MSc in econometrics and quantitative economics at the University Of Manchester and his Ph.D. in econometrics in 1977 from the University of Southampton for the thesis on "A quarterly econometric study of the U.K. labour sector 1955-1966". On his return to Peradeniya, he served to make statistics and econometrics popular mainstream subjects in the Department of Economics. He loved teaching, and in turn was adored as a model lecturer by all his students.
Parane was one of the great academics that the University of Peradeniya failed to retain. Our loss was a gain to the global community.  He pursued his teaching career at the University of Maiduguri, Nigeria and after a few years moved to the USA, to work in the corporate sector. He never gave up his passion for teaching and continued to teach statistics part-time in several US liberal arts colleges
While in Maiduguri, Parane acquired his rarest treasure, Cora – his beloved wife from the Philippines. Cora was a constant pillar of strength, the livewire who helped him to succeed in the individualistic and competitive US setting.
Parane was a rare binary in human affairs. He was self-made because he basically acquired academic glory sans lecturers and self-less because he generously shared that hard-earned knowledge with his peers competing with him for academic excellence. In an unmatched gesture of friendship and generosity, he shared with friends his new Peugeot 404 – a luxury acquired through hard earned savings those days.
Kusuma, his only sibling, cannot hold back her tears explaining how he meant everything to her and her family.  She still fondly treasures his school awards, photos, and other memorabilia.
Parane suddenly suffered a major setback in health. Cora with her loving care and devotion, lightened his suffering, ably supported by her beloved sons – Feodor and Ravi.  We are most grateful to Cora and Feo for arranging a final reunion with his close friends and relatives here in 2019. We still fondly recall his clear delight at seeing us.
Parane was a lifelong friend to us; a dedicated professional; a great teacher to thousands; a true friend to many colleagues in different lands;  and a truly remarkable and unique human being. His untimely departure has produced  sadness and tears but his memories will be cherished forever.
His Peradeniya friends
---
Plantation stalwart and my role model
Clinton Rodrigo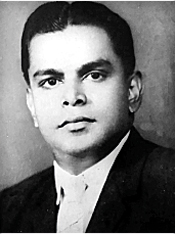 My father, the youngest of three brothers, had virtually no recollection of his father who passed away when he was just two years old. His mother had to take over the responsibility of managing the huge ancestral estate in Eheliyagoda comprising over 1000 acres of rubber which was reduced to no more than 200 acres with nationalization in the 1970s.
My father joined his brothers at Wesley College and had fond memories of boarding school life of which he used to relate many funny and interesting tales to my kids. It was just a week before his demise that he asked my daughter to read his school leaving certificate which he had proudly laminated and retained on the mantelpiece at home;
". …… There was no activity in the school or hostel in which Clinton was not in. He represented us in more or less all the spheres of activity – in games Athletics, Cricket, Tennis, Hockey, Volley Ball and Table Tennis, he excelled; in the latter games he was both school and hostel captain. His record of activities can rarely be equalled. He has held the post of secretary in the following clubs and unions: Hostel Literary Union, Indoor games club and house sports club. As an amateur actor he is a class by himself and in all school and hostel dramas, Clinton had a main part to play…." The certificate ended with the comment "with the greatest confidence I recommend him as one of our very best products."
He went into the prestigious profession of planting at the time after completing a degree in agriculture from the University of Peradeniya, joining the Finlays agency house and built a strong network among the upcountry plantation fraternity over the years. As a child I remember moving from sprawling plantation bungalows in Nuwara Eliya to Hatton and Kandy and finally to the Head office in Colombo as he steadily rose to ultimately become Chairman and Board Director of the JEDB and a member of the Tea Board. He went through many setbacks, from a molten cocktail thrown into the master bedroom in the middle of the night at Watagoda which miraculously didn't explode (I was apparently just a year old) to prematurely having to retire at the prime of his career due to political reasons. In his early '50s he commenced his own plantation management consultancy practice whilst taking an active interest in managing our properties in Eheliyagoda.
He took great pride in the fact that the plantations under his purview were consistently top of the league in performance rankings and retained all his records in a separate cabinet diligently filed and indexed. He represented the country in many international tea forums and presented many papers on agriculture. He was a regular contributor to newspapers sharing his technical knowledge well into his retirement.
When a group of senior planters invited him to dinner soon after his 80th birthday and presented him with a plaque recognizing his contribution to their careers, how much he was overcome with emotion! His crowning moment, however was when he was awarded a special plaque for his outstanding contribution to the tea industry by the Wayamba University of Sri Lanka at the international tea conference in 2017.
Being a Government servant almost all his life, with meagre savings he was able to somehow ensure my sister and I got the very best of education locally and overseas. In the latter years his devotion to family extended to his grandchildren, cousins, relations and his neighbours to whom he was a constant source of encouragement and advice.
Although a Methodist by birth he was a devotee of Mother Mary. My mother was a Roman Catholic and when he was asked by a close friend to assist Gonapinawala convent in Hikkaduwa – a school for mentally challenged children, well into his retirement, he took on the project to cultivate cinnamon in their lands which ensured their financial independence for years to come.
His greatest disappointment by far was losing my mother eight years back. She was the wind beneath his wings. It was sad to see how the lion lost his roar after her demise and he would often say he would trade all he had if he could bring her back.
My father was a unique personality, a visionary, who rose from the ranks to reach the top of his profession through integrity, hard work, discipline and a genuine commitment to people. Whilst there were numerous challenges and setbacks that he overcame, he was blessed with a loving family, travelled widely, enjoyed the best of food and drink, a massive network of relatives and friends, and lived a good and productive life. His mind was active until the very end and I was privileged to be by his side when he died peacefully at his home in Colombo 5, at the ripe old age of 87.
Thank you Thathi for being a wonderful role model. You may be gone from my sight but you are never gone from my heart.
Dilshan Rodrigo
---
She made an impression on everyone she met
Sohni Natasha Philips
My sister, Sohni, died on August 21, three and a half years after my mum Gwendolyn L. Philips nee Tissera and 44 years after my father Shanthikumar Tampoe Philips passed away. She would have been 60 years old on October 31.
Sohni was looking forward to her birthday party; she loved her birthdays and was a fabulous hostess. She would make sure that she had plenty of 'short eats' -  meat patties, Chinese rolls, birthday cake and drinks, graciously offering each dish to her guests. We all left her parties feeling so good. She was very much a giver, never forgot our birthdays and we always got a gift.  Sohni was generous, even if she could not afford to be. She was gifted, intelligent and so much fun when she was in the mood.
My sister was unique because she lived with schizophrenia, being diagnosed in her mid-teens. She was born with many natural talents not fully realised due to her illness. She played classical guitar and taught young children playing by ear.
Linda, a friend from schooldays, described her well: "Sohni had a great mind. I was always in awe of her intellect, creativity. She was incredibly wise, too. I remember the way Sohni walked and spoke with such gentleness. I knew she was vulnerable, but that's what made her so warm and endearing."
Sohni looked peaceful, beautiful in her coffin;  the atmosphere of pure goodness was palpable. As I read Linda's words it dawned on me what the other element was: happiness on her face.
Sohni made an impression on everyone she met. Those that were game enough to sit next to an unusually dressed, talking to herself, chain-smoker, walked away delighted to have met her. She could ooze charm and was an unforgettable character.
Anything esoteric she could handle, but gadgets and such things were a mystery to her.
1983 was her best year as a healthy adult living at home after a stint in college in upstate NY. In 1984, my father passed away at the tender age of 53. Sohni was very close to our papa, and they would talk about anything and everything. His death threw her back years. Our blessed mother, one of the kindest women you would ever meet, took on the grave responsibility of looking after Sohni, and they had a congenial life together in Colombo and Nuwara Eliya.
Sohni missed her mum. I miss them all. Thankfully I have two siblings left–long may they last.
N. Sansoni
---