All in a day's work in the 'new normal'
By Krishnajina Rajapathirane
View(s):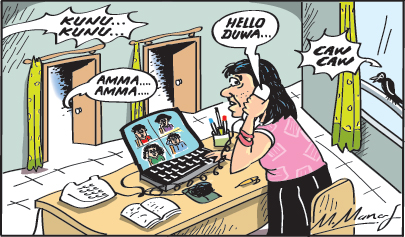 'Te naney naney naney na na ne naaaa…'  the tune of Beethoven's Fur Elise makes me jump out of bed, although he would never would have written that music with such an intention even in his wildest dreams. I check the wall clock. Both arms are at 12 – enough to make me shiver. Then I realise the battery is dead and has not been replaced for weeks. I turn to the cell phone, and it shows 6:00 in bold Calibri font, which is so comforting. But the thought of missing the most looked forward to morning visitor is upsetting.
I drag myself out of bed and walk to the kitchen to make some tea. My mind is filling with many things: My music teacher who used to sarcastically say that we never played Beethoven correctly, the clothes in the laundry bin waiting to be washed, the washing machine determined not to give any further services until its technician has a chat with it…, the meetings, clients, food plans for the day, grocery deliveries, that programme which had given a 505 error and on and on…
Look at the time again and it's 7 a.m. Knock at my son's bedroom door and tell him to help in laying out breakfast.  "Where's the bread," he asks. "He never came!" I reply. "No he passed by just now. Didn't you hear?" "No I didn't hear Fur Elise." "No this time it was The Cuckoo Waltz."
So we order bread from the nearby baker and pay the price of four loaves as we fall into the  'Small order' category.  The delivery comes around 8,  and I hear several tunes following soon after!
The plants need water! "But it rained last night," my daughter says. "Yes, but the ones just under the roof won't get enough water even with rain." I see my daughter shrugging her shoulders! Notice the floor is dusty and plates need to be washed.
It's 8 already. Everyone is rushing to their zoom meetings, and I have one too with a client on an ongoing project. Luckily I don't have to travel! So log on to mine and show a 'very professional' outlook.
Then I hear a knock at the gate! The next important visitor  – the garbage collectors! Our dog is welcoming them at the top of its voice and they are calling for garbage at the top of their voices. Excuse myself, mute the meeting and run to attend to them. If not, I will have to bear with the garbage for the next two to three days or later!
Relieved, I rejoin the meeting. Now it's my turn to talk. So I start, "I believe, this solution should have….", "Caw, caw, caw…"', the crows in the nearby tree start their own morning meeting. I mute the phone, and continue to talk. One of the participants exclaims "You are on mute!"  Oops! Unmute myself after forming a mutual agreement with the crow. Manage to go on with my brilliant idea, until one says "Hey Jina, can you repeat please, cos I had a signal problem." "Okay, from which point should I repeat please? "From the beginning please…" So with utmost metta I start all over again!
Time to put the rice cooker on. I rush to the kitchen, quickly collect the rice that has already been washed by my daughter ready to be placed in the rice cooker. The moment I plug it in, I hear a 'pop'. The trip switch has decided to switch off in sheer consideration of my safety! Hmm…  So summon my better half, manage to put that right and plug the cooker in once again. The trip switch seems to behave itself.
"Amma, can I serve myself? I have a lecture in another hour."
"Sure."
"But the rice is not yet cooked!"
"What? No, I plugged in the rice cooker." Rush to the cooker to find the wall switch safely switched off!
The Outlook reminder pops up 'recruitment interview in 15 minutes time'. By this time, I am sweating from head to toe! Freshen up and sit in front of the laptop for zoom meeting with video on! It has to be on, as it's a recruitment interview. My applicant appears on the other end. After exchanging greetings, I ask "How do you like working from home?"
Pat comes the reply "I love it!"
"Eh?!" I am speechless for a split second! Then I hear my phone ringing. The voice on the other side says, "Hello ma'am, I'm from ……. supermarket, and on my way to deliver your order. But I can't find your address, you have given wrong instructions." I see my employee-to-be watching me intently. Trying to look very calm I smile, make my excuses and mute myself. Once I have sorted out the delivery man, I start the interview all over again.
At last, I am able to start work on my half done report from where I stopped the previous day. Manage to have the thought process intact and type in the first few words.
The phone rings. An unknown caller!
'Hello, duwa, I'm Nenda, how's your mother doing? Didn't hear from her for some time. Thought of calling you because I guessed you are working from home!"
"It's best I start on this at night," I think.
"Hi Nenda, how are you?"…..
Working from home!  Balancing home office, deadlines, demands, duties. Playing the role of mother, doctor, nurse, wife, housemaid, manager, disaster recovery planner and many more. An experience that we will remember for life.
Maybe we all have to arrive at a different strategy for handling office cum home activities. Split hours for office and housework; organise turns to attend to household chores, specific timings to be at seats. A work style based on the nature of personal obligations.
It's time the whole world looked afresh at a different working style; Managing home, office with personal development in terms of career, physical and spiritual! A new way of life should evolve, and we ourselves should be the agents of that change.
Stay safe, stay home… let's meet once again to share what we all went through!
| | |
| --- | --- |
| Somasiri Devendra's column The Mind on Holiday will be back next week | |
| | |