Rare sighting of ocean-glider
By Malaka Rodrigo
View(s):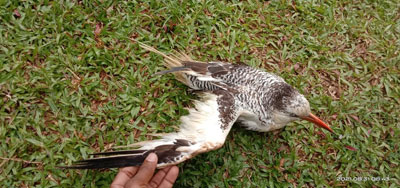 A red billed tropic bird seen in a Minuwangoda paddy field.
Pic by Heshan Fernando
A seafaring bird has been swept up into Sri Lanka amid the recent stormy weather accompanied by heavy showers.
Naturalist and researcher Chandima Fernando who had observed photos he received on WhatsApp tentatively identified it as a white tern.
Fernando contacted seabird expert Rex I. de Silva who confirmed the identity and it turns out it is the first white tern (gygis alba) seen in Sri Lanka.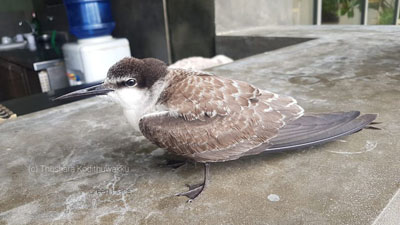 Bridled tern found in a building in Negombo on 29 August.
Pic by Thushara Kodithuwakku
The white tern is a small seabird which is also called 'angel tern' because of its spotless white plumage.  
"White terns are breeding and found around Maldives islands. So, this is a much anticipated bird for the checklist of Sri Lanka's seabirds," says Moditha Kodikara Arachchi, a seabird enthusiast in Sri Lanka.
This white tern was found on August 29 and at least two other seabirds caught up in the turbulent weather were seen in the suburbs of Colombo. This includes, a bridled tern found in Negombo also on Augus 29 and a red-bellied tropic bird found in Minuwangoda on August 31.
The bridled tern had taken refuge inside a building and was found by Thushara Kodithuwakku, while the red-bellied tropic bird was sighted in a paddy field in Minuwangoda by Heshan Fernando.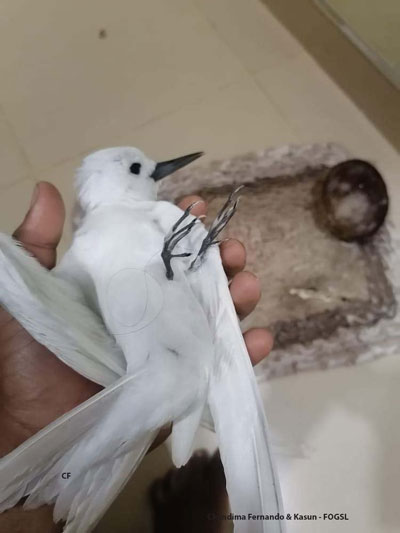 White terns are common in the Maldives islands, but this is the first sighting of a white tern in Sri Lanka
Ornithologists have found about 50 species of seabirds off the shores of Sri Lanka. They say that the best season for seabird-watching is during the south-west monsoon as the stormy weather would push them toward the shores.
Rex I de Silva, a pioneer in the study of seabirds in Sri Lanka, found the mass migration of several species through field observations decades ago. According to his research, a mass migration of the bridled tern happens in August-September.
Bird watcher Kodikara Arachchi said he observed this week about 1,300 bridled terns flying south during a three-hour watch.
"It needs patience, but is rewarding when you can identify a bird and spot a rare bird," Kodikara Arachchi said.