Life becomes unpalatable sans milk and sugar
By Nadia Fazlulhaq
View(s):
The daily ritual of a tea with milk and sugar is no longer the pleasure it used to be.
Milk powder, essential for Sri Lanka's children and seniors, is nearly non-existent in grocery stores and sugar is as pricey as rice. Purchases have been limited to a kilo where available.
Despite the gazette notice by the Consumer Affairs Authority on Rs. 120 a kilo for sugar, and seizures from warehouses, stocks are not available at retailers, after price controls were introduced, Sri Lankans say.
The maximum retail price of refined sugar was gazetted at Rs. 125 a kilo, and brown sugar at Rs. 128 a kilo. A week before the gazette notice, refined sugar was sold at Rs. 192 and in some places went up to about Rs. 230.
According to the Census and Statistics Department, in August, the price of sugar was Rs.135 per kilo.
"Since the announcement of controlled prices of sugar, many couldn't find sugar. There are long queues at Sathosa outlets. Some people got only white sugar at Sathosa and that too in limited amounts," said Dianne Rizvi, president of the Housewives Association.
She said the worst affected are the poor and elders who are not able to order online. Households with young children are also troubled.
"The Government should ensure the public have access to basic essentials such as rice, sugar and milk, especially during a pandemic and at a time a curfew has been imposed. Stocks that were seized should be distributed to the retail market and all over the country," Rizvi said.
Another housewife, Renuka Wanigaratne, who lined up at a long queue at a Sathosa outlet, managed to get only two kilos of refined sugar at the controlled price.
"People are relieved to buy sugar at a low price. Hopefully, the retail shops get enough sugar stocks when the quarantine curfew is lifted. People are fed up with standing in queues," she said.
While Lak Sathosa outlets sold sugar at around Rs. 130 per kilo and leading supermarkets sold refined sugar online for about Rs.125 a kilo and brown sugar at 128 a kilo, many in the provinces have complained it is not available.
Sri Lankans consume about 600,000 metric tons of sugar a year. About 90 percent of it is imported. The country produces about 100 metric tons of brown sugar, or unrefined sugar.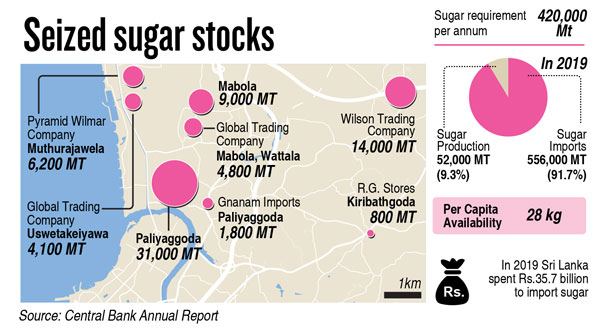 The Commissioner General of Essential Services, last week said that 29,900 metric tonnes of sugar seized from warehouses will be sold through state and private traders at a controlled price.
Raids of warehouses continued this week as well. In Peliyagoda, 1,800 metric tonnes were seized from a leading registered importer.
On Friday, three were arrested by the police Special Task Force and CAA's Gampaha branch, while selling sugar from a Wattala warehouse that had been previously sealed.
Authorities also seized 4,100 tons of sugar that were to be sold illegally.
As for milk powder, Sri Lankans have been seen flocking to stores, while supermarkets allowed one 400 gram packet of milk powder and sometimes none. Last week, authorities raided some places packing milk powder without labelling. Consumer authorities claimed on sight the process was unhygienic.
For seniors and families, milk powder is a health and nutrition issue.
"There are elders who stock a few powdered milk packets to avoid going out. Some families with underweight or weak infants replace milk powder with formula due to costs," said K. Padmini from Kesbewa.
Restaurant operators have warned diners will pay more for a cup of tea.
"The shortage of milk powder will definitely result in price increases in a cup of milk tea. People will feel it once the curfew is lifted. The country's liquid milk production is 40 percent of the demand. The public is suffering,'' said Canteen Owners Association president Asela Sampath, a consumer activist.
Rice retailers cut their losses, while dhal price pops

Story and pix by Rekha Tharangani Fonseka

Until stocks of rice seized by public officials are released to the market, only 25 kilos of rice will be available at the gazetted maximum price, said several traders at the Ratmalana special economic centre.

Rice is not available at many retailers. Traders say they have returned stocks to wholesalers.

"Once we buy rice for government controlled prices, we will sell it, otherwise it is a loss for retailers," one shop owner said.

While the majority of government-run Lak Sathosa outlets stocked red and white rice, and nadu, most outlets did not have keeri samba.

A manager at a Sathosa outlet said samba and keeri samba are selling out fast. Stocks, sometimes run out within hours.

Last week, the Consumer Affairs Authority issued an extraordinary gazette stating that keeri samba can be sold only at Rs. 125 per kilo, white/red samba at Rs. 103 per kilo, white/red nadu at Rs. 98 and white/red raw rice at Rs. 95 a kilo.

This week, the Essential Services Commissioner General Major General Senarath Nivunhella along with Consumer Affairs Authority officials walked into the rice millers of well-known operators in Polonnaruwa and seized over 1,000 metric tons. The stocks were transported to Sathosa outlets and Cooperative Stores.

They only seized limited quantities.

Meanwhile, the price of masoor dhal, too, has increased to about Rs. 310 per kilo. According to the Census and Statistics Department, dhal was sold at Rs. 167 last year.