National Streaming Hub to deliver lessons from October 1 onwards
View(s):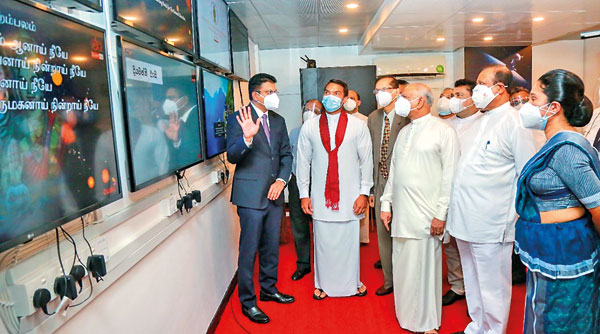 The National Streaming Hub established at the Education Ministry to provide lessons to students through TV channels was launched this week. Education Minister Dinesh Gunawardena and other guests listened to a briefing on the launch.
The National Streaming Hub, established under the state programme of providing school educational activities to children through television media, during the COVID-19 pandemic, was launched this week Education Minister Dinesh Gunawardena.
This hub, equipped with super-fast internet connections consists of modern technical facilities, will broadcast all subject-related programmes prepared by the National Institute of Education to TV channels and web channels according to a scheduled timetable. The Ministry has planned to cover syllabuses from grade one to 13 in this manner.
The quality and alignment of these programmes are continuously supervised by subject directors within this hub and facilities have also been provided to resolve technical problems.
The hub, established under the State Ministry of Education Reforms, Open Universities and Distant Education Development, is a project which will function even after the pandemic ends, the Education Minister said.
"Even the children without internet facilities will have the opportunity to continue their education from their homes using televisions. This hub is expected to provide studio facilities in all districts in the future. Another two channels were added, in addition to the existing two channels. By January next year there will be ten channels," the Education Minister said.  Minister Gunawardana said the programme began under the Nenasa project, which began after Mahinda Rajapaksa became Prime Minister.
"This is not limited only for education. We are in a situation where the entire public service needs to use Information Technology. This can be described as another successful venture of taking education to children using Information Technology according to the "Vision of Prosperity" policy declaration," he said.
"The objective of this programme is to streamline the educational programmes broadcasted through various channels by the National Institute of Education so far, under the complete supervision of the Education Ministry in collaboration with the Nenasa Project," State Minister of Education Reforms Susil Premajayantha said.
He also said lessons will be conducted through four main channels for children from grade one to grade 13, from 7.00am till 11.00 pm. Arrangements have been made to broadcast more than 1000 lessons,, through seven channels from October 1 onwards. The lessons will be prepared by a team of competent teachers. Later on the network will expand to include ten channels.