Sri Lanka's 'singer of conscience' who listened to cries from the Vanni to Katuwapitiya
View(s):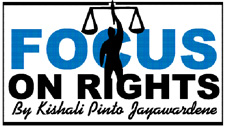 There is a side dish of grim humour to the assertion made by nationalist monk, Ven Omalpe Sobitha this Saturday that the Roman Catholic Cardinal Malcolm Ranjith was fully justified in appealing to the 'international community' for justice, which the Government has failed to deliver for victims of the 2019 Easter Sunday jihadist attacks.
Recognising pain from the Vanni to Katuwapitiya
Notwithstanding the pain and agony of a futile two year search for justice by loved ones of penitents slain as they were praying before the altar or taking part in an Easter breakfast and parents of children blown to bits as they were gambolling outside churches, I find the analogy that the good monk drew in justifying that appeal is picturesque though not strictly correct. 'If a dispute cannot be settled in confidence between members of the family within the inner walls of a home, then the affected family member has all the right to go to the police or to courts to solve the problem,' he said.
Similarly, 'the appeal by the Cardinal beyond Sri Lanka's national boundaries is understandable and we fully stand with him in this effort,' he added. Admirable sentiments, one may well affirm.  There is of course, a difference between the two situations which the law treats with singular distinction. In the case of a family dispute, the affected have the right to place their case before law enforcement. But in the case of the Easter Sunday attacks, these are crimes affecting the State. Thus, peculiar gravity attaches to the same and a specific responsibility arises on the part of the State in that respect.
Regardless, Ven Omalpe and indeed the Cardinal in tandem, are fully justified in that approach. These are not new arguments, we must recall, even as former President and now Prime Minister Mahinda Rajapaksa sojourns in Italy to address some obscure conference or the other amidst his Office dismissing feverish speculation that the visit will include meeting with key religious figures to offset fiercely negative pronouncements from the Cardinal. After all, it was Mr Rajapaksa himself, who went to Geneva as an opposition parliamentarian to protest against the wanton killing of Sinhalese children on the same logic now employed by the venerable monk and the Cardinal.
Killing of innocents to further a state agenda
In fact, the two venerable senior priests may take a step back and apply that very same analogy to all the problems of accountability that have bedeviled this country's tortured citizens for decades. If so, we would be able to take giant strides in addressing state impunity which has crucified this nation, divided communities, imperiled progress and kept Sri Lanka transfixed in the past. For it is precisely this failure to address cruelties inflicted on ethnic minorities that has led to victims seeking justice from beyond the shores. To be clear, we are not talking merely of the ending of active conflict in the Vanni in 2009.
Rather, what is in issue here are barbaric killings of innocents in cold blood in furtherance of a state agenda. Some of these atrocities had been inflicted quite a while away from the 'heat of fighting' which some may use to justify an argument that wars always have collateral damage. These range from the murders of the Trincomalee students and the Mutur aid workers in 2006 to the abduction for ransom and the killing of eleven mainly Tamil and Muslim youth from Kotahena and elsewhere in 2009. Without exception, investigations have indisputably shown that these were innocent children, some of them awaiting university entrance before they were butchered by shadowy state agents.
All these cases have dropped by the proverbial wayside due to the active subversion of investigations by powerful state forces.  While some spluttering progress was evidenced during 2015-2019, that too lapsed post 2019 as cases were unconscionably withdrawn or the accused discharged. Let us also not forget that in both periods, no acknowledgement was forthcoming by the State that grievous wrong had been done to innocents. Later, criminal investigators handling those cases were put behind bars.
Failing in the defence of a bad brief
That analogy drawn by Ven Sobitha is therefore entirely applicable to these victims as well. Or are we saying that, what is sauce for the (Sinhalese) goose is not sauce for the (Tamil/Muslim) gander? These are apt reflections as the habitual dance in Geneva commences next week with Sri Lanka on the Agenda of the United Nations Human Rights Council on the 'accountability question.' It does not require soothsaying to predict that the Government will fail in its defence of a bad brief for which the Government itself, is finally responsible. Not all the hastily drawn up, last minute commissions, committees or white washing exercises can prevent that.
In fact, if all the money that the Sri Lankan Government habitually spends on defending itself at these sessions and on employing moronic propagandists to sanitise its image was used for actually improving the lot of victims, we would have a better case to answer. And it needs also to be said that this is a dance that promises little for victims. Accountability through the stick of 'international pressure' is an illusion. We see the obvious cases of Myanmar and Afghanistan as exemplifying that fact. Finally, the fate or the plight of a country's citizens' rests in their hands.
For this, we must strip away the caustic, cynical and brutal state agenda that has victimised innocents under all Presidents. Ultra-Sinhalese nationalists as well as screeching Tamil nationalists (the two sides of the same lunatic fringe coin) must be treated with equal contempt. What is left is the grief of ordinary people, from the banks of the Vanni to the refurbished facades of churches in Katuwapitiya and Kochchikade. Recognition of that pain does not need much effort, does not need Constitutions or solemn legal pronouncements on the Rule of Law by hypocrites wearing black robes whose actions belie their words.
Mourning Sri Lanka's 'singer of conscience'
Instead, what this needs is empathy. Sri Lanka's pre-eminent singer and social justice activist Sunil Perera who died this week, one of the many thousands struck down by covid-19, recognised this truth through his music which mercilessly mocked Presidents to Prime Ministers. There was nothing meanspirited about his criticisms which were lavishly doled out without exception to all political regimes that we have been inflicted with. That lack of political bias was of no little importance in a nation where bias generally drives the actions of each and every public intervention.
That is so from the lawyer pontificating of constitutional principles but with a sly political agenda to the activist holding aloft a placard who is in cahoots with his or her political patron. But this was a man entirely of a different calibre, a musician devoid of agendas, who was invariably, uproariously funny from his clothes to his words, dissolving into irrepressible mirth as he said the most cutting things about politicians. Even so, through that music ran a thread of solemnity, a plea for unity cutting across different religious and ethnic barriers and reaching the hearts of countless Sri Lankans.
This was a man who could have, at any time, gone comfortably overseas and lived in luxury. Yet he chose not to, living and dying in the country of his birth.  When the Chilean poet Pablo Neruda died in the violent overthrow of Salvador Allende by the military general Pinochet with the covert support of American intelligence leading to one of the darkest periods of Chile, the Chilean people grieved at the loss of their poetic political conscience. So too will Sri Lanka mourn her 'singer of conscience' who illuminated the darkest places, in the darkest of times with his optimism and hope.
As we are left with a shell of a country in the grip of a relentlessly mishandled pandemic, teetering on the brink of a financial meltdown with the threat of starvation becoming very real for portions of our populace, surely his plea for a better Sri Lanka must inspire, drive and propel this nation out from the abyss?