Discontent brews among tea exporters hit by double whammy
View(s):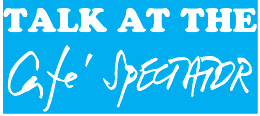 Many in the tea industry, including some players, are openly unhappy with recent government policy decisions, which they suspect would threaten the sustainability of the industry in the long term.
The major concern is the chemical fertiliser ban which has already forced farmers across the country to take to the streets in recent weeks to protest against it saying their yield rate has decreased significantly due to non availability of chemical fertiliser.
The tea industry is no exception either as some of the leading tea exporting companies rang alarm bells saying that the impact would be fully felt by next month. In addition to this came another circular issued by the Tea Board recently regarding the re-export of imported tea.
According to the circular, all tea importers and exporters are instructed to blend imported green tea fannings with a minimum of thirty percent of Ceylon Tea when re- exporting. The same applies to CTC tea- processing black tea as well.
The circular which came into effect last month stressed that a minimum thirty percent value addition should be achieved at the point of re-export.
Considering the recent developments in the industry, many wonder whether the government, which claimed to do good through these initiatives is actually doing the reverse, particularly for small scale tea exporters who played a major role in bringing foreign revenue even when the country was under continuous lockdowns in the past.
---
Tis the season for scoring brownie points; this time with frenzy of letter writing
Whenever the UN Human Rights Council meets and Sri Lanka is on the agenda, as has been the case since the end of the northern insurgency in 2009, Tamil politics is full of false hopes and empty assurances from politicians to affected people.
A father who lost his entire family in the final phases of the armed conflict told in a testimonial to the Lessons Learnt and Reconciliation Commission (LLRC) some time back of how they hoped the UN would have intervened with the support of Western countries. He declared the UN is a "dead dog".
After eleven years since the end of the war, Tamil political parties and politicians are trying to score some brownie points by writing letters to the Office of the United Nations High Commissioner for Human Rights.
Even parties within the Tamil National Alliance (TNA) are divided among each other on the contents of the letter and sent separate letters. The main constituent party Ilankai Tamil Arasu Katchi (ITAK) sent a letter after failing to reach consensus among other parties.
So too did the Tamil Makkal Kootani (TMK) led by the former Supreme Court justice C. V. Wigneswaran and the All Ceylon Tamil Congress led by Gajendrakumar Ponnambalam .
A retired teacher who was in a long queue in front of a cooperative shop this week to purchase essentials remarked it is a shame that all Tamil political parties could not come to a common stand on this. "This is like a circus," he declared among those waiting for hours for their essential foodstuffs.
---
CAA puts on poor defence under fire on TV debate
Even senior state officials find it difficult to save face of the government when it comes to justifying the government's recent controversial policy decisions. These days, many such top officials politely declined to take part in live TV discussions, debates or even one-on-one interviews fearing backlash.
The recent debacle was at a TV discussion organised by a leading electronic broadcaster titled, "Lanka under Emergency Regulations: Is it a viable alternative?" Among those taking part were Thushan Gunawardena, executive director Consumer Affairs Authority (CAA), U. R. De Silva PC, Bhavani Fonseka, senior researcher at the Centre for Policy Alternatives (CPA), and Dr Yasantha Maduraperuma, senior lecturer at the University of Colombo.
Mr Gunwardenea came up with the lame explanation that his office has been working on amendments to the Consumer Affairs Authority Act since early last year, but could not finalise it before the Emergency Regulations came into effect. His reasoning was that the 'process' got stuck due to administrative delays.
When Ms Fonseka stressed that it is the 'political will' of the government that matters when it comes to prioritising the passage of legislation by pointing out some of the critical Constitutional amendments including the Port City Act that was fast forwarded within weeks, Mr Gunawardena nodded.
Coming under heavy criticism over recent CAA initiatives and its inefficiency after Emergency Regulations were promulgated with a retired senior military officer appointed as Commissioner General, Mr Gunawardena acknowledged that his department is facing many challenges indicating the recent move is one of 'over regularisation', but still a necessary evil.
"I'm telling you, it is very bad for investors. This is over-regulation. I accept that, but we have come to a point where people (traders) are hoarding and creating artificial scarcity of essentials. I think nothing can be done by us, it's time the Essential Services Commissioner General seizes and distributes it," Mr Gunawardena said.
---
Amude jokes to the fore as critics lambaste govt. for deciding what's "non essential" or "non urgent"
The Central Bank's (CB) move to impose drastic import restrictions on hundreds of items it deemed to be "non-essential" has opened the prospect of there being severe shortages and drastic price increases among these items.
On Thursday, the CB imposed a 100% cash margin when opening letters of credit for 623 items. They apply to a host of imported items including mobile phones, televisions, fridges, washing machines, fruits, and chocolates, items of clothing and even rubber tyres.
The move has already attracted fierce criticism and raised many questions. How can a government decide that an item is "non essential" or "non urgent?" Moreover, how is it in this day and age of mobile phones, Tvs, fans, fridges and washing machines that they are deemed non essentials? What does it say about the government's own stated aim of promoting online education for schoolchildren during the pandemic when it decides that mobile phones that are so essential for students to study online are in fact not essential in its eyes?
Despite the Government's claims that the 100% margin did not amount to a restriction, economic analysts have already warned that the public can expect severe shortages of many of these items while the prices of items on the market are likely to skyrocket.
Many of the jokes in the immediate aftermath of the announcement have been over the inclusion of imported underwear among the items listed as "non essential." Government politicians and supporters have been mocked mercilessly over the matter, with calls for them to shed their imported underwear and move to the traditional loincloth or "amude." Talk of the 'fallen masses'.
---
Oops another Namal gaffe; this time over made in Sri Lanka or made in China
Minister Namal Rajapaksa made another social media gaffe on Tuesday when he tweeted about his visit to inaugurate the launching of Sri Lanka's first "100% locally manufactured" motorcycle and ATV (All Terrain Vehicle) by a local motor company.
It wasn't long before some Twitter users pointed out to Mr Rajapaksa that the so-called "100% locally manufactured" ATV was of Chinese origin and was already listed on the B2B (Business to Business) online platform of the Chinese e-commerce giant Alibaba. A B2B is a form of transaction between businesses, such as one involving a manufacturer and wholesaler, or a wholesaler and a retailer.
With users posting images of the ATV and its listing on the website, Mr Rajapaksa was forced to issue a "clarification" on his previous tweet.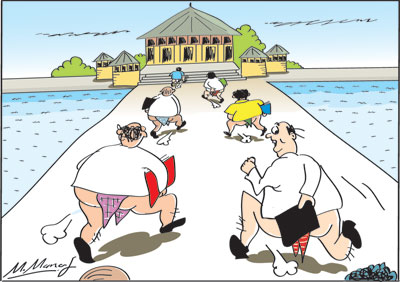 "Clarification on the previous tweet the motorcycle & ATV utilize 35% & 50% locally manufactured parts respectively. Due to the above they remain the first Motorcycle & ATV to be considered as "made in Sri Lanka," the minister tweeted.
The clarification then raised more questions. Some asked why the minister had previously claimed that both vehicles were "100% locally manufactured" when that was clearly not the case. Others wondered whether someone had given false information to the minister about the vehicles being fully locally manufactured. A few wanted to know what constituted the "35% and 50% locally manufactured parts."
---
Gammanpila the latest to build castles in the air with that elusive 'black gold'
It has almost become a tradition now for various ministers in the government to make outlandish claims regarding apparent untapped natural resources in the country at a time that the economy is on a nosedive.
Energy Minister Udaya Gammanpila was the latest to jump on the bandwagon this week when he told the Ministerial Consultative Committee on Energy that Sri Lanka was sitting on USD 267 billion worth of oil and gas resources hidden in the Mannar Basin.
He claimed that these vast untapped reserves could generate three times the country's total debt amounting to USD 47 billion. He noted that this is even after investors who invest in these oil and gas drills are given a 50% stake. That still leaves USD 133.5 billion that is government owned, he told those present.
The Minister made the claims while briefing the Committee, including fellow MPs on the Petroleum Resources Bill that is to be tabled in Parliament for the second reading.
Mr Gammanpila did not stop there. He claimed the gas reserves in the Mannar Basin were enough to ensure that the Norochcholai power plant could operate for 120 years while the Sapugaskanda oil refinery could operate for 143 years with the oil alone.
The country would succeed in one when drilling seven wells in search for oil and gas according to world standards, he stressed. The Norwegian government had to dig 31 wells for one success story whilst three out of four wells drilled in Sri Lanka were successful, he added.
Only time will tell whether any of Mr Gammanpila's predictions will bear fruit. That is of course if these supposed oil and gas deposits are indeed in the Mannar Basin.
Successive governments have been on the look out for this elusive 'black gold' since the 1970s when the Russians began to explore the area near Pesalai in the Gulf of Mannar. In fact, the then government made an announcement that there was indeed oil, but this exploration went no further with cynics saying they had just spilled some oil barrels on the sea bed.