Capturing the heart-stopping and the heartwarming
By Ruqyyaha Deane
For the first time, works of two Sri Lankan wildlife enthusiasts-- 'The Great Swim' by Buddhilini de Soyza and 'Lockdown Chicks' by Gagana Mendis Wickramasinghe--were selected for the 'Highly Commended' category of the Wildlife Photographer of the Year competition, from over 50,000 entries worldwide
View(s):
Held since 1965, the Wildlife Photographer of the Year competition organised by the Natural History Museum in London, UK is the largest wildlife photography competition in the world. From over 50,000 (a reportedly record-breaking number this year) entries from 95 countries around the globe, the judges pick just 100 winning images across 16 categories.
In its 57th edition, for the first time ever, two photographs by Sri Lankans have been selected for the 'Highly Commended' category and their pictures are  featured in an exclusive release before the opening of the exhibition at the museum on October 15. The photographs are 'The Great Swim' by Buddhilini de Soyza and 'Lockdown Chicks' by Gagana Mendis Wickramasinghe.
A photographer, travel enthusiast, animal lover and investment banker by profession, Buddhilini de Soyza, who currently lives in Sydney with her husband and two dogs, describes herself as a "city dweller who's always looking for an excuse to run to the jungle".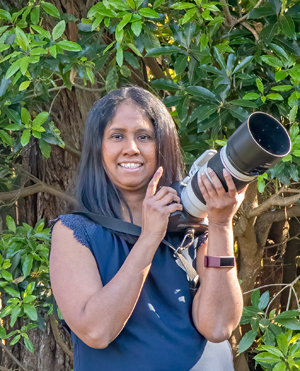 Buddhilini's passion for photography was a natural extension of her love for nature having been surrounded by wildlife since she was a toddler with her father taking her around Sri Lanka's national parks. Her family's shared love for travelling to unique destinations to photograph animals in their natural habitat fuelled her interest.
"'The Great Swim' was photographed in early 2020 on our eighth visit to Masai Mara, Kenya – our last overseas trip before the world shut down. When we landed in Kenya in January 2020, the country was having unseasonal torrential rains. Getting to Masai Mara was an adventure in itself with us having to change our landing site at the last minute due to our guide not being able to get to the airstrip closest to our camp due to both the Mara and Talek rivers flooding and breaking their banks. The Masai elders had never seen such bad flooding in their lifetime," she reminisces on what led to a once-in-a-lifetime moment.
One of their reasons for going back to the Masai Mara was to photograph the Tano Bora (Fast Five or Magnificent Five), the famous first ever recorded coalition of five male cheetahs. However, due to the flooding, Buddhilini was disappointed to hear that the cheetahs were stuck on the other side of the Talek river and they were unlikely to see them on this trip.
But what followed was a heart-stopping experience. "On our second full day in the Mara, our amazing guide and friend, Antony Tira of Matira Bushcamp, got news that the Tano Bora was approaching the Talek river.  Antony informed them that they had done this a couple of days in a row in the hope of being able to cross the river and come onto the side which we were on which was richer in game. The river current was extremely strong and there were doubts on whether the coalition would attempt to cross it.
"At this point, we were in two minds – on the one hand we wanted them to cross knowing that it would be a sighting of a lifetime, on the other hand we knew the perils associated with the crossing. Other cheetahs had lost their lives crossing much less daunting waters. These five held a special place in our hearts and we did not want to see it end this way for them," Buddhilini recounts.
They spent hours watching the cheetahs patrol the river bank, sometimes wading into the river but never taking the plunge and by the time afternoon rolled around, they had given up hope that they'd cross. Then their patience was rewarded.
Suddenly the lead cheetah jumped in and it was game on. Three others followed in quick succession but the fifth cheetah hesitated and was left behind running around on the other bank. He did eventually jump in but was not captured in the picture.
"The five had chosen a particularly rough area to cross – this wasn't unusual. Cheetahs usually prefer rougher water as crocodiles don't tend to inhabit those kinds of areas, and they're the biggest threat to cheetahs when swimming across rivers. Cheetahs are strong swimmers and quite comfortable in water, but the Masai guides had never seen cheetahs cross this kind of currents and live to tell the tale," Buddhilini tells us.
After drifting around 100m downstream the cheetahs eventually managed to make land and Buddhilini and her group were so overcome with emotion that they hugged each other with tears of joy. The cheetahs too were high on adrenaline after their life-threatening experience and immediately went hunting.
"In my opinion, this image highlights the added threats faced by animals due to human-induced climate change. Cheetahs already face many threats and are branded as vulnerable. These unseasonal rains in the Mara were an added threat to these creatures who have one of the highest infant mortality rates in the world. It is said that just 5% of cheetah cubs survive to adulthood. Through this image I hope to bring attention to the plight of these gorgeous big cats and the many conservation efforts happening around the world to ensure that they are preserved for future generations to enjoy," Buddhilini says earnestly.
This was her first entry to the Wildlife Photographer of the Year and she never anticipated any recognition knowing how competitive the contest is and how it is usually the preserve of professional photographers. She hopes her win will encourage women to pursue photography despite the field being very male dominated, especially in countries like Sri Lanka where girls are discouraged from pursuing hobbies/careers outside the socially accepted gender norms . She also congratulates Gagana Mendis Wickramasinghe for being highly commended in the 10 years and under category.
His parents being well-known conservationists, it comes as no surprise that Gagana too, has a love for wildlife and an eye for animals in their natural habitat.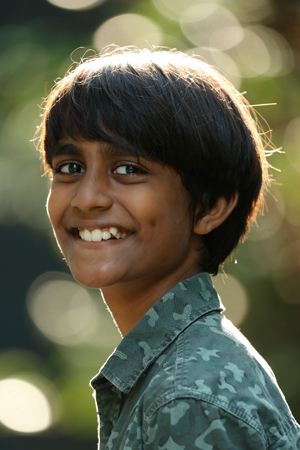 "I was with my older brother watching these parakeets from our balcony and then I saw the parents come to feed the chicks and I took pictures," Gagana relates shyly saying that photography is a hobby but his love for nature triumphs even more.
Gagana was only 10 when he clicked the photograph of three Rose-ringed parakeet chicks popping their heads out of the nest hole in their backyard's dead areca-nut palm as the father bird returned with food. The hole was at eye level with their balcony and the tree had been deliberately left standing to attract wildlife by Gagana's parents, L.J. and Nethu Mendis Wickramasinghe.
"I am very happy and proud of taking the picture and also being recognised in the competition bringing attention to Sri Lanka's wildlife. For the first time, two Sri Lankans have achieved it together," Gagana says.
Gagana and his brother, Amatha, had been entertaining themselves watching the parakeet family and experimenting with their cameras, sharing lenses and a tripod, always mindful that the slightest movement or noise would stop the chicks showing themselves during the extended lockdown days last year which also led to the title of the picture.
Also known as Ring necked parakeets, these medium-sized parrots are native to Sri Lanka, India and Pakistan as well as a band of sub Saharan Africa, but feral populations are now found in many countries including the United Kingdom.