Appreciations
View(s):

He lived an exemplary life of generous giving

Hanif Abdeen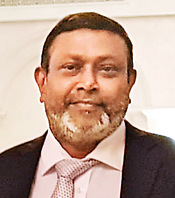 Hanif had his primary and secondary education at S. Thomas' College, Mount Lavinia and pursuing his father's footsteps went into the family business at Abdeen Jewellers.
With the demise of his father M.J. Abdeen in 1993, he took over the business with his younger brother Izadeen and carried the burden of looking after his family from a very young age.
Hanif had a heart of gold and enjoyed the company of people. He was also very fond of children and would never let them leave Abdeen Jewellers without a sweet. He was also quick to share his love for a cup of tea when someone visited him in office.
He contributed immensely to his Alma Mater and had a passion to help people in their time of need; never considering race or religion. He was also the reason behind the 'Pin thaliya' (a traditional container that provides clean drinking water) outside Abdeen Jewellers in Colombo 3. He built houses and provided electricity and water connections to many people in rural areas but liked to remain anonymous.
He lived an exemplary life, giving unselfishly and touched the hearts and minds of countless people. He was more concerned about the health of his friends than his own. He would never fail to enlighten someone even through a simple Whatsapp image/video. He always strived to put a smile on someone's face and there was never a day he failed to do so.
It is sad that the world couldn't have him for a longer time. We have no doubt that he will be in the best place anyone could be in their after life and reunited with his beloved father. May his blessed soul reach the highest peak of Jannat-u-l Firdous.
'Inna Lillahi wa inna ilayhi raji'un'
(Verily We belong to Allah  and verily to Him do we return).
Zara Abdeen (sister-in-law) and Amara Abdeen (niece)
---
Lessons and love imparted from a father and grandfather
Dr Sathis Jayasinghe
To Sri Lankan society, he was Dr Sathis Jayasinghe, the personal physician to President J.R. Jayewardene and one of the founding members of the North Colombo Medical College (NCMC). But to us, he was a dearly loved father and grandfather, who passed away after a brief battle with COVID-19, the virus preventing us from visiting him during this tumultuous time. Despite the oceans between us, we are flooded with pride knowing that he was our inspiration.
Throughout his life, he epitomised the virtues of honesty, compassion and humility both in his practice of medicine and in the way he conducted himself. Countless sentiments have been expressed to our family, echoing fond memories of his insurmountable kindness.
His altruistic nature defined him as a clinician; tending to the poor and disadvantaged with equal care and dedication that he would offer presidents and dignitaries. The branches of his benevolence extended to strangers and relatives alike, regardless of caste or creed.
At his practice, patients spilled beyond the waiting room into the street, boasting of his clinical prowess and his personal touch. He would work late hours, his schedule dictated by the needs of his patients.
His passing left behind a vast assemblage of patients across villages, towns, and cities. He also left behind the legacy of NCMC which produced over 800 doctors of the highest calibre. He was immensely proud of this achievement, and it remained his vision to produce world class medical graduates. Indeed, many of these graduates have become leaders in their field both within Sri Lanka and on a global scale.
Education was paramount in his life.
It brought him great pride that there were 36 doctors over four generations of the Jayasinghe clan. His father did not have a medical background, but was committed to his progress. He would stand by the exit gate of the medical examination hall and quiz each candidate about their answers as they walked out, to deduce my father's mark. It seems he was very accurate most of the time!
My father was so proud of how committed his parents were to give their children a good education . As the oldest in his family, his brothers and sisters looked up to him for advice and support.
In addition to his multifaceted roles, he was also the source of inspiration.
His fervour for medicine planted its seed in my mind at a young age. As his daughter, I admired the clinician that he was; always inquisitive, caring and selfless, instigating my own pursuit of a career as a General Practitioner.
Following my father's passing, one of my patients said, "Your dad will be so proud of the type of doctor you have become". The doctor I am, is wholeheartedly a testament to my dad, who taught me the importance of the personal touch and treating the patient rather than the disease.
I reflect on my childhood with nostalgic fondness, remembering how Dad would pick me up from school and we would go to the Lakehouse Bookshop. Each week, he encouraged me to choose any book I wanted to add to my growing atheneum at home.
I would be transported to the iridescent world of Noddy, lurk in the shadows to fight crimes with the Famous Five or prank with the March girls in Little Women. As the years passed, I had acquired a sweeping library which has now been donated to the collections of village schools.
I would always look forward to our subsequent weekly lunches at JRJ's private residence at Ward Place year upon year. This is a credit to both my mother and my father. JRJ never had his Friday lunch without the dish he so longingly waited for from my mother, whom he often quipped was the "best chef this side of the Suez Canal", and my father whose company he immensely enjoyed.
At the lunch table we'd spend hours listening to fascinating stories of JRJ's life. These are some of the incredible memories I was given the opportunity to share with my father.
His love, his patience, his understanding and our closeness is eternally encapsulated in my mind.
He will continue to be an irreplaceable influence in my life and forever my hero.
The impact of our relationship extended to my daughter who adored both of her grandparents and pays her own tribute below:
***************
Despite growing up overseas, I had the opportunity to spend many months each year with my grandpa and grandma. I shared a deep bond with them both and the loss of my grandfather leaves me with a sense of hollowness. As a child, my grandparents visited us annually in Australia, with my grandpa giving up his clinic for a 3–4 month period. This time was filled with games of badminton and dodgeball in the backyard, hours of homework assistance and attending every athletics meet, swimming competition and drama performance I participated in.
My grandpa was one of my biggest supporters, his pride in my achievements overflowing to remind me of my capabilities in times of doubt. I find myself drifting into memories, road-tripping across the arid plains of Australia; from the goldfields of Ballarat to the temples of the Orient in Bendigo, the car rides filled with excited chatter and my grandpa singing his favourite 'My Way' by Frank Sinatra.
Atop my mantelpiece, sits a priceless possession, an illustration sent to me by my grandpa when I was five-  his sketch of Sri Lanka, a teardrop in the Indian Ocean, with emerald fronds of palm trees and  elephants traipsing through the forest, labelled "Seeya". Across into the Pacific Ocean, he sketched Australia with its vast landscape and scorching sun, titled "Anishka". Between the two nations, he drew banners, speaking of his love for me and how he can't wait for us to be reunited, which we did twice every year for the past 20 years.
I am grateful to have had him in my life, and will continue to look to him for guidance in all that I do.
For now, we will hold you close to our hearts, until we meet again.
Dilika and Anishka Perera
---
His singular leadership qualities took NSB to great heights
Cyril Herath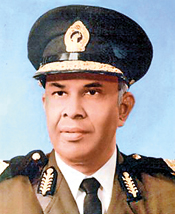 September 8 marks the 10th death anniversary of Deshamanya Cyril Herath  – a peerless leader who deserves to be remembered, emulated and revered.
I was General Manager, Director, and Executive Director of the National Savings Bank when Mr Herath was Chairman.  While I am deeply grateful to Mr Herath for appointing me to these positions, I must say that it was the most rewarding, productive, and life changing period of my banking career to work under a great leader like Mr. Herath. Despite his eminent standing in this country, he was like an elder brother with whom I maintained an intimate relationship until his death.
Cyril Herath studied at St. John's College, Nugegoda and Royal College, and graduated from the University of Ceylon, Peradeniya.  In 1957 he joined the Police service as an ASP and in 1985 he was appointed Inspector General of Police. He was Chairman of the National Savings Bank from 1994 to 2002 and 2004 to 2005.
Most of the new generation in the Police service and banking sector may not know about this peerless leader who was responsible for the phenomenal transformation of NSB.
He possessed leadership qualities such as integrity, humility, intellect, pragmatism, communication ability, and empathy. Above all, he walked the talk and was fearless; every inch a leader.
Believe it or not, he queued up with other employees (including the lowest grade of employees) every morning and waited for his turn to enter the lift to proceed to his office which was on the sixth floor, an unthinkable act by a Chairman.
He was humble, approachable, and any employee could meet him on Wednesdays without an appointment to have their grievances redressed. He believed in empowering staff and gave them a great deal of freedom. He never raised his voice when speaking to subordinates and was always conscious of their self-respect.
At bank parties, he and his wife went round and spoke to each and every staff member and sang and danced with them.
Ostentation, which is now the order of the day, was anathema to him. His official vehicle was a Mitsubishi Lancer and later a Honda Civic. When travelling abroad, he travelled Economy class (unless of course it was upgraded by the airline at no extra cost.)
He could communicate effectively both in English and Sinhalese, and always conducted himself with dignity and decorum.
His humane qualities motivated the staff to contribute towards taking the bank forward. He reinstated several employees who were unfairly dismissed or victimized as well as those who were deprived of their pensions. He never washed his hands off saying that this was before his tenure and therefore he was not responsible.
He took up the challenge posed by the World Bank in their report to the Sri Lanka government in the mid-90s that there is no justification for continuing the operations of NSB, and therefore its branches should be sold by auction to private and foreign banks. Mr Herath, the top management, and staff were infuriated by these unwarranted, and humiliating remarks. However, he with the support of the CEBU and the top management proved the World Bank wrong and transformed the bank as a stable, profitable, and customer oriented modern bank.
The secret was his singular leadership.  I have no doubts that his children, Arjuna, Sanjaya, Priyanthika and Dishan will follow in the footsteps of their beloved father. His beloved wife, Ranee who passed away within one year of his death was a gracious and virtuous lady who made it possible for Mr Herath to fully concentrate on coping with the challenges of his job. She graced all events and ceremonies of the bank, and mixed with the staff who adored her.
No one could ask for a better friend. I am deeply grateful to you dear Sir, for your affection, the lessons I learnt from you, and for changing my life.
Beloved Sir, on behalf of all the employees of NSB, past and present, I wish you and Mrs Herath peace and serenity in your sojourn in samsara.
N.B.S.B. Balalle
---
Fond memories  we will cherish
 Ranjith Premaratne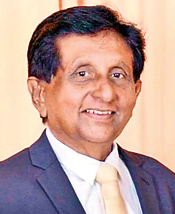 We were introduced to this wonderful person on our first visit to our intended daughter-in-law's home. His warm and friendly greeting remained the same to the last, immaterial of time whenever we  stepped into their house.  That being our first visit he directed me to reverse the car to the lane and  stood at the gate till the car went out of his sight and this caring act continued unbroken over 21  years of our acquaintance.
With time he became more a brother and close friend to us rather than only being our son's father-in-law. Ranjith considered Dinuka as his own and loved him dearly.
Very distinct qualities I observed in him were his cheerfulness, simplicity and humility. He maintained these remarkable qualities with all he associated with whether they were family, friends or neighbours. Many a time I have seen him helping out those who came to his doorstep in need.
We will miss his kind hospitality very much. There wasn't a day we left their home without a meal as he never took no for an answer.
In his daily routine a visit to the bakery at the top of the lane was a must  and most often I noticed Ranjith sneaking out of our conversation for a few minutes to bring back hot  buns straight from the bakery oven. It was always a joy to be in his energetic and lively company. He would update us on the latest political news as he had already scanned the daily papers and watched news in the midst of his daily  chores.
At family gatherings he would never let us leave early till the final session of singing began the favourites being H.R. Jothipala songs and Hindi oldies. We usually visited Ranjith and Sujatha in the  evenings and it was a common sight to see him seated on his low stool offering his evening prayers and  we would try to keep our conversations as quiet as possible till he joined us.
The last time we spoke to him was on July 31 to wish him on his birthday. He sounded his cheerful self -especially because he had been to the temple early morning.
Family was always his priority. He was never tired to do everything possible to support and please them. His grandchildren had a special place in his heart and he eagerly looked forward to see their  achievements. Though he didn't show much interest in travel, he was overly excited whenever he  prepared to travel overseas, gathering the various food items he would take for Jitendra, Seshini, Yohan  and their families and to the many relatives and friends. Sujatha would often mention that though he was in the midst of enjoying his vacation his thoughts would always run back to Anindya and his family  back home.
Fond memories of Ranjith will always remain with us. May God bless him and may he rest in eternal peace.
'There are some who bring a light so great to the world that even after they have gone -the light  remains.'
Senaka Bibile
---
A man of quiet and affectionate disposition
Dr. Ibrahim Yusuf
I was saddened to learn of the demise of a much-loved alumnus of People's Friendship University, Moscow, Dr. Ibrahim Yusuf on August 31, in London. He hailed from Ridigama in Kurunegala.
After graduating as a doctor, he migrated to London in pursuit of excellence and practised as a GP until his retirement.
He was truly a gentleman of quiet and affectionate disposition, always cheerful and jovial. He kept his good sense of humour in all situations across the then student community in Moscow. Dr. Yusuf is survived by his wife and two daughters.
Memories of him will linger and always remain with us. "Surely we belong to Allah and to Him shall we return."
May our supplications and prayers ease the grief of his family through this difficult time! I pray Almighty Allah grant him Jannathul Firdous!
Brigadier (Rtd) Ishrath Zanoosey
---