Govt. moves fast to force down sugar and rice prices
Long queues outside Sathosa and CWE outlets
View(s):
The Commissioner-General of Essential Services (CGES), locked in a bitter battle over lowering commodity prices, this week flexed its muscle by seizing stocks of sugar that merchants had held back from the market to force price rises.
Similar action would be taken over other essential commodities if shortages occurred, the Government warned.
The Commissioner-General, appointed under emergency regulations on August 31, is insisting that prices should be lowered but importers say the depreciation of the rupee against the dollar makes that impossible.
The State Minister of Co-operative Services, Marketing Development and Consumer Protection, Lasantha Aalagiyawanna, said rationing of sugar at Sathosa outlets and Co-operative Wholesale Establishments may soon be ended.
He said that due to the appointment of the Commissioner-General, the Government was able to ascertain the volume of sugar stocks in the country.
"We knew that 70,000 metric tonnes remain with importers but now we know Sri Lanka has over 130,000 metric tonnes of sugar, which is enough for a three-month period," he said.
The Government on Thursday gazetted the maximum wholesale price of a kilo of white sugar at Rs. 116 and the retail price at Rs. 122. Brown and red sugar would be sold for Rs. 125 and packetted red and brown sugar for Rs. 125 and Rs. 128 respectively.
A spokesman for the newly-appointed Commissioner-General for Essential Services told the Sunday Times that by Friday the state had taken over 32,597 metric tons of warehoused sugar, paying the controlled wholesale price for sugar, which is Rs. 116 a kilo.
This sugar is currently being sold through government-owned outlets but would soon be also available to privately-owned shops.
The spokesman said the Commissioner-General was currently focused on controlling sugar and rice prices, and the seizure of sugar held back at warehouses was to further that aim.
The spokesman said emergency powers allowed the Commissioner-General to take over stocks, overriding the objections of the persons responsible for holding back the stocks of sugar.
With the reduction in sugar prices, long queues formed outside Sathosa and CWE outlets. One shopper, Saman Ranasinghe, said he had to wait a long time at the Wattala Sathosa shop.
"After waiting for hours, I was only able to buy one kilo of sugar," he said. "This was a waste of my time. Because of the lockdown travel contractions I need to buy more sugar so my wife can manage until I shop again next weekend."
A leading importer said the recent cessation of sugar imports had caused prices to rise because of short supply but the Consumer Affairs Authority (CAA) disputed this, pointing out that 584,000 metric tonnes of sugar had been imported between October 14, 2020 and June 30 2021, an amount exceeding the monthly requirement of 35,000 metric tonnes.
Controlled prices have been placed on keeri samba, samba, nadu and kekulu rice: they must be sold per kilo at Rs. 125, Rs. 103, Rs. 98 and Rs. 95 respectively.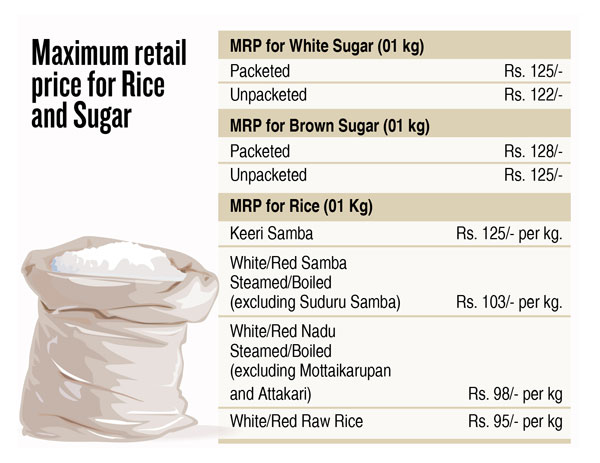 Sacks of 5kg and 10kg rice also have price controls, and merchants will be punished for charging higher prices, the government said.
At the Pettah Market, it was observed that lorries belonging to the Araliya large-scale rice mill were taking away sack-loads of rice for distribution to wholesale shops. This was happening in the outskirts of Colombo as well (see picture).
The mill owner, Dudley Sirisena, declined to comment when approached by this newspaper.
A CAA official said the authority had sealed 60 warehouses that had not been registered with the CAA. He added that the Commissioner-General had requested a report on registered and unregistered warehouses holding rice stocks so that rice may be acquired to alleviate market shortages.
An unregistered paddy warehouse in Galkiriyagama, Ulpathgama in Anuradhapura was raided by the Dambulla police Special Task Force following a tip-off. The warehouse owner, J.H.S.K. Jayasundera, said he thought that because he had bought paddy with credit from a state institution he need not register his warehouse with the CAA.