Google's Pixel 6: Here's what we know so far
By Mahesh De Andrado
View(s):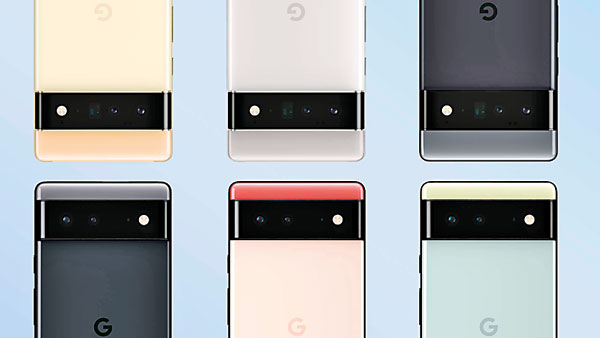 Google's new flagship smartphone may be just around the corner and the company is keeping strongly mum about it. In case you're wondering, after Google's Nexus line-up of smartphones and tablets were killed off, the company introduced the Google Pixel in 2016. This was followed by the Pixel 2, 3, 4 and 5, each with varying sub models such as the Pixel 4, Pixel 3, and Pixel 3XL. The latest addition to the Pixel family, the Google Pixel 6 was teased over the past few weeks and rumours are flying about what the new kid on the block will bring to the table.
Here's what's likely:
A chip off the old block
Google's new Pixel 6 and Pixel 6 Pro are very likely to sport a custom chip (or processor) designed by Google themselves and manufactured by a third-party. Simply called "Tensor" it is similar in concept to Apple's new M1 chip. While the manufacturer is said to be Samsung, Google is also claiming that the new Pixel 6 will be the "fastest, smartest and most secure Pixel phone yet".
The new Tensor chip will bring notable improvements to speech recognition and photography, harnessing the power of artificial intelligence, something that Google is extremely familiar with. The Verge showcased an example where a blurry photo of a toddler in motion was processed via Tensor by combining the details from multiple photos into a single image. Similarly, Engadget described Tensor's speech recognition capabilities as being "data-center-level". In their example, the Pixel 6 was able to spot the difference between a dictated message and a voice command.
Focusing on what's important
Focusing on other specs of the Pixel 6 (pun intended), both the 6 and the Pro are expected to have a multi-camera set-up. This will take the form of a camera bar that will run the full width of both devices. If you're worried about accidentally scratching said lenses, Google has also added a raised metal rail to protect the lenses (phew!).
If the rumours are to be believed, then we'll be looking at (again, pun intended) a 50MP wide camera along with a 12MP ultrawide camera on both the 6 and the Pro models. The Pixel 6 Pro is likely to be a 3 camera set-up with a 4x optical zooming telephoto lens. This will most likely be ditched on the Pixel 6. The Pixel 6 pro will also have a 12MP front facing camera via a hole-punch and the Pixel 6 will have a 8MP camera. If you've used a Pixel to take photos, then you know that it produces some stellar images. So the new camera system coupled with Tensor's AI capabilities will be quite interesting to see.
Seeing is believing
While that's all happening at the back of the phone, the front of the Pixel 6 has its own thing going on. The Pixel 6 will pack a 6.4" FHD+ (2400×1080) display with a 90Hz refresh rate. The Pixel 6 Pro bumps all that up to a 6.7" QHD+ (3200×1440) display with a 120Hz refresh rate. It's very likely that these will both be OLED or AMOLED displays with some sort of HDR certification meaning movies, photos and games will look that much better. Both devices will also pack in-display fingerprint sensors.
We're also looking at a 23W wireless charging stand for both the Pixel 6 and Pixel 6 Pro. This again would make sense with an OLED/AMOLED display as you can use the display to show notifications or a collage of photos while the device is charging, or even use it as a high tech alarm clock. Plus with devices now not shipping with chargers, this would be an additional incentive for sales.
When can I get one and how much will it be?
Given the specs of the Pixel 6 and the Pixel 6 Pro, it's likely going to be priced at a flagship price as well. Last year's Pixel 5 launched at $699 with mid range specs to boot. According to Rick Osterloh, senior vice president of Google's hardware division, "part of the goal is to show the very best that Google can offer. There is a big segment of the market that wants the latest, and we love building technology. So we're going to try to appeal to that part of the market, too." The new Pixel line-up "will certainly be a premium-priced product" he says, so we can expect it to be around the $900-1000 mark (maybe even higher).
There's no word yet on when the Pixel 6 and 6 Pro will be launched. But looking back, Google has always launched their Pixel devices in October, save for the Pixel 5 that launched in September amidst a global pandemic. That coupled with the ongoing chip shortage could delay the launch to November or December, but it's most likely October. What also remains to be seen is whether the launch will be a live event or a virtual one.