Appreciations
View(s):

A leader, mentor and friend

Susil Sirivardana

Susil Sirivardana was one of my oldest and wisest friends. He passed away on Monday morning. He chose to mentor me in public service when I was 21 years old — he's the reason I chose to stay in the career path I picked. But he was more than a mentor. He was a friend who taught me to see a better world.

I was interning at the President's office in early 2015. I had no designated telephone or office. I came to work one day to find out that a former advisor to President Premadasa had left messages trying to contact me in several different offices in the Presidential Secretariat. I called him back and found out that he had read one of my policy articles on the news and had some notes for me. I went to meet him at the Housing Ministry; he shared with me his thoughts on my article and a copy of the election manifesto he had drafted for R. Premadasa in 1989.

In the next few years over many hundred cups of tea, he walked me through the policy blueprints of Janasaviya, Gam Udawa and shared many amusing stories from his unbelievable life. I will never know why he so selflessly shared all this knowledge with me, for nothing in return.

He introduced me to grassroots activists in the fight for housing for the homeless. He could have back-to-back meetings with homeless people and Presidents seamlessly. He could walk through the slums of Wekanda and into the President's House and never change a thing about how he carried himself. "Thisuri, you need to be with the people," he would say. He always wanted me to remember that the real work is on the ground. That the top is where you execute policies, but the bottom is where you learn everything about good policymaking. He encouraged my reluctant, introverted self to engage with grassroots leaders and learn from them.

How did a man raised in a comfortable home in Colombo and educated at Oxford, understand the plight of the rural poor or the urban homeless? Returning from Oxford, he took up a teaching position in a school in rural Anuradhapura. He learned to engage with people and understand their stories. He spent many years there before joining the civil service. In those early years of mentoring, while I was still an undergraduate student in America, before I had any job offers lined up in government, he encouraged me to consider taking up a teaching post in a rural school in Sri Lanka. A year later, after joining the President's staff, I learned from colleagues that he was calling my supervisors and senior officials at the Presidential Secretariat to complain that I was spending too much time cooped up in Colombo, requesting they send me to work on the ground with DS level officers in remote villages.

Those requests were honoured, and man, did I curse those first days in Moneragala. But a few days in, getting accustomed to the cold-water baths and heat rashes, I came out of my shell. I learned how little I knew about the country I claim to love so much. Those were some of the most formative days in my career — I have him to thank for it.

He made me read, read, and read. His old, termite-ridden books fell apart as I read them, and were often returned to him in pieces. He quizzed me on what I had learned, and gave me even more books to read and report back; he was relentless.

My decision to continue working in government was inspired very much by him. He encouraged me to keep at it. When I was appointed to head one of the President's policy projects when I was just 23, he was one of my biggest cheerleaders. He helped me fight my imposter syndrome.

He knew me, saw the world the way I saw it, and knew how much I struggled to work in a system that constantly stood for the opposite of what I believed in. He would call me during difficult times in the President's office and give me much-needed words of strength and advice. He'd say in his ever-stubborn voice, "It's your job to do what's right. That's why you've been hired. You tell him to his face what you believe is the right thing to do. If he doesn't listen, that's on him. If you don't tell him, then it's on you. I know you can do it: be strong."

When he found out I that I resigned during the 2018 coup, he said something that brings a smile to my face even on this saddest of days:"You make me so proud and so hopeful for the future. I always knew you had it in you. Always remember how your conscience feels right now. Never forget it."

A big part of mentoring a young person is instilling confidence. And man did I get lucky with Susil. He took a little girl who could barely comprehend a policy paper to think bigger. Taught her the ropes and made her believe that she was good enough to write a policy manifesto. (Coincidentally, I ended up co-authoring the presidential election manifesto of Sajith Premadasa a few years after meeting Susil.)

My friends and family often found it amusing that I spent so much of my time talking to this man in his 80s about public policy, but I treasured our talks so very much. In our last conversation, a few weeks ago, we spoke about the new normal, social security and brain drain. He was upset about what the pandemic was doing to the country. I told him Sri Lanka has been through worse times and we'll get through this one too. We ended on that note. We never spoke again — never will. I will always miss him. What an honour it has been to know him.

There are many dreams of his for this country that were left unfulfilled. I will never stop working on them. He mentored so many like me— I know I'm not alone. The world he saw is not only possible, he has laid the foundation for it.

Susil Sirivardane was one of the greatest public servants to walk the earth of my motherland. He is survived by his brainchild Janasaviya (now Samurdhi), which continues to help Lankans even after he's gone— what an extraordinary gift.

Rest well, my friend. You will be missed.

Thisuri Wanniarachchi
---
A legacy of faith, love, and service
Ralph Martin Fernando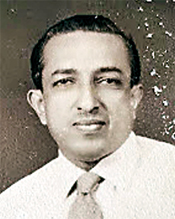 Ralph Martin Fernando was born on August 9, 1921, as the second child of Martin and Laura Fernando of Sir James Avenue, Panadura. He had five other siblings Nesta, Vernon, Shirley, Mignon and Elmo. His education was at St. John's College, Panadura where he also played cricket and hockey for the college. He completed his G.C.E. (Advanced Level) London and as his father had passed away when he was only 16, decided to support the education of his younger siblings by joining the Government service.
He worked at the Urban Council of Panadura first as a temporary clerk and then as an Assessment Clerk and later moved to the Ceylon Medical Department. He was "specially selected" and transferred as Grade 2 clerk at the Governor General's Office from February 1949. Having served in various Govt Departments, he became Office Assistant at the Tea Research Institute, Talawakelle from 1973 to 1975.
His career in the Sri Lanka Administrative Services ended as office assistant at the Zoological Gardens, Dehiwela from where he retired in 1980. Being an animal lover, the Zoo was the ideal place for Ralph and every morning he did a full round,  talking to animals like the chimpanzees, who responded to him.
Ralph married Srima Malini Fernando on May 7, 1953 at the Baptist Church, Ratnapura and blessed with two daughters Sureetha and Sharmila, they built a Christian home of love and faithfulness.
Ralph and Srima were a loving couple. Their hobby was to do crossword puzzles in the newspapers. Though he never learnt music, he played hymns on the piano by ear. He had dogs, various birds including ducks and poultry and spent his free time with his pets.
The sudden death of his wife in July 1979 was a heavy blow. Ralph was blessed to walk down the aisle with his two daughters to give them in marriage – Sureetha to Sumithra de Silva and Sharmila to me. His five grandchildren Sulakshi, Suranthi, Sureshi, Suhadhini and Shameendra have inherited his loving and caring spirit.
Ralph was a faithful member of the Methodist Church, Panadura and actively served God through the Church. He was a key figure in the Sunday School, Wesley Guild and the social services of the Church. He was elected as a Circuit Steward to represent the Panadura Methodist Circuit at the Church Synods and conferences. He was gifted with a beautiful tenor voice, and rendered it to sing praises to God.
Ralph was called to his eternal rest on January 27, 1982 at the age of 60. COVID-19 has sadly prevented the family gathering to celebrate his birth centenary but he has left behind a legacy of Christian faith, love, witness and service to be emulated.
May he rest in peace and rise in glory!
Rev. Asiri P. Perera
---
The visionary who created a 1000 doctors
Dr Sathis Jayasinghe
 Dr. Sathis Jayasinghe, the much-respected general practitioner, beloved by the people of Wattala was snatched away by the cruel COVID-19 this month, after a distinguished and eventful life of 93 years.
Dr. Jayasinghe will be best remembered for generations to come for the important role he played in the conceptualisation and spearheading of the North Colombo Medical College (NCMC) project, which was the first private medical college in Sri Lanka. He along with a group of mavericks that included Drs N.G. Heennilame, Dennis Aloysious, Walter Gunaratne, Shelton Cabraal and Dr. Willie Ratnavale had the audacity to dream the unthinkable, setting up of a fee-levying medical school. This was a boon to many students who yearned to become doctors but had lost the race at the Advanced Level examination as it was a monumental hurdle to clear.
The medical school was set up in Talagolla, Ragama on a piece of land and a dilapidated building granted by the Government. As the proverbial Phoenix rising from the ashes, a modern medical school materialised from the derelict building and the surrounding desolate land due to the determination and hard work of these founding fathers. The NCMC helped to realise the lifelong ambition of becoming doctors for 1000 youngsters who presently serve humanity in Sri Lanka and all over the world as leading medical professionals. It is for this gift of love that we the alumni of NCMC will forever remember Dr Jayasinghe and the others with warmth and gratitude.
After eight batches of students graduated through this educational institution and after much controversy and heartache, the NCMC was nationalised and metamorphosed into the Kelaniya Medical Faculty.
Dr Jayasinghe was born on July 9, 1923, to Benjamin and Harriet Jayasinghe. After graduating from the Colombo Medical College, he served rural Ceylon before joining the Lady Ridgeway Hospital to pursue his ambition of becoming a paediatrician. After completing his local training, Dr. Jayasinghe sailed to the United Kingdom for further training at the Great Ormond Street Children's Hospital, London. Accomplishing his required training along with the Diploma in Child Health (DCH) qualification he returned and set up a general practice in Wattala.
His practice grew from strength to strength due to his kindness, medical acumen and his healing touch –"Ath Gune''! His reputation spread far and wide, that patients flocked to his surgery not only from Wattala but from adjacent districts as well. One of his grieving patients informed that the beloved doctor had treated four generations of his family members! Another recalled how his little daughter, always carried 'Delta toffees' to pay 'Doctor Uncle' and he lamented that it was ironic the good doctor succumbed to the Delta variant of COVID-19!
His patients considered him not only as their family physician but also as a close confidant for advice and guidance. In addition, he treated the inmates of Preethipura Children's Home and Nayakakanda Elders' Home pro bono.
Young Sathis married Rohini Sirimanne of Narawelketiya Walauwa, Elpitiya who was always by his side until she predeceased him last year. After Dr Jayasinghe was appointed as the personal physician to President J.R. Jayawardene they trotted the globe as members of the presidential entourage and met prominent world leaders such as President Reagan, Indira Gandhi, General Zia Ul-Haq, Emperor Hirohito, Fidel Castro and Pope John Paul.
It is with deep affection that I recall Dr and Mrs Jayasinghe graciously hosting us students when we visited them to sing Christmas carols and Vesak Bhakthi Gee. We especially sang with gusto at the Jayasinghe's as we were certain that a hearty meal would await us, while Piyal, their son would join the orchestra playing his thabla bringing much joy to his doting father. Once we concluded our repertoire, Dr Jayasinghe would request us to sing his favourite golden oldies like 'Olu pipila' and C.T. Fernando's songs. These are the wonderful memories that we shall always cherish.
We would like to convey our condolences to Rohan, Anomi, Piyal and Dilika who cared for their beloved father until the very end.
Dear Sir, may your journey through Samsara be short and smooth and may you attain the supreme bliss of Nirvana.
Dr Thushara Rodrigo
(on behalf of the North Colombo Medical College (NCMC) Alumni Association)
---
His human values are etched in our hearts 
Dr Jeyarajan Niles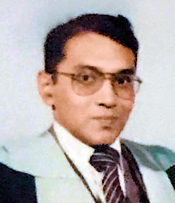 Dr Jeyarajan Niles was born to a well-known Christian family in Jaffna. He was the nephew of Dr. N. A. J. Niles who was a former Senior Surgeon at General Hospital Colombo. Jeyarajan had his early education at St John's College Jaffna where he excelled in both studies and many sports.
Having graduated from the Peradeniya Medical Faculty in 1967, he worked at several peripheral hospitals including Laggala-Pallegama. As a medical student he won YMCA colours for boxing. Having passed the primary FRCS he served as a senior house officer to Dr. M.H. De Zoysa, Consultant Surgeon at Mahamodara Hospital Galle and proceeded to the UK where he obtained the fellowship of the Royal College of Surgeons of Edinburgh and also gained valuable experience by working in several British hospitals.
On his return to Sri Lanka he worked as a Consultant Surgeon to Nawalapitiya, Chilaw and Colombo South hospitals. He was appointed as Consultant Surgeon to the National Hospital of Sri Lanka in 1995 where he worked until his retirement in December 2002.
Dr Niles was a popular doctor and a much-loved surgeon who treated his patients equally without fear or favour. He concentrated mainly on his work at the government hospitals and did a very limited private practice. He was never driven by greed but derived satisfaction from attending to the sick while simultaneously challenging his own surgical skills. He was a great source of strength and encouragement to his juniors and students.
In addition to his surgical services Dr Niles was the President of the Government Medical Officers Association for many years. In this role, which was often thrust upon him, he fought hard for the rights of the medical officers and the integrity of the profession. He was fearlessly outspoken and always believed in calling a spade a spade. As a member of the Sri Lanka Medical Council he made a significant contribution to uphold the values of the medical profession and the standards of medical education.
Dr Niles was a multifaceted and gregarious personality. He was a keen swimmer and a life member of the Otters Aquatic Club. He regularly entertained his juniors and friends at this venue where he would relate very amusing anecdotes. There was no limit to his kindness and generosity.  In short he was a pleasure to work with.
After his retirement Dr Niles led a modest and simple life with only his pension as an income. He was a devout Christian and a regular churchgoer. Unfortunately, his health started to deteriorate after his retirement and culminated in his death many years later. His devoted wife Indrani and two sons Navam and Lakshman survive him.
In general, memories fade with the passage of time. Yet memories of those with outstanding qualities and human values are etched in our hearts forever. Those who knew Dr Niles will never forget him. May his soul rest in peace.
Prof. Ishan De Zoysa
---
Blessed to have known him
R. Rajamahendran
The death of R. Rajamahendran (RR) came as a great shock to me. I had heard that he was COVID positive, but knowing the fortitude and fighting spirit of the man, I didn't for a moment envisage death.  RR has come out of many situations with the resolve to fight harder and accomplish greater heights. But sadly there was no turning back this time as the Creator called him unto himself with the words, "Well done, thou good and faithful servant. You have earned for yourself a place in the Kingdom of Heaven."
I first got the opportunity of meeting RR in 1993. At that time I was the CEO of Holmes Pollard & Stott and also a news presenter at Sri Lanka Rupavahini Corporation. I didn't have a clue that he was offering me a job when he asked me to visit him in his plush office at Braybrooke Place. After a casual chat about the media and ad scene, he posed me a million dollar question? Why don't you join me? He went on to say that he had me in mind for ICL Marketing. But I replied that I was in the process of building Holmes Pollard & Stott and it wouldn't be right for me to leave the place as quite a few industry professionals  had joined me – in a sense I would be letting them down!
RR went on as if he didn't hear me:  "You will be the General Manager of ICL and I will give you perks that you will find difficult to resist. I asked him whether I could think about it." After a warm handshake, he took me down a flight of steps and introduced me to his Group Directors one by one saying, "This is Pradeep. I'm sure all of you know him – he will be joining us soon." He then escorted me to my car and parted company saying, "I hope I will have positive news soon."
This was a very hard decision for me to take, but after very careful consideration, I decided to write to RR turning down his lucrative offer.
RR never got angry with me. He respected my decision, and from then onwards till the day he closed his eyes, he was a major client of mine – a client who generously supported me at every turn. He always inquired how I was doing and I knew I had a genuine friend whom I could turn to when I was in trouble. RR was warm-hearted, sincere and spontaneous all the time.
I remember him advising me not to neglect my business when I took up public office in 2015. I wish I had taken his candid advice!
RR never forgot my birthday.  Every year he would send me the biggest bowl of flowers and at Christmas a lovely gift for the entire family.
I visited RR a few months before his passing away. He promptly fixed up meetings with his CEO and Group Directors to see if there were more opportunities with regard to advertising. Within weeks, things opened up and I could breathe again! As usual he wanted to accompany me to my car, but halfway down the aisle, his son Sashi was there and he asked him to take me downstairs! Was that a premonition I wonder? That was the last occasion I saw him in person.
RR was a colossus, a personality who walked the talk. He was always passionate about the work he did and the people who meant the most to him.
His legacy was ideating brands that would become icons in the public eye, e.g. S-Lon, Dialog, Anchor Newdale, Black Knight, Eva, Jones Tea and his beloved MTV and Sirasa.
I can still picture him with his winsome smile saying to me, 'Non omnis moriar' – I shall not altogether die!
"Farewell, my blessing season this in thee! Most humbly do I take my leave, my Lord."
Pradeep Amirthanayagam
---
She embodied empathy
 Mangala Vidanapathirana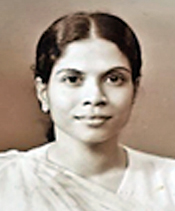 Mangala Vidanapathirana passed away on July 6 after a brief illness.  Mangala akka as all of us cousins called her was a great source of strength to her family and relatives. Whenever we had problems or needed advice with our personal crises, we would always go to her.  She never let us down or betrayed our confidence.  Even in her sick bed, she was available to anyone who sought her help.
Mangala's life was spent caring for the members of her family who needed her strength and support. She made it her purpose in life to be there for her brothers Preethi, Rohan, and sister-in-law Sunita and they in turn cared for her when she fell ill and needed them.  Her beloved niece Gowri also was a companion and friend and regularly visited Mangala with her husband Rohitha and her two daughters so that she was rarely without company.  In the years before she fell ill, Mangala played an active role in her neighbourhood club, helped organise trips, almsgivings etc.
I know her as someone who never forgot a kindness.  In her youth she worked for the State Engineering Corporation.  People remember her as a fearless campaigner for the underdog and the disadvantaged.  She was an early feminist, long before the movement came to be known as such, but also a very spiritual person engaging in her meditation practice which she found time for daily.
In the last few years she had many young adults coming to her for help with English.  It was a great satisfaction to her when they succeeded in securing employment here or overseas. She was a dedicated teacher with abundant patience, empathy and understanding.
Her family and her niece watched over her in sickness just as she had cared for them.  Those of us friends and family who drew on her strength and counsel these many years will miss her empathetic influence for a long time to come.
May she attain Nibbana.
Lilamani de Silva
---