Beginning and ending her day caring for strays
By Ruqyyaha Deane
Although it has been a challenge to help her four-legged friends during the pandemic Sahana Ravishankar continues doing what she loves doing
View(s):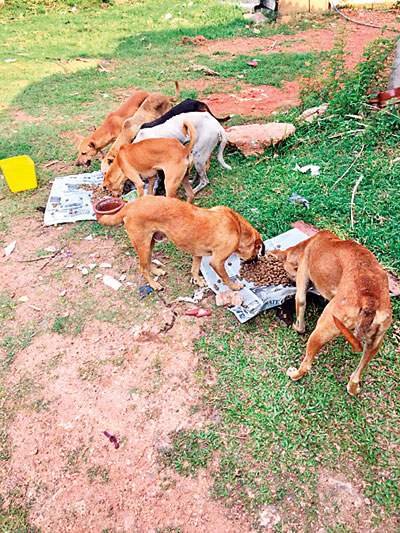 It is almost midnight when Sahana Ravishankar gets home after an exhausting yet fulfilling day, feeding over 200 stray animals around Peliyagoda and Lake House. Despite her tiring day, she is still full of energy as she passionately talks to the Sunday Times about the work she loves.
From boarding sick animals with vet clinics, rescuing and rehoming pups and kittens, running sterilization campaigns, weekly feedings and daily feeding around 15 strays around her home (excluding the rescues at her own home), for Sahana, the rescue work never ends.
"You learn so much on the go and you always regret the ones you couldn't save," she says empathetically. Having put her career as a lawyer on the backburner until she is able to stabilise her rescue work with more regular volunteers and donations, Sahana admits that looking after these helpless animals has become a priority for her. The knowledge that in her own little way she is able to make a difference to those who often go unnoticed keeps her going.
Her daily routine now consists of waking up in the morning and then letting her dogs out into the garden. She then begins making food for them alternating between tuna, tinned fish or chicken with chicken liver and a little rice. Thereafter, she checks whether there are any people who want to donate, rehome or adopt a rescue. She laughs that she then orders food for herself as she doesn't know how to cook. By 2-3 p.m. she heads out to feed the strays around her area. It is usually around 8 when she returns home to feed her dogs and in between, it's highly likely that you will find her busy with a rescue, sterilisation  or rehoming one of her strays.
On her weekly feedings days which sometimes increase in frequency depending on donations, Sahana starts the gargantuan task of cooking 30 packets of pet food, 6 kgs of liver and other items around 7 a.m. Leaving the food to cool she collects about 40 kgs of rice mostly from kind donors and neighbours and mixes it in. She is usually able to fill about six buckets and then sets out to do the rounds to feed strays in Peliyagoda, the Lake House area and occasionally Baseline Road.
Volunteers and friends sometimes help her with her rounds but due to the pandemic, that has considerably reduced. Not having her own vehicle has also posed a challenge but ever resourceful, she has obtained a pass to go around in a tuk to feed her hungry brood.
"Veterinary care is a huge struggle. It's really hard to get sick animals to vets nowadays as there are only a few clinics operating and that too for only a few hours. So now even if you find a weak or sick animal, you can't get the vet to the location. Unless you have someone to help with catching or transporting the dog to the clinic you have no options left and the animal would suffer or die without vet care,"  she says.
Sahana's love for animals grew as she watched her mother and sister help rescue and rehome many strays during her childhood. "I would say that I was inspired at a young age to do something for the voiceless. I must have been in Grade 7 or 8 when I tagged along with my sister for my first sterilization campaign and I remember being in awe seeing her pick up stray pups and rehome them," she recalls adding that it was one of her favourite bonding experiences with her sister as well.
It was after her sister migrated and her mother had to limit her rescue work that Sahana took it up.
We can all help animals in our neighbourhood during this lockdown period, Sahana appeals, urging people to leave some food and a water bowl for the strays near their homes as now more than ever, these hapless animals have no way of finding food and water as shops and restaurants are closed and there's no leftover food to scrounge from the roads or bins. If people see an ematiated animal they should call the animal welfare associations or get it to a vet, she says.
Noting that many tend to extend more help to pedigree dogs, whether it's buying them as pets, reaching out to help or giving donations, she says, all animals deserve the same love and support.
Sahana appeals to kind-hearted souls to ensure that these strays get the love and care they deserve. To help by donating, adopting, fostering or volunteering contact her at 0777567122.