How a father and son found the pathway to university success For Nuvin and his father, UTS was the perfect choice
View(s):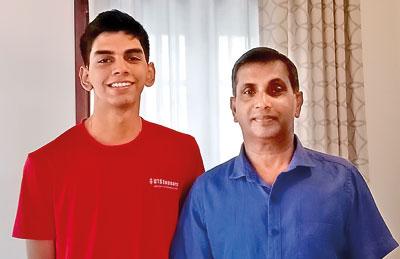 Nuvin Chamathka Perera will soon begin his studies at the University of Technology Sydney (UTS).
After successfully completing a Diploma of Information Technology at UTS Sri Lanka, he has qualified for direct entry to second year of Bachelor of Computing Science (Honours) majoring in Cybersecurity and Networking. His father, Mr Hemasiri Perera, played a key role in Nuvin's decision to study at UTS. Before settling on a study pathway, they considered several factors.
It was important to Mr Perera that he could provide as much support as possible for his son while he transitioned to tertiary education. He says, "The UTS Diploma of IT allowed Nuvin to complete his first year of studies in Sri Lanka. It was a great opportunity for him to get used to the university lifestyle while still living in Sri Lanka with us. This proved to be a cost-effective option as well."
Nuvin was also attracted to UTS Sri Lanka. "I knew it was a prominent college that offered a pathway to Australia," he says, "and that they provide high quality education." Nuvin always intended to continue his studies in Sydney, so the close ties to UTS were also an important factor. He says, "They help students get used to the Australian system."
A world-class standard of education
Both father and son agreed on Australia as the most suitable study destination. Nuvin says, "I want to pursue a world-class standard of education that will allow me to work anywhere in the world, and to enjoy an international university experience.
I also want to explore Australia. It's a beautiful country, and it's known for having one of the best higher education systems in the world." Mr Perera adds that UTS was a good fit for Nuvin's professional aspirations. He says, "UTS is a high-quality university that provides an all-encompassing view of IT. This is necessary for a rapidly changing industry and could open many doors for future opportunities."
UTS Sri Lanka has proven to be a great start to Nuvin's university journey. In addition to the engaging course content and high level of support, he was impressed with the facilities. "I had a great time at UTS Sri Lanka," he says. "The number one thing I liked was high standard of the facilities – not just for study, but also for relaxation."
In the light of Nuvin's success, Mr Perera is happy to recommend UTS. "It offers may benefits and opportunities, and it's an affordable option for a great international education," he says. "I also advise parents to carry out their research well in advance and get to know the options that are available. It's important to consider all aspects, such as your child's needs, the total cost, and future opportunities."
Helping students realise their potential
Ms Alison Hiscox, Principal of UTS Sri Lanka, says, "Students at UTS Sri Lanka benefit from a style of teaching and learning that builds confidence and helps them realise their potential as independent learners. In addition to course subjects, our teaching model focuses on life-long learning skills. This means small classes, formative assignments, and an emphasis on collaboration in and outside the classroom. We're also proud to offer purpose-built facilities that replicate those available to our students in Sydney. Students who complete their first year here in the heart of Colombo are well-prepared to transfer to continue their studies in the heart of Sydney."
Enrolments now open
UTS Sri Lanka has already opened enrolments for the November intake, (students can apply for Foundations or diploma courses with pending O- Levels or  A-levels) and there are advantages for those who make an early start.
Early birds are entitled to a guaranteed 25 percent scholarship and a registration fee waiver. UTS Sri Lanka also offers academic merit scholarships up to 100 percent. These include the Sri Lanka to Sydney Scholarship for academically gifted students who want to transfer from UTS Sri Lanka to UTS.
To find out more about the Diploma of IT, the range of courses available at UTS Sri Lanka, and how to take advantage of scholarship opportunities, visit utscollege.edu.lk/experience or call 0774 775 774.
About UTS
UTS is a dynamic and innovative university, ranked as Australia's top young university, and 133rd in the world in the QS World University Rankings 2021, reflecting its strength in employability, research, teaching, and internationalisation.
UTS Sri Lanka prepares students for entry to all UTS undergraduate courses though the UTS Foundation Studies Program and offers a Diploma of Business, a Diploma of Engineering and a Diploma of IT. When students complete their first year at UTS Sri Lanka, they are ready to complete their UTS degree in Sydney. After successful completion of a diploma, students can often fast-track to the second year of the corresponding degree. *
* Subject to successful completion of a diploma with no more than 2 subject fails and depending on course chosen.