Manel Dharmakeerthi reelected as head of SLWF
wushu
View(s):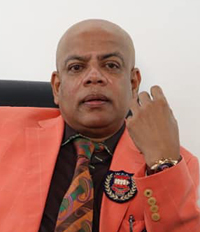 Manel Dharmakeethi was unanimously reelected as the President of Sri Lanka Wushu Federation (SLWF) for the second consecutive term of 2021-2025 at the federation's election, which was held via Zoom Technology. Dharmakeerthi completed his first tenure of 2017-2021 as the President of SLWF and represented Sri Lanka at different capacities at regional and international competitions as an official and technical expert of the sport.
The election was held via Zoom Technology with officials representing Ministry of Sports taking part as observers. The election was participated by 41 affiliates of SLWF from a total of 61, yet completed as an uncontested election as only one party had forwarded nominations. All positions were filled up uncontested as a result.
Accordingly Mahendra Ekanayake, Kithsiri Subasinghe, Aruna Kumara, Nishantha Pathiraja and Lakshman Karunaratne were elected Vice Presidents with Vijith Edirisinghe taking the position of General Secretary. Ajith Karunaratne and Ajantha Bandara were elected as Assistant Secretaries.
In addition the positions of Treasurer, Assistant Treasurer, Tournament Secretary, the two vacant posts of Assistant Tournament Secretary and seven members of the Executive Committee were filled in accordance to the SLWF constitution.
Dharmakeerthi, soon after taking charge his second tenure, stated that SLWF's immediate goal is to win a medal at the Asian Games 2022, which is set to take place in September in China. Dharmakeerthi recalled that he was proud to give Sri Lanka four gold, 14 silver and seven bronze medals from international competitions that were held during his first tenure.
"Finishing overall fourth in 'sanda' events at the last Asian Games was a huge achievement, given the fact that wushu is a martial art sport with its roots from the Asian region," Dharmakeethi said.
Dharmakeerthi explained that the newly elected SLWF officials will seriously look into attracting potential sponsors with the aim of further developing the sport with adequate facilities provided to its athletes. One of the main concerns faced by SLWF is the lack of a permanent location in which a state-of-the-art competing platform could be added.
"This is a huge setback to all athletes and wushu in general. We will focus on providing this facility to our athletes within the next few years and we could easily pin hopes in winning more international medals if all fall in line," the hopeful official added.
During the recent times, Dharmakeerthi led SLWF to many international forums and managed to build up a healthy reputation and relationship with his international counterparts, which in return has helped Sri Lanka in numerous ways.
SLWF Office Bearers
President: Manel Dharmakeerthi
Vice Presidents: Mahendra Ekanayake, Kithsiri Subasinghe, Aruna Kumara, Nishantha Pathiraja, Lakshman Karunaratne
General Secretary:Vijith Edirisinghe
Asst. Secretaries: Ajith Karunaratne, Ajantha Bandara
Treasurer: Harendra Jayatissa
Asst. Treasurer: Jagath Weerasinghe
Tournament Secretary: Ananda Kumara Herath
Asst. Tournament
Secretaries: Brian Jansen, Jeevan Maduranga
Executive Committee: Chamara Dharamadasa, Niroshan Bandara, Viraj Denuka, Wasantha Ranjith Bandara, Shantha Fernando, Rasanjali Menaka, Krishantha Kasutiarachchi
CEO: Ruchira Bodinagoda