Karting prodigy Yevan eyes F1 circuit
By Naushad Amit
motorsports
View(s):
At 14, an ordinary teenager would have dreams and ambitions, mostly sugarcoated or illusory. But for Yevan David it's all about commitment, dedication and action. The London-born and Singapore-based youngster to Sri Lankan parents, has dreams that are extraordinary — to become the first Formula 1 driver from the island nation.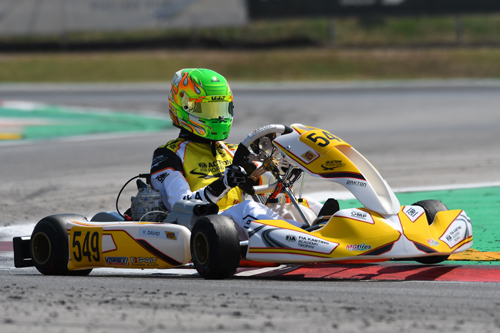 To achieve his goal, young David has gone miles beyond what a young kid of his age could not even imagine of. That's the seriousness of gravity his ambition has, perhaps even more larger and motivated than of the biblical narration of David, who overcame Goliath, the giant.
This David, that is being talked about nowadays, is a slayer of a different kind. For his age, Yevan David is a master-class in overtaking, and gaining positions — of course on the racing track. He is a go-karter, who turned a pro-karter in a matter of years, but with masterly training and relentless learning.
By May this year, approximately five years after his debut as a 'race karting driver', David earned a podium finish at an European Championship, thus becoming the first Sri Lankan to do so. He made history for Sri Lanka by being the first to win a European Heat karting race in Genk, Belgium.
Later in the Champions of the Future, he competed in the OKJ category, which is the Junior World-Class category featuring the best 12 to 15 year olds in the world. He finished 15th in the final race starting at 16th.
Last week David was placed fifth at the FIA Karting Academy Trophy, part of the European Championship 2021 held at Adria, Italy. He finished behind Maciej Gladysz of Poland, Riccardo Ianniello of Italy, Oleksandr Bondarev of Ukraine and David Walther of Denmark, not marginally, but closely.
After four rounds of the European Championship, David stands overall fourth in the driver's standing with 31 points, behind last week's winner Gladysz (46), Netherland's Reno Francot (38) and Ukraine's Bondarev (33). With three more rounds remaining, David is optimistic that he stands a higher chance to take the lead of the driver's table, if he keeps up to his instincts in a couple of weeks at Kristianstad in Sweden.
"The journey has been a tough one so far, yet it's highly satisfying. As a youngster, looking at turning professional in motor racing, every race is a challenge, yet it's exciting out there each time. Overtaking and wmaintaining the top position is something that I always aim at doing at its best, and I do have a higher chance of gaining the top spot in the championship. The gap is just 15 points and it's achievable," stated young David, joining an interview with the Sunday Times through zoom technology.
Living far off in from his family, who are based in Singapore and boxed in an apartment in Italy, solely to focus on his racing career. A challenge beyond for a 14-year-old, David has a guardian who accompanies him through the European Karting Championship. But he is as balanced as a highly matured individual, to focus on his training, physical and mental wellbeing, as well as his academic commitments.
"Since there are restrictions overall, I engage in online schooling. I don't miss my studies, yet I do visit the track every day, do physical exercises to stay fit and firm and also try the best to keep myself in good shape mentally. The most important thing out of the lot is your mental strength, and I think I'm in perfect shape overall," the youngster added.
Though he is thousands miles apart from his family, in another corner of the world, David's parents and family are daily in touch with the aspiring driver, who intends to switch into Formula 4 racing in a year or two.
His father, Yohan, gave young David the freedom to chose what fits him as a juvenile, and after trying almost all sports from football, rugby, tennis, golf, and you name it, go-karting was the one that gave him the real meaning for the word 'passion'. He would have been around 4 or 5 years-old, but David had the maturity to chose what was best for him.
"I naturally enjoyed karting and I had this strong feeling that I could, some day, become a professional driver if I engaged in it with passion. So I asked my father if he could get me a kart, and I got one. What I did was practising ever since at all times possible."
David was just 7-years-old when he appeared in his first race in 2015 in Singapore, and with a little success, he raced in Malaysia and Macau. He won his first race and championship at the age of 10 and moved to junior level competition at 12. He was placed second in the Rotax Asia Championship last year and at 13 years, David was placed 13th overall in the IAME Winter Cup in Valencia, Spain.
With days, weeks and months, David's only direction in the field of pro-karting is the way forward. With very little or no competitions happening in Asia, he moved to Italy with two intentions — to train and compete. But before reaching Europe, David, like any other earthling, had to stay away from competitions due to the ongoing pandemic, which was at its high.
"I was doing stimulator racing last year and won many online racing titles. This helped me maintain myself as a racing driver. This was during last year and when I didn't see anything coming up in Asia, it was then that I moved to Europe, and I'm glad that I came here," he added.
The expedition and experience in Europe only takes David's dream and ambition more closer, of becoming a Formula driver. The coming few weeks will be highly decisive for David, who intends to take a huge step forward in motor racing in a year or so.
"I'll continue karting until I complete 15, and then it's obviously the Formulas. The intention is to start from F4 and move up the ladder. I still have at least a couple of seasons ahead before making the switch, and by then I will be a more matured driver than I'm now," said the youngster, who treats Lewis Hamilton and Max Verstappen as his role models.
Clearing the pathway to become a professional racing driver, David has already taken a path that his career would incorporate with the latest trends and professionalism. Currently turning out for Forza Racing, under team manager Jamie Croxford, a veteran in the trade, David has a fleet of supporters other than his ardent parents.
With the backing of Infinity Motor Sports Management in the United Kingdom and The Management Co. Intl. in Sri Lanka, David has found a marketing slogan that would go along in his future progress as a driver, the YD21and #thebatwillrise.
"These are new trends, I was called the bat, because I like the superhero character batman and I used to have the sticker during my first couple of years on the kart. YD 21, are the initials of my name and my race kart number, and by now I have a sponsor for helmets, Veloz Racing. I have a serious plan for the future as a professional, and as I have been doing from the beginning, I will compete under the Sri Lankan flag, which I intend to take to the F1 circuit some day," the gritty karter said in a soft voice, a rather contrast to his action on the track.