Frightened Lankans say leaving Afghanistan is harder now
By Tharushi Weerasinghe
View(s):
Mostly comprising NGO staff and employees of companies that provided secondary services to these NGOs, 25 Sri Lankans want to stay back in Afghanistan, nine want to return and six others are yet to inform the Embassy of their decision
Lanka's Ambassador who was here on leave in Colombo when the takeover took place says he has informed Foreign Ministry of difficulties faced by those who want to return to SL
With no means of paying for their tickets or reaching the airport, the sounds of shouting and gunshots are all some people in Afghanistan–including Sri Lankans stuck there–rely on to grasp what's unrolling beyond their compound walls.
When Kabul fell to the Taliban on August 12, , it was claimed people flooded to local banks to withdraw their savings but that bank reserves were drained and many had to be turned away.
"We're all very scared, but leaving the country is harder now," said 41-year old franchise owner Anuruddha Saputhanthre, a Sri Lankan in Afghanistan. They were trapped in tensions caused by the US withdrawal and the Taliban takeover of Kabul. Anuruddha has been in Afghanistan for the last decade and is one of few people he knows that is allowed to leave his compound to enter the main city. "I also work as a business consultant at a few of the main hotels here so I'm allowed to travel about," he said, observing that many aren't permitted into the city owing to their affiliations with the UN.
Anurudda has managed to purchase a ticket and arrange for his departure but his Sri Lankan employees couldn't do the same. So he decided to remain to help with evacuation of his countrymen. "Some of my people even feel like leaving isn't option because a ticket costs about US$1,000 and they earn around US$ 800 a month, leaving them with nothing to survive on," said Anuruddha, who has been trying to convince the Sri Lankan community to leave. "I have used my life's savings for this business, too. We just opened up and we have had no cash flow at all, but what to do?" There was also difficulty arranging flights because the relevant officers have left.
According to Anurudda, the only safe place now is the airport where US troops are still deployed to assist evacuations. But they too will leave on August 30. "We don't know what will happen then," he said. "That's what is most alarming."
Anuruddha felt the Taliban takeover this time "felt different" in that no civilians or foreigners have been attacked as far as he knew. But another Sri Lankan in Afghanistan observed the tensions between the Taliban and the Hazaras, a minority community in Afghanistan who had come onto the streets to celebrate a festival.
Rajindra Rohitha, 51, is an international NGO worker who is currently inside the UN Human Rights Council compound in Kabul as part of an evacuation convoy. They had tried to leave a few days earlier. Special flights were arranged but a sea of around 50,000 people flooding the airport premises meant that their vehicle didn't move for three hours.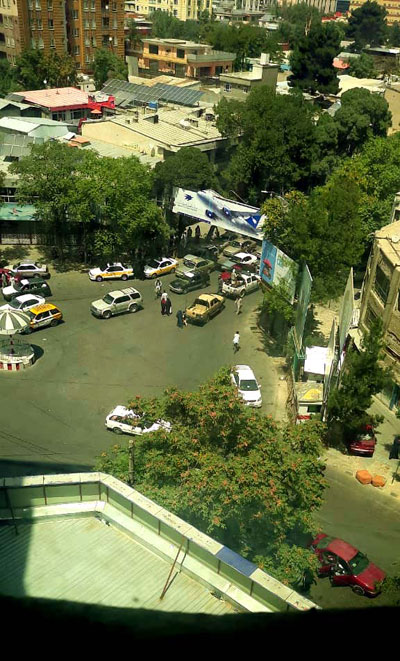 "We knew the Taliban were coming, but we didn't realize it would happen this fast," Rajindra said, noting that panic and confusion were palpable on August 15. There is no army or police in Kabul now. He is awaiting removal to Kazakhstan from where he will return to Sri Lanka but has no idea when this will be.
Sri Lankans affiliated to NATO and US are already gone, he said, guessing that many other Sri Lankans still remained. Sri Lanka's Foreign Ministry and Ambassador to Afghanistan Admiral (Rtd) Piyal de Silva–who had been on leave in Colombo when the takeover took place–were in constant communication with them, he maintained.
The embassy had a system for registering Sri Lankans who were in Afghanistan for work and had records of 280 people there before the US withdrew, said Ambassador Admiral de Silva. Most Sri Lankans had worked in US and NATO bases, he said. When the troops left, these were closed down and the Sri Lankans were repatriated as their contracts were terminated.
There were then around 43 registered Sri Lankans left. "I made a WhatsApp group for them but later realised there were more people who were unregistered," the Ambassador said. These arrivals, while legal, were not notified to the Embassy of Sri Lanka. Once that information was also gathered, the number increased to 93.
"We managed to scour records and find our people and then began the repatriation processes," he outlined. "Through the Foreign Ministry, we informed agencies like the UN and countries like the United States, the United Kingdom, India and Pakistan. Based on our requests, they took prompt action to evacuate people to countries like Qatar, UK, and Kazakhstan. From there, they will be brought to Sri Lanka following the necessary pandemic protocols. "
Sri Lankans in Afghanistan were mostly NGO staff and employees of companies that provided secondary services to these NGOs. Around 25 Sri Lankans want to stay back in Afghanistan to continue to work with the UN agencies and NGOs. Around nine want to return and six others are yet to inform the Embassy of their decision.
"Over 30 Sri Lankans are in Afghanistan currently," Ambassador Admiral de Silva said, adding that he knew of the practical and financial difficulties of workers who wished to return. "I have informed the Foreign Ministry of the circumstances and am waiting for their response."
The Sri Lankan Embassy in Afghanistan had three employees including the Ambassador, a local 23-year-old woman and a Sri Lankan male who had contracted Covid-19 and passed away on June 24.
The Ambassador had postponed his leave, staying on to work by himself. "I eventually returned on August 7, based on flight availability, with a return ticket for August 24, but decided not to go back until the situation improves," he explained. "I am now also awaiting instructions on my appointment." He works online at present.