Deadly molecular menace spares no one
By Nadia Fazlulhaq
View(s):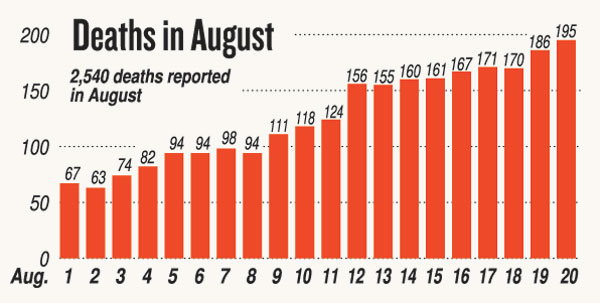 Doctors, nurses, ambulance drivers, business people, clergy, senior journalists, former sportsmen, school students, and women who had recently given birth, were among 800 recent victims of the coronavirus disease in just five days this week.
At Colombo North Teaching Hospital in Ragama, a second doctor died. Dr. Gayan Danthanarayana died from the disease earlier this year.
Dr. Mohomed Janan, 41, a medical officer at Ragama Teaching Hospital's plastic surgery unit since 2016, died after a four-day battle with the disease.
"He worked really hard in corrective surgery on those who sustained injuries from road traffic accidents and those with deformities. He is a father of three, including a newborn. His loss comes as a shock not only to his family, but to us in the hospital as well. A friendly doctor gone too soon," a colleague of Dr. Janan said.
Dr. R. Padmashantha, the Medical officer of Health of Galigamuwa in Kegalle, died at the age of 54 years, while being treated for COVID-19 at the Peradeniya Teaching Hospital.
Hospital workers continue to be exposed to the coronavirus, due to overwhelming surge of patients. A nurse at the family health clinic of the De Soyza Hospital for Women, Kethaki Upamali, died from complications triggered by COVID-19.
The National Hospital in Colombo that was recording a high number of COVID-19 patients, reported its first death this week. Geethika Wijesooriya, a 53-year-old ward clerk at the National Hospital, died at the Infectious Diseases Hospital this week.
"There are about 324 staff members in the hospital who have contracted the virus with about 100 nurses exposed to the virus," said Pushpa Soysa, the head nurse of the National Hospital.
At Mawanella Hospital, an ambulance driver died from COVID-19.
It is not only exhausted frontline workers who are dying.
The Chief Sangha Nayaka of Badulla District, Ven. Godunne Badulla Thera, died at Bandarawela District Hospital's COVID-19 ward this week.
Senior journalist and Deputy Editor/News Editor of the Sunday Island, Suresh Perera died at the Kalubowila Teaching Hospital from COVID-19 triggered complications at the age of 59 years.
Mr. Perera joined the Daily News 40 years ago, then joined the Upali Newspaper Limited's Island newspaper where he worked until his death. He was well known for his parliamentary reporting during the era of President Ranasinghe Premadasa, and a loved and respected personality among media colleagues.
COVID-19 has not spared the young too.
Sasmitha Dilthushan, 17, a promising student of Isipathana College, Colombo, died from complications caused by COVID-19. The life of student Zeenath Saleem, was also cut short by the coronavirus.
Retired Senior Superintendent of Police, Ibrahim Hamid, 78, and his son Zulki Hamid, 48, died days apart.
Among notable deaths this month was the founder of Zam Gems, Z A M. Reffai as well as Chairman of Capital Maharajah Group R. Rajamahendran, 79. The Chairman of the Velvettithurai City Council, Konalingam Karunanandarasa, 76, and former Sri Lanka rugby union player, Sheham Siddik, 57, fell victim to the disease.
Several who became mothers recently, died from COVID-19 related complications just after delivering their children.