Finally a lockdown after garbled messaging, confusion and blind panic
View(s):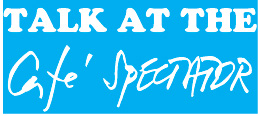 Garbled messaging, confusion and blind panic marred the government's announcement on Friday of a 10-day countrywide lockdown in the face of the COVID-19 pandemic.
President Gotabaya Rajapaksa had resisted calls for a countrywide lockdown for several weeks, arguing that the resulting damage to daily wage earners and the economy would be too great.
In the end however, the pressure proved too great. Daily COVID deaths hit a record 186 on Thursday, while all over the island; towns were shutting down by themselves as traders took steps to close shops and people stayed home. Unions threatened an island-wide strike from Monday if there was no lockdown. Even 10 coalition partners of the government wrote to the President asking for a lockdown. Former Prime Minister Ranil Wickremesinghe visited him and urged him to lockdown the country, while the two chief prelates of the Malwatta and Asgiriya chapters did the same shortly thereafter.
While speculation had been building that the government would be forced to act, some government ministers went public against any lockdown even on Friday. Tourism Minister Prasanna Ranatunga wrote to the President urging him not to go for a lockdown, while State Minister of Indigenous Medicine Sisira Jayakody proposed that a lockdown should be declared only if ministers, MPs and government employees agreed to give up half their salary to be used for the welfare of daily wage earners.
On Friday afternoon, State Minister Channa Jayasumana said the President had agreed to a request by the Mahanayaka Theras regarding a lockdown and would address the nation. It was newly appointed Health Minister Keheliya Rambukwella though, who was first to announce the duration of the lockdown on his Twitter account. Mr Rambukwella used the word "nationwide lockdown" in his tweet.
Army Commander and Head of the National Operations Centre for COVID Prevention Shavendra Silva though, claimed what was in effect was a "quarantine curfew" leading to confusion as to whether there was a difference between a "lockdown" and a "quarantine curfew". It was later announced that essential services and some other sectors would still be working.
Whatever one calls it, the announcement sent people rushing to buy last-minute essentials, knowing that they would have to stock up for 10 days, or perhaps more in case the restrictions are extended. This resulted in large crowds on the roads, at supermarkets and shops. Long lines of vehicles were also seen at filling stations. The large crowds were in direct opposition to appeals by health authorities for people not to congregate in crowded places, but given that many had only hours to prepare, there was not much to be done.
---
Private Secretary's Public posturing subject him to ridimle
When a new minister is appointed, it is customary for them to bring in their own personal staff. More often than not, these staff members, who are paid at the taxpayers' expense, are members of their immediate or extended family, many of whom owe their positions solely to their family connections rather than any capability.
This was the case too after the minor Cabinet reshuffle this week, when some ministers swapped their portfolios. A private secretary to one of the newly shuffled ministers happened to be his own son. The young man once represented his country as a sportsman, and had his fair share of disciplinary issues while in the team.
The son thought it fit to boast about his position at the new ministry by adding it to his bio on Facebook. Not surprisingly, it was quickly picked up by users, who ridiculed the private secretary for boasting about getting a new job simply because he happened to be his father's son. Questions of nepotism were also thrown his way.
In the end, the young man quietly removed mention of his new post from his bio, but plenty of people had obtained screenshots of the post before then, so that his humiliation will live on.
---
Politicians turn to public for lockdown help
Once more, the politicians have turned towards the general public to raise funds to support daily wage earners as the country faces an islandwide lockdown.
Earlier, there had been calls for a percentage of the earnings of the state sector would be retained by the government so that the government could support daily wage earners during the lockdown.
Once again when the government was moving towards a lockdown, Tourism Minister Prasanna Ranatunga had written to the President and suggested donating 75 percent of the MP's salary and donating 50 percent of state and private sector employee's salary.
The Minister of Trade, Bandula Gunawardena too has proposed to offer his parliamentary salary to the Covid eradication fund and notified Parliament's Secretary General.
However, many others pointed out that they have only one salary and do not have any special perks such as allowances and in the case of ministers, a separate salary with cars and petrol and housing.
They ridiculed the minister's proposal as ministers who depend on taxpayer's money to get free electricity, lodgings, fuel as well as other benefits call for the public to surrender their hard-earned earnings to support the people of the country.
---
Police on the prowl to send info to 'boss'
As many Traders' Associations across the country decided to close down shops early this week as a response to the government which was not willing to declare a lockdown until Friday, the police were busy with something else.
Civil-clothed police personnel approached the officials attached to these Traders' Associations and Business Chambers to know the persons who were pushing for these decisions.
One official attached to Puthukudiyiruppu Traders' Association in Mullaitivu resisted these 'inquiries' and demanded to know who wants this information. The police personnel responded saying he needs to send it to the 'boss' in Colombo.
---
No-show party: Gammanpila following what he  preached ?
Energy Minister, Udaya Gammanpila, was overjoyed that the ruling alliance was able to defeat the no confidence motion against him on July 21 by a two thirds vote.
It was nothing but right, he thought, that all those who voted for him should be given a party. So he wrote to them inviting them for a celebratory dinner on August 5 at a restaurant in Talawathugoda, one whose owner is closely linked to another minister.
As the day drew close, he wrote to them again. This time he informed that the date of the event has been put off for August 12. Then again, he changed his mind. A third note went out to the invitees that it would be on August 19.
However, the event was not held. Perhaps, Minister Gammanpila is now following what he preached. He told vehicle users to minimise the use of fuel due to the foreign exchange crisis the country was facing.
---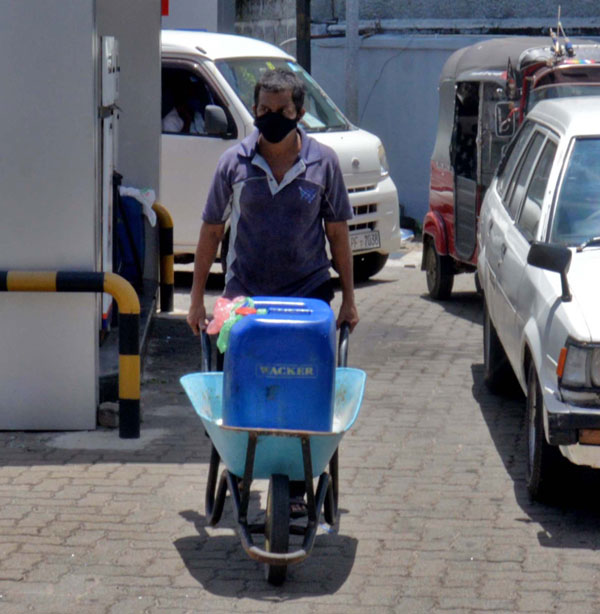 This man turns to his wheelbarrow to stock up on as much fuel as he can in a container as long queues hit fuel sheds.
Pic by Eshan Fernando
---
For some even COVID jab is like a mini photoshoot
For many, their social media presence is mainly self-promotion and publicising everything they do in their personal life, even taking the vaccine for COVID-19 is like a mini photoshoot.
The health staff are also very aware of this recent phenomenon and have got tired of this trend, particularly among the younger generation.
When a journalist in Mannar went to receive his vaccine this week, the midwife asked him whether he wanted to take a photograph of himself taking the vaccine as everyone was making such a request. The journalist politely declined.
Hearing the unusual reply, the other supporting health official made a point recalling how another individual came well prepared for vaccination with facial makeup and hairdo to go with it last week.
---
Party's second rungers in  awe of octogenarian leader
Leader of Tamil National Alliance (TNA) R. Sampanthan wrote to President Gotabaya Rajapaksa this week seeking a date for a meeting with the President as he was assured of one earlier.
The octogenarian leader also noted that the scheduled meeting on June 16 was cancelled at the eleventh hour by the Presidential Secretariat. TNA was expecting to initiate talks with the government on the proposed new Constitution to find a lasting solution for the 'ethnic conflict'.
The Party's second rungers appreciated their leader's determination to find a solution to their issues. One of them noted within his close circle that "he could have become a top civil litigation lawyer had he not taken up politics fulltime. But despite all of this, he is still more active behind the scenes than young politicians in the party today."
---
Questions about timing of resolution amidst raging COVID
The Jaffna Municipal Council adopted a resolution on Thursday urging the United Nations Human Rights Council (UNHRC) to submit the report on Sri Lanka at the upcoming sessions in September to the International Criminal Court (ICC) in order to initiate the process of investigating alleged human rights violations during the final phases of the battle against the LTTE in 2009.
There was silence when a Councillor representing the Tamil National Peoples' Front presented the resolution. Minutes later, it was declared that the resolution was adopted.
One opposition Councillor asked his fellow colleague whether this is the pressing issue for the Council amidst a pandemic? He nodded in agreement.
---
Govt. takes silent steps to score brownie points
Ahead of UN Human Rights Council sessions in September at which Sri Lanka is on the agenda, the government took silent steps to score some points as the country is increasingly becoming isolated in the global arena due to its pro-China policy.
In a low key event held on Friday, Justice Minister Ali Sabry launched a new website of the Office of National Unity and Reconciliation with the aim of promoting unity and reconciliation among all citizens.
This was followed with Cabinet approval granted this week for a proposal submitted by Minister Sabry to formulate policies and guidelines for the Office for Reparation. It seems there are other similar government initiatives currently underway to address the UNHRC issues.
Last week, an office of Office of Missing Persons (OMP) was opened in Kilinochchi at a state building with a banner put up inside without much fanfare. Even the local media was not aware of the developments until officials attached to another office in the same building noticed a new banner inside and tipped off the press.