Cabinet reshuffle like changing the batting order in cricket
By Our Political Editor
View(s):
Namal gets plum position as sign he is being groomed for leadership; GL to the 

fore to address key international issues; Pavithra unhappy about the change

Questions as to why a donation of 200 respirators was rejected by Health Ministry's 

top officials, including medical specialists

Pandemic death toll and number of afflicted people reach highest level; IMF 

report shows Sri Lanka's response was haphazard
A "course correction" by the ruling alliance, or last week's Cabinet reshuffle, was more like a switch of players in a game of sports, like cricket or rugby.
Those considered "poor performers," known to be three, were replaced with three others who were considered "better scorers" by President Gotabaya Rajapaksa. Several others who waited for their mobile phones to ring last Monday morning to go for the swearing in were disappointed. There were no other major changes. The exercise, like the objective, was strictly limited to addressing circumstantial requirements.
First was the replacement of Dinesh Gunawardena as Foreign Minister. It is no secret that with many an international development centring on Sri Lanka, his Ministry has been tardy in its responses. Among them are the UN Human Rights Council's September 13 sessions where matters related to the resolution adopted in March are to be taken up. The UK and the United States together with a core group of countries are known to be planning a tougher stance. A tough resolution is also pending before the US Congress. The need for the Government to maintain regular contact with heads of diplomatic missions based in Colombo has become inevitable.
The new Foreign Minister, Prof. G.L. Peiris, did seek the foreign affairs portfolio when the Cabinet was sworn in a year ago. Interesting enough, it was Basil Rajapaksa, the key strategist behind the formation of the Sri Lanka Podujana Peramuna (SLPP) who advised him that his role as Chairman of the party was important. Hence, he agreed to take on the education portfolio. By a strange quirk of fate, Basil Rajapkasa, who took over as Finance Minister, appears to have given his blessings this time. It is no secret that then Foreign Minister, Gunawardena did not see eye to eye with Foreign Secretary, Jayanath Colombage on many an issue. At conferences in the Foreign Ministry, Colombage has often declared that politically Sri Lanka's foreign policy has been a success though it was not on the economic front. He lamented that efforts to draw Foreign Direct Investment (FDI) had been a failure. In that context, Colombage too has been a failure by choosing to ignore the mess in the conduct of attracting trade investment and tourists by the related authorities. Is it constructive to keep chiding the foreign service officials in this manner when the home front is far from being attractive to potential investors, traders, and foreign visitors?
At the handover-takeover ceremony in the Foreign Ministry on Monday, Prof. Peiris maintained deafening silence, whilst divisional heads looked forward to hearing his vision for the work of the Ministry. Wonder what the new way forward would be in that august institution which is the face to the world? His predecessor did not make a speech.
As reported in these columns last week, Finance Minister Basil Rajapaksa initiated backroom moves to restore better relations with the United States. Prof. Peiris took part in a dinner hosted by US Ambassador Allaina Teplitz together with Abraham Sumanthiran of the Tamil National Alliance (TNA). A government source conceded that Rajapaksa encouraged Peiris to attend this dinner meeting to discern TNA's thinking on reconciliation. The rationale – the new Finance Minister who is making many an initiative did not want any proposals for reconciliation to be viewed as emanating from the Rajapaksas. He wishes that they should be seen as those coming from the SLPP. The same source said Prof. Peiris would periodically articulate SLPP position whenever the talks get under way.
Interesting enough, TNA leader Rajavarothayam Sampanthan wrote to President Gotabaya Rajapaksa on August 18 calling him to resume the talks he put off on June 16. In a three-page letter, he said,
"The constitution making process should not be delayed any longer. The 1972
and 1978 constitutions took less than two years and one month respectively. The
present process has been ongoing for more than the past thirty-two years."
A process to resume talks on reconciliation seems to have been set in motion. Since meeting the TNA's Sumanthiran at the dinner hosted by Ambassador Teplitz, Sampanthan has had two meetings with Indian High Commissioner Gopal Baglay. The main reason was to keep India informed of any evolving processes for potential talks, the possible United States role and how the local and diaspora communities have reacted to reports over talks that had been leaked. At the second meeting, a diplomatic source said, India planned to invite a TNA delegation to visit New Delhi, possibly during September. New Delhi is keen not to lose the traditional leadership role India has played historically. The TNA delegation is expected to meet Indian Prime Minister Narendra Modi, External Affairs Minister, Dr Jeyaram Jaishanker, and National Security Advisor Ajit Doval during the visit. Last Tuesday, new Foreign Minister Peiris met Indian High Commissioner Baglay in Colombo.
US Ambassador Teplitz, a distinguished career diplomat, is due to leave Sri Lanka concluding her term. Diplomatic sources say she is keen to ensure that the talks started under her watch should continue. Her successor Julie Chung, who is now awaiting Senate confirmation, is due in Colombo most likely by October.
Dinesh Gunawardena, leader of the Mahajana Eksath Peramuna (MEP), a partner of the ruling alliance, is a suave and friendly politician, has been given an unenviable task in the form of the education portfolio. Teacher trade unions are at loggerheads with the Government and have refused to meet him. Since the advent of the COVID-19 pandemic, schools remain closed with re-opening dates publicly declared many times and put off.
The second in the "poor performance" category fell on Pavithradevi Wanniarachchi, Minister of Health. On the one hand, she has complained to confidants that she had not been given any substantial responsibility. She is, however, a member of the Presidential Task Force to fight the pandemic. On the other hand, perhaps unwittingly, she did colossal damage both to the health sector and the country at large by her actions and utterances. First came the exercise of dropping clay pots chanted with mantras from bridges into running water. That was on the advice of faith healer Eliyantha White who believed the chants would wipe out coronavirus. Then she drank a concoction by a local sorcerer in front of cameras and received worldwide publicity. It was only days ago that the Department of Ayurveda withdrew the licence to produce this "peniya" or syrup. She now takes over Transport. A social media comment said she was earlier the conductor of health services but now is in charge of conductors.
Wanniarachchi did not hide her feelings that she is disappointed. She publicly related the story of a Sinhala king who had gone hunting with his royal advisor. He used his bow and arrow but missed a deer. The advisor told him that everything happens for the best. When the king tried the next shot, he hurt his finger badly. The royal advisor repeated that everything happens for the best. The infuriated king ordered that he be buried alive and moved ahead.  The king was taken prisoner by a tribre who wanted to use him for a live sacrifice. The tribe found that was not possible since he had a wound in his finger and let him go. It was then that the king realised that his royal advisor told him the right thing. He was freed. Whether Wanniarachchi is hoping that the portfolio would be returned to her someday is perhaps her lament. She is also learnt to have pointed out to confidants that she could not perform fully her duties as Health Minister.
Succeeding as Health Minister is Keheliya Rambukwella who was also one of the Cabinet spokespersons. On many an occasion his acidic remarks had embarrassed the Government. There was one instance where he spoke of a probe into how Minister Namal Rajapaksa and two government MPs had flown to Tokyo for the Olympic Games. He claimed that the matter was being probed when there was none.
The third "casualty" was energy minister Dullas Allahapperuma. A review of his Ministry, a government source said, had revealed that it had failed to undertake or complete any major project in the past year. He is a former journalist and chose his words carefully during post-cabinet news briefing. Taking his portfolio as power minister is Gamini Lokuge. One is not sure whether it is a promotion considering an incident in Piliyandala. When a lockdown was imposed in the area, he had ordered the Medical Officer of Health to revoke it.
The changes also saw a new portfolio – Minister of Development Co-ordination and Monitoring – for Namal Rajapaksa. The purview, a Gazette notification said, is "co-ordinating all development activities and monitoring of projects on the direction and guidance of His Excellency the President in order to ensure a people-centric economic development through an effective and dynamic mechanism in place creating new opportunities within the framework of the National Development Programmes: Vistas of Prosperity and Splendour."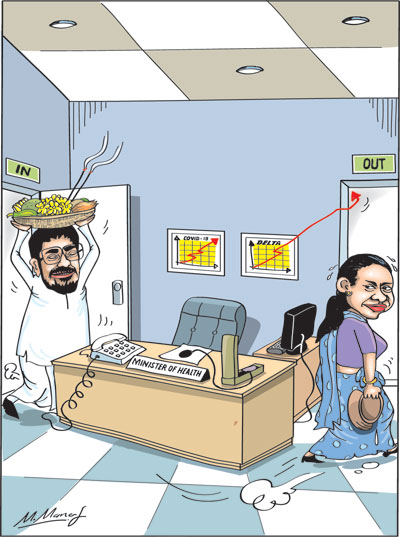 According to the Gazette, his new ministry's subjects and functions are: "Formulating policies in relation to the subject of development co-ordination and monitoring in conformity with the prescribed Laws and Ordinance for the creation of a "Development Country" in terms of the Policy Statement: "Vistas of prosperity and Splendour" based on the national policies being implemented by the Government, implementing the Projects under the National Budget, State Investments and National Development Programme and formulating policies, programmes and projects in relation to the subjects and functions of the below-mentioned Departments, State Corporations and Statutory Institutions, there implementation, initiating follow-up actions and evaluation." The Gazette also lists six different "special projects" under Namal Rajapaksa with powers to deal with District Secretaries, Heads of all other institutions, including all officers at divisional level. It also empowers him to expedite the implementation within "the scheduled time frame" of different development projects.
There is little doubt that Namal Rajapaksa has won the plum during last week's exchange of portfolios. Significant enough, most importantly, he has been tasked to oversee almost all-important responsibilities cast on the President over development activity, particularly under the Dialogue with the Village. To that extent, all other Cabinet Ministers would have to take note of his predominant role and channel their actions through him. For this purpose, he will have a separate Department of Project Management and Monitoring. Partner leaders in the ruling alliance believe Namal Rajapaksa is being groomed for future leadership and therefore being exposed to different aspects of government activity.
Other than the 'elevation' of Namal Rajapaksa, one cannot term last week's changes a major cabinet reshuffle as envisaged. It is more a change in portfolios due to the exigent circumstances. Hence, it raises an all-important question — what happens if one or more of the ministers who have replaced positions are found to be "poor performers?" For that matter, even others have been compelled to forego some institutions that were earlier under their purview. That clearly show that there was an urgent need to switch three portfolios last week for "course correction." That more could follow later is now being confirmed by government sources.
Coping with the pandemic
It is no easy task for the Government to engage in reconciliation talks when the Delta variant of the covid virus is causing enormous death and devastation. Details of the record number of affliction and high death tolls appear elsewhere in this newspaper. Other than that, the pandemic itself has led to questions about many aspects in Sri Lanka – the quality of health care, the response of Government institutions and issues related to law and order. The constitutional and legislative framework should help in addressing these questions. During the first wave of the pandemic, the Government effectively imposed a lockdown and effectively reduced the number of cases, while at the same time certain politicians and legal experts questioned the constitutional legality of the lockdown and the response of the Government. To this day, the Government has not initiated any legislative process through Parliament to legalise and regularise some of the actions taken and need to be taken. Most democracies have acted swiftly by passing legislation in their parliaments, sometimes recalling their legislature on grounds of public health emergency.
Some have chosen to older legislations and/or some amend existing ones. Most except Sri Lanka have acted by legislating their response to this pandemic. IMF policy tracker summarises the key economic responses governments are taking to limit the human and economic impact of the COVID-19 pandemic. The tracker includes 197 economies. Last updated on July 2, 2021, it clearly reflects the gaps between countries where pandemic response was handled through a systematic and legalised process in contrast to Sri Lanka where the response was haphazard. In Sri Lanka, powerful officials could wake up one morning and decide to impose night-time curfew or regional lockdowns. These actions if challenged in a court of law could expose the lack of legality of some of these random actions.
The preamble to the Government's Bill on matters relating to COVID-19 explains: "An Act to make temporary provisions in relation to situations where persons were unable to perform certain actions required by law to be performed within the prescribed time periods due to Covid-19 circumstances; to assign alternative courts where a court cannot function due to Covid-19 circumstances; to conduct court proceedings using remote communication technology to facilitate the control of Coronavirus Disease 2019 (Covid-19); to grant relief in relation to parties to certain contracts who were unable to perform contractual obligations due to Covid-19 circumstances and for matters connected therewith or incidental thereto." The proposed legislation still awaits Parliament approval.
This contrasts with a TNA MP Sumanthiran's private member's motion titled Public Emergency Bill in October last year.  This motion "was to provide for the declaration of a state of public health emergency; to provide for the adoption of special measures in the interests of public health: and to provide for matters connected therewith or incidental thereto" Important subject matters covered in this private bill are: Declaration of a public health emergency, remote convening, remote services, specifying contagious disease, Public Health Emergency Council, period of public health emergency, end of public health emergency, temporary restriction of fundamental rights, essential services, Health Sector Ports and Transport, quarantining etc., special assistance, educational premises, labour, publishing orders, disclosing the identity of a patient, provisions of this Act to prevail over other written law. As part of the process, this bill was passed to the Attorney General's office back in October for validation purposes.
Obviously, such an important legislation should have been brought by the Government last year. However important it might be, the Government was not keen to introduce such legislation for the simple reason to avoid having to adhere to legal restrictions and may have to be answerable to the law of the land. The proposed Bill is devoid of such situations.
There is a much worse development due to the exploding COVID-19 pandemic. There was a Tamil diaspora group that arranged for 200 respirators for the Government. However, the Government could not accept them. The reason – this organisation is one of six on which the Government has imposed a ban. It was just this week that former Prime Minister Ranil Wickremesinghe appealed to the Government to import 200 respirators to prevent deaths in the provinces. Here is a story of how the bureaucracy worked:
Respirators and ventilators are in short supply in the country, particularly in rural hospitals. Some main Teaching Hospitals too lack capacity. The daily growing numbers in hospitalisation if continued will even further expose the lack of capacity in hospitals all over Sri Lanka. Members of a prominent Global Tamil diaspora organisation organised some 200 respirators from a European donor country. Each respirator cost $13,000 which makes the total cost to be $2.6m. The country concerned also offered to transport these respirators to Sri Lanka as an emergency assistance.
Experts from the Health Ministry, the respirator manufacturer company and other specialists met up remotely to demonstrate the respirators to senior members of the Health Ministry of Sri Lanka during late June 2021. The Director General of Health Services – Dr Asela Gunawardena, Deputy Director General (Planning) – Dr S. Sridharan, Deputy Director General (Bio Medical Services) – Mr. S.A.J. Karunathilake and as an expert – Dr. Nilmini Wijesuriya (MD, FCARCSI, FRCA) ERC and UK ALS Instructor, National Coordinator Working Committee on
Resuscitation, College of Anaesthesiologists, and Intensivists of Sri Lanka Kids Save Lives – Sri Lanka Project Coordinator, all professional medical doctors, except the Deputy DG (Bio Medical Services) participated on behalf of Ministry of Health, Sri Lanka. After an hour-long demonstration and consultation, Ministry officials agreed to discuss internally and revert. Three days later, the Deputy Director General (Planning) – Dr S Sritharan wrote back to say that the Expert Anaesthesiologist Dr. Nilmini Wijesuriya has decided that there is no requirement for these respirators in Sri Lanka and the donor country should consider donating these respirators to "very resource poor countries".
The actual content of the correspondence is below:
Greetings from Sri Lanka and thank you for assisting us in this challenging time.
Dr Nilmini, Consultant Anaesthetist informed that unfortunately, there are no requests for this machine from peripheries. The clinicians managing these units will not increase ventilation at the moment. Then they may be able to divert them to very resource-poor countries. Anyhow look at the possibilities of donating Bipap machines, oxygen concentrators, and manikins etc.
Thanks for your contribution and understanding
Dr S Sridharan
Deputy Director General (Planning)
Ministry of Health
Colombo – 10
Mob: +94 714 xxxx
In Sri Lanka there were nearly 70,000 cases just on June 21, another 50,000 in July 21 and nearly another 50,000 in the first 17 days of August 21. There were approximately 1,500 deaths each month in June and July and another nearly 2,000 deaths recorded in the first 17 days of August.
After intervention from a high-ranking leader, the same Deputy Director General (Planning) sent an official request this time stating that Sri Lanka is in desperate need for these respirators. A similar formal request was made by S Janaka Sri Chandraguptha the Additional Secretary (Development) to the Ministry too on the same day in August. However, when the donor country's Head of Mission contacted the Ministry to organise the transportation and the relevant clearances, unfortunately the Deputy Director General (Bio Medical Services) who is reportedly in charge of receiving donations and aid relating to this pandemic, possibly without realising that formal requests have been sent to the capital of that country, in his freewill yet again, discouraged the Head of Mission, stating that Sri Lanka has sufficient capacity to deal with the emergencies. With such incompetence, lack of empathy prevailing within the Health Ministry, it is surprise that the President decided to reshuffle the minister concerned to another portfolio.
In Sri Lanka, the total number of deaths due to Covid-19 by last Friday was 6985 from the start of the pandemic, in 2020. Nearly 5,000 of those 6,600 dead were during June, July, and 17 days of August. The 200 free respirators could have possibly kept some of the 5,000 people who died due to Covid-19 since 1st of June to 17 August, still alive and breathing. There needs to be an immediate inquiry into the way this whole process has been handled by these officials, most of them qualified as doctors, who are committed to saving lives.
On another occasion, amongst other medical accessories and Personal Protective Equipment (PPEs) thousands of gloves were sent as donation from overseas. This consignment was held for weeks by the Customs at the port of arrival. When investigated, a senior Customs Officer has said that there is a private company that imports these types of gloves to sell as PPEs to hospitals and institutions and that the Customs should get clearance from this private company before they could release these free ones for use at hospitals.
The sudden spurt of the Delta variant causing a large volume of deaths daily has led to not only the opposition, but the medical profession also including specialists, a formidable section of the Government and many a civilian organisation to demand an immediate lockdown. Also making the appeal were the Venerable Maha Nayake Theras of the Asgiriya and Malwatte Chapters. President Rajapaksa has yielded by extending the ongoing curfew from Friday till August 30 without a break.
If President Rajapaksa insisted that there should be no lockdown due to fears it would disrupt the economy, intense pressure forced him to relent. He said in a twenty-minute address to the nation, the second since the outbreak of COVID-19, that the "health sector looks at this issue from one angle, as a government will have to manage the small economy in our country if we are to continue to pay foreign debts, pay salaries, and provide subsidies without any interruption." He then issued a warning that ran counter to the position he took since the Delta variant exploded in the country. He said, "I request everyone in the country to be prepared to make more sacrifices if the country is to be placed under a lockdown for a longer period in the future. At this crucial juncture, everyone should take the country forward strategically by acknowledging the gravity of the situation."
President Rajapaksa's words are a strong reminder to Sri Lankans that the worst is not over. Not when those afflicted on Friday were 3,835 and the death count was 195. Front-line health workers including medics have a tough challenge to bring near normalcy.