Economy and "educated youth"
View(s):
Last week I wanted to contact one of my friends – a professional with a doctorate degree in Environmental Science from a US university. I was interested in collecting some information from the work that she had been carrying out after returning to the country. There was no answer from her phone. As I had her email address, I dropped a few lines, thinking that she would see it and reply.
She did and, I got a reply the next day. Among other things, she wrote that "I moved to the US two years ago and currently working at an environmental consulting firm in New York…" I already knew that the type of her professionalism was "too much" for Sri Lanka thus even though she worked here, she remained "under-employed" at that time.
Open doors and
closed doors
Permanent migration of educated and skilled people is typical news that I have been hearing quite often for many years now, increasingly from all the generations, old and new. They are mostly in the US, the UK, and Australia as well as other advanced countries which keep their doors open for "educated and skilled labour" from developing countries like Sri Lanka; but nevertheless, we keep our own doors closed for "foreign talent".
Even though we have a "small window" to allow at least "retired" foreigners to find their "second home" in Sri Lanka, I'm aware that this opportunity has been hardly used by any foreign family; perhaps, the reason might be that although foreign citizens are welcome to make Sri Lanka their "second home", they are prohibited from working here and making any contribution to our economy. I wonder how many foreigners would choose to come with their families to stay in their second home — just keep staring at the beach or the sky for years! Besides, I am not sure to what extent Sri Lanka can meet their needs and wants at the latter part of the life of a retired person.
While more educated and skilled labour from Sri Lanka keep moving away to the rich countries in the West, the less-educated and less-skilled labour tend to move as "migrant workers" to the West Asian countries for blue-collar work or domestic worker jobs. Every year about 200,000 – 250,000 migrant workers leave the country. And the number of educated and skilled labour leaving to the West is not known, as they don't have to report to either the Foreign Employment Bureau or any other government agency.
Today, I thought of discussing a vital development issue of the country, for which I laid the foundation last week by reporting in this column a story on "The tale of two educated villagers". It brought a historical insight to the issue of the loss of hopes and frustration of the "educated youth" of Sri Lanka which began about half a century ago. The point is that, up until today we haven't seen a major breakthrough in this episode. But the problem continues in different forms at different times.
Outflow of talents
Our big neighbour, India is another country which used to supply the educated and skilled labour to the West. In fact, countries like the US boast about its ability to import the best high-quality labour from India. However, compared to the case of Sri Lanka, the implications are different. In the first place, India being a populated country with over one billion people can afford to lose part of its best high-quality labour. And, more importantly, the Indian government doesn't spend its tax money to build its educated and skilled labour force with "free education" as the students in such high-ranked tertiary educational institutions should pay for their education. By the way, apart from the more-educated and the more-skilled labour supply to the West, with its big population India has been a country which also supplies its less-educated and less-skilled labour to West Asia on massive scale!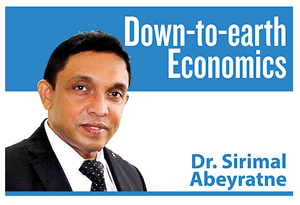 China was another big country, which used to experience its labour migration on a large scale particularly to the US and Europe. During the time of my postgraduate studies in Europe in the late-1980s and the 1990s, many of the Chinese students who had come there for studies never returned home. It was a historical episode that built a large educated and skilled Chinese labour force outside China, mostly in the US and Europe. But for China, this historical pattern has changed today.
A significant portion of its high-quality labour is returning back to China to take up new opportunities in prospering China. They are seeking the opportunities in order to contribute to that prosperity as well as to benefit from that prosperity. And the Chinese government too offers attractive incentives for them to return and contribute to the Chinese economic development particularly in the areas of science, technology and business.
Many of us looking at China – US relations superficially focus on their conflict from different angles. But we ignore the fact that both countries are inter-dependent to a great extent. Apart from the fact that both countries need their markets, it's the American inputs – science, technology and knowledge as well as investment -, that primarily served in executing high growth in China and, for that matter any other country in the world. Some other countries which do not know this reality try to execute development on their own, which might take 100s of years!
Exhausted good things
While boasting about "all good things" that we had from the beginning, though we were reluctant to acknowledge the fact that we inherited them all from our colonial past, we started to move in a different direction. Good things that we inherited included economic prosperity based on the export-oriented plantation sector, foreign exchange surplus, government's sound budget, extensive welfare system, civil administration system, and a well-developed infrastructure; and all good things got exhausted over the years, rather than building on them so that we are living under different circumstances today.
 Rate of unemployment
1963          – 13.8
1973          – 24.0
1981/82   – 11.7
1996/97   – 10.4
2003/04   – 9.0
2019           - 4.8
2020           - 5.5
When we started closing our economy not only for labour but also for economic relations with the rest of the world, assuming that progress in isolation would make the country prosperous, the result was a paradox. Instead of economic expansion, we experienced an economic contraction under which unemployment rose in the 1960s and the 1970s!
Statistical reports confirmed that most of the "unemployed" were "educated youth". This means that the more educated the people were, the greater would be the chance to remain unemployed! While the educated youth who experienced 'loss of hopes and frustration' responded differently under different circumstances, we should not forget the fact that, thereby we had created a fertile ground to breed political conflicts of the youth in our history.
Decline in unemployment?
Although the rate of unemployment declined rapidly since then to the lowest levels of around 5 percent in the past few years, we should take these figures into account with caution! Unlike in the 1960s and the 1970s, the world is now open to migrant labour so that people take up these opportunities to leave the country – more-educated and more-skilled labour to the West as well as less-educated and less-skilled labour to West Asia. The temporary migrant worker population is estimated to be about 2 million, which does not include permanent migration. In fact, this is helpful to keep our unemployment rates low, which is a politically correct thing to do. However, it is an indicator of our economic inability to provide better job opportunities to them and to reward them satisfactorily.
Out of the total 8.6 million labour force in the country, 1.5 million are in the public sector, 2.2 million in the agriculture sector and, over 1 million running tuk-tuks. I do not want to jump into any conclusions, but I would like to invite you to make a fair assessment of the concept of "under-employment" of the "employed" which is the status of under-utilisation of human resources in productive activities.
(The writer is a Professor of Economics at  the University of Colombo and can be reached at
sirimal@econ.cmb.ac.lk and follow on Twitter @SirimalAshoka).