Sr Lanka Day goes global
Promoting Sri Lanka's arts, crafts and merchandise on the global stage
View(s):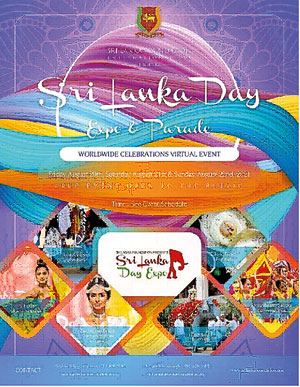 LOS ANGELES — When the annual Sri Lanka Day was firstcelebrated in Pasadena in 2019 visitors watched the 'Pageant of Lanka,' parading on the streets of Los Angeles.
This year, Sri Lanka Day is going global: As a virtual event Sri Lanka Day 2021 will reach millions of viewers across the globe. The event is intended to showcase the heritage, culture, and traditions of Sri Lanka to the world.
Sri Lanka Day celebrations are sponsored and organised by the Sri Lanka Foundation, based in Los Angeles, This year's global event will be held on August 20, 21, and 23.
The planning and preparation for the event began several months back with hundreds of volunteers. The Lankan embassies and Lankan community organisations worldwide came together to plan and support the event.
For more information, see
www.slday.com
To watch the festival,
register online as guest:
www.slfplatform org