A dream of a brave hearted war hero
By Ishan Samaraweera
Wheelchair Tennis player Suresh Dharmasena optimistic to create history in Tokyo
View(s):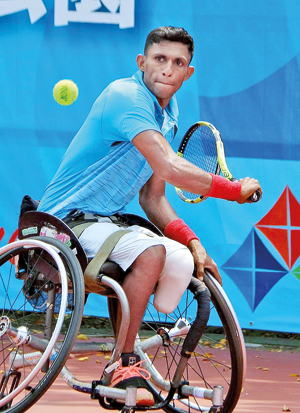 In 2018, Suresh Ranjan Dharmasena and Lasantha Ranaweera won the bronze medal in wheelchair tennis Men's Doubles at the Para Asian Games in Jakarta, Indonesia. This was the first major success for a sport that was introduced to Sri Lanka nearly two decades ago in 2002.
Since then, the players have shown a steady progress under their longstanding coach Jagath Welikala.
Despite the Paralympics being postponed due to the COVID-19 pandemic last year, the players remained positive and trained hard with an aim to create history. Their dedication and sacrifices have been rewarding as Suresh Ranjan Dharmasena was able to get direct qualification for Paralympics.
As a gritty youngster, who had emerged from the town of Kahatagasdigiliya in the Anuradhapura district, Dharmasena had shown keen interest towards sports at an early age of his life. A proud product of Kahatagasdigiliya Central College, he had participated in various sporting activities, including athletics and volleyball. In fact, he was an integral member of the school volleyball team, which went on to compete on numerous All-Island competitions.
Soon after he left school, it was his dream to join Sri Lanka Army with the sole intention of becoming a brave hearted soldier.
"It was my dream to join the Sri Lanka Army and I always wanted to serve the country and become a war hero. Those days most of the youngsters in our vicinity had joined as soon as they became eligible to join the Armed forces. My family members also didn't hesitate as they knew that it was my childhood dream," Dharmasena recalled.
Soon after he turned 18, Dharmasena joined the 11th Sri Lanka Armoured Corps. The year 2009 was a horrific one for young Dharmasena. It was the final and decisive few months of the civil war. On February 23 of 2009 his life took a turn.
Dharmasena was on duty in Potuvil lagoon, an area the terrorists had captured. The rebels had opened fire, killing most of the soldiers in the camp. Dharmasena and other soldiers were helping the wounded colleagues.
Out of nowhere a mortar was approaching and the athletic Dharmasena was able to jump out of the way. He managed to save his life, but disaster struck when fell on to an anti-personnel mine.
The then 20-year-old youngster's left foot was severely damaged and eventually amputated. Then he had to be rehabilitated at the Ragama Ranaviru Sevana for four months. Those were depressing times for Dharmasena. During his rehabilitation period he was given a prosthetic leg, which made him comfortable and gave confidence to move forward in life.
Misfortune was not permanent for the youngsters. In 2010, a new chapter in his life had begun when he met Shiran Abeysekara, a Brigadier then. He had encouraged Dharmasena to take up wheelchair tennis, knowing his eagerness for sports, and it was not difficult to convince him to learn the sport.
"When I started wheelchair tennis I didn't have a lot of knowledge about the game. Those days I barely had the strength to hit the ball. As time went by my passion towards the game grew. My coach Jagath Welikala helped me to understand my strengths and abilities," he said.
The year 2016 was the turning point of his career, as he began to reap the rewards for the commitment and dedication that he had shown leading to the Negombo Open Championship. There he was crowned the champion and that was his maiden title at national level. From there onwards Dharmasena won numerous championships, both at national and international levels.
According to ITF (International Tennis Federation) rankings he was ranked 38th in February 2019, which is considered to be his career best ranking.
Dharmasena was indebted to Maj. Gen. Abeysekara and above all his coach Welikala for the achievements, accolades and development attained within a short period of time. Welikala, on the other hand, was humble to praise the wilfulness, braveness and athleticism of Dharmasena.
"When he came for practices we identified his abilities. The most important quality that a sports person must have is the passion and the hunger to learn. They should improve their level of competence. Dharmasena had all the qualities that is required to be a successful sportsman. Qualify for the Tokyo Paralympic is indeed a great achievement," Welikala explained.
Up to now, Dharmasena has won over 30 championships in an illustrious career spanning over 11 years and he is determined to create history in Tokyo by winning a medal.
In the World Team Cup held earlier this year in Portugal, he had beaten countries such as Israel, Greece and Croatia and he also won local tournaments such as Sri Lanka Open and SSC Open.
In every sportsperson's life their family plays a crucial role in enabling them to have successful careers. Similarly Dharmasena's family has been there for him at all times, especially his wife Samudrika Chathurangani Dissanayake.
He also praised the president of Sri Lanka Tennis Association, Iqbal Bin Issack for his unstained efforts in developing wheelchair tennis in the country. Jagath Welikala, who has seen the development of wheelchair tennis from the grassroots level, expressed his views on the impact of the Tokyo Paralympics for the future of wheelchair tennis in Sri Lanka.
"It may bring more players and inspire them to play wheelchair tennis. By performing well Dharmasena will also inspire other disabled sportsmen and women to believe that no matter what disability you have, that it should not draw you back from achieving the impossible."