Politically-backed sand mining mafia wrecking Deduru Oya and livelihoods
Pix and text by Hiran Priyankara Jayasinghe
View(s):
Illegal sand mining for more than two decades has destroyed the Deduru Oya ecosystem, deepened the river bed, caused river bank erosion, wrecked livelihoods and threatened water security.
The damage has also resulted in public interest lawsuits by environmental activists and communities and a court came to play the role that the state should play in protecting a resource and the people.
The Deduru Oya, a wet zone river, is a main source of water including for agriculture in the Puttalam District.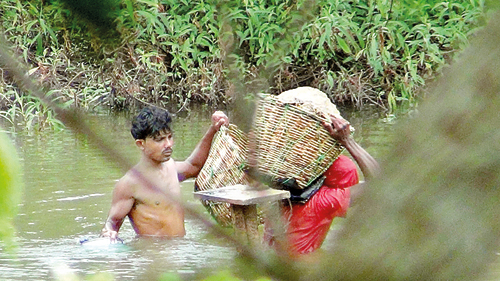 A river sand mining mafia with political patronage is suspected in this illegal activity, and opponents, including civil society have faced hostility.
Sand, which is state property, is protected by the Mines and Minerals Act No. 33 of (1992) as amended by Act No.66 of 2009. There is heavy demand for sand from the construction industry. And mining it, with or without permits, has led to massive conflicts.
In March 2006, the former officer in charge of the Rasnayakapura Police station, Pradeep Karunadeera was attacked and lost his sight in one eye.
The suspects not only had the backing of a politician's brother, but also the involvement of some of the police.
The Mihisara Foundation, an environmental organisation in Bangadeniya in Chilaw obtained a favourable Supreme Court order in 2006 (SCFR 226/2006), preventing the mining of sand, but it only had an effect for a few years.
Several police stations in the Kurunegala District — Nikaweratiya, Rasnayakapura, Kobeigane, Bingiriya and Pallama, Arachchikattuwa, and Chilaw in the Puttalam District have failed to follow the court order.
Large-scale river sand mining is happening in the Pallama, Arachchikattuwa and Chilaw areas, according to environmental organisations.
At one of the locations in Pallama, off the Chilaw-Anamaduwa road, children aged seven to eight years and the very elderly are acting as lookouts. Children who are at home because schools are closed, have been provided with mobile phones. Those operating small wayside shops are also keeping watch against any potential police activity.
The secretary of Mihisara in Bangadeniya, M.J. Dias, told the Sunday Times, that in 2006 the group went to court when there was serious damage to the banks of Deduru Oya and the river itself. He said that the sea water had begun to flow upstream up to 10 kilometres.
"We are sad that despite the previous court order, the Deduru Oya is being destroyed,'' he said.
Dilanka Senanayake, of the Haritha Parapura Environmental organisation, said the police must bear blame for not enforcing the law. "Tractors and tipper vehicles drive straight into Deduru Oya and sand mining continues unabated with the police ignoring these illegal activities," he said.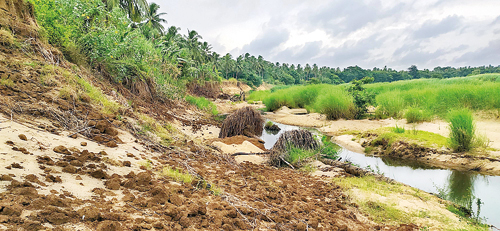 Suranga Subashana of Haritha Parapura, said communities are badly affected and there is serious environmental damage.
T.M.Lionel Appuhamy, a long-time resident of Dela and now a subsistence worker, said that some parts of land have suffered erosion due to the illegal river sand mining.
Dimuthu Lakshan of Weherakele, Bangadeniya, said that a large part of his land, too, had washed away. During weekends efforts had been made to grow vegetation on the river bank, unsuccessfully. "We are sorry that no officials support us,'' he said.