Laugfs nods to gas hike but milk importers want more
By Chrishanthi Christopher
View(s):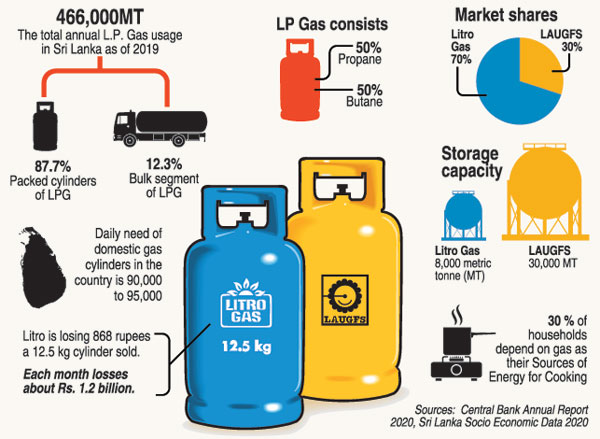 The government's consent to increase the price of cooking gas and to grant a tax reduction on milk powder had mixed reactions from importers who have been lobbying for a price hike on their commodities for months.
The Consumer Affairs Authority (CAA) last week agreed to increase the price of a 12.5 kg cylinder by Rs. 363 and a 5kg cylinder by Rs. 145 while announcing a tax waiver for milk powder imports.
This will bring the price of a 12.5kg of Laugfs gas to Rs. 1,856 and a 5kg cylinder to Rs. 743.
A kilo of milk powder will receive a tax waiver of Rs. 37.
While Laugfs Gas agreed to its deal, milk powder importers claimed they could not profitably continue business. The tax waiver would not offset import costs, the Milk Powder Importers Association said.
Member Lakshman Weerasooriya said the tax on a kilo of milk powder would come to Rs. 37, made up of Rs. 15 in government tax and Rs. 22 on port charges.
The rising US dollar offsets the tax waiver, he said. The current dollar buying rate stands at Rs. 210, a Rs. 8 increase from last January when the request for a price increase was initially made. The current exchange rate would increase the cost of a kilo of milk powder to
Rs. 32, leaving importers only Rs. 3 of profit on a kilo.
"We need an increase of at least Rs. 250 a kilo to break even," he said.
Laugfs Gas said it had asked for a hike of Rs. 700 on a 12.5kg cylinder, far from the Rs. 363 granted.
Chairman W.K.H. Wegapitiya said the bimonthly pricing formula submitted to the CAA for June and July 2021 had indicated an average price increase of Rs. 657 but the government had taken the pricing formula for May and June, which indicated an increase of Rs. 457, to decide on the price.
But, he said, "it is better than no increase at all".
It would take at least another week for imports and distribution to resume and another month for supply to come back to normal.
Mr. Wegapitiya said the price difference between Laugfs and Litro gas would drive many customers into the arms of Litro Gas.
The National Movement for Consumer Rights Protection said the price disparity is discriminatory to customers. It has written to Trade Minister Bandula Gunewardena to request a refundable deposit on gas cylinders so that customers can switch between providers to get the best price.
"This would enable the public to go for the cheaper commodity," the organisation's head, Ranjith Vithanage, said.
Mr. Wegapitiya said that this would not be possible as cylinders are serviced and maintained by the company providing the gas.
"We ensure the cylinders we fill gas with are intact," he said. "They are repaired and checked for any leaks each time it is filled," he said.