Dengue cases up by a third; similar symptoms to COVID
By Jayanie Madawala
As health services are stretched to the limit, dengue adds to the woes of health officials
View(s):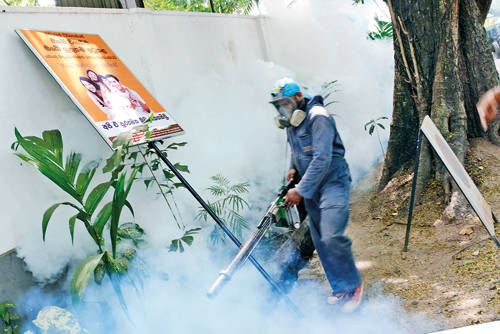 Dengue cases are up by a third compared to the same time last year, and physicians are warning the public not to be complacent about initial negative test results for the illness.
"In the case of dengue, a test result might not be accurate so it may be necessary to conduct two or three tests," consultant physician at De Soysa Maternity Hospital Dr. Priyankara Jayawardena said.
"Unlike PCR tests, if a dengue antigen test is negative that may not mean that the individual does not have the dengue infection."
Dr. Jayawardena said it was difficult to differentiate between COVID-19 and dengue fever during the early stages of the disease.
"If you are experiencing severe symptoms, seek medical attention immediately at your nearest clinic," Dr. Jayawardena stressed. "Recently a woman was infected with dengue but she took medication for a urinary tract infection. She was hospitalised. The situation became critical but somehow we managed to save her life."
Health Services Deputy Director-General Dr. M. Arnold, said health services were already stretched to the limit with COVID patients. Therefore, "if we can't control dengue, we are in great danger."
"When health services staff being overwhelmed with COVID, we have limited staff to deal with dengue," the Deputy DG said. He asked people to ensure that their surroundings were kept clean and free of mosquito-breeding grounds to minimise the risk of dengue spreading.
"You would not like it if PHI officers investigated your living areas. So it is better for you to clean your premises on your own," he advised.
Joining the battle against dengue will be trained police dogs. They will be assigned to operations carried out by the Environment Police to crack down on dengue breeding grounds.
To effectively reduce the sources of dengue vectors, the Police Environment Protection Division is conducting community-based cleaning campaigns, mainly in Colombo city areas where many cases have been reported. These campaigns are conducted in collaboration with the Police Special Task Force, the Civil Defence Force, and Medical Officers of Health.
National Dengue Control Unit Specialist and Community Physician Dr. Himali Herath said there had been a sharp increase in dengue patients, especially in the Western Province.
To date this year, more than 17,000 dengue patients have been reported, mostly in the Western Province, she said.
In July, 3,292 cases were reported – 1,286 just from the Colombo district – and that number signifies a 30 percent increase from the 2,165 dengue cases seen in July last year.
According to the statistics obtained from the hospitals, this year 646 cases were reported up to August 8. Of these cases, 219 were from Colombo district.
Ten people have died from the disease this year so far, the statistics show.   However, there were discrepancies in statistics compiled by the National Dengue Control Unit and the Epidemioloy Unit (see graphics).
Several districts have been identified as high-risk zones for dengue. They include the districts of Colombo, Gampaha, and Kalutara in the Western Province. In the Colombo district, Maharagama, Battaramulla, Kolonnawa, Dehiwala and Piliyandala have been identified as high-risk areas.
People have been warned  to be wary of dengue-carrying mosquitoes between 6 and 10 a.m. and 3 and 7 pm.
Doctors advise patients to rest and drink more fluids, not only water but fruit juice, white rice kanji, king coconut, Jeewani rehydration salts and similar fluids, at least 100ml every hour.
As with COVID, dengue victims experience headache, pain in muscles, bones or joints pain. Dengue patients are advised to take paracetamol but not non-steroidal anti-inflammatory drugs (NSAIDS) such as ibuprofen.
It is advised to apply a mosquito repellent as precaution.
The health system is already overburdened by COVID-19 patients. So caring for dengue patients at such a critical stage is labour-intensive. Therefore it is everyone's responsibility to prevent an outbreak of dengue, doctors said.