Clash of trolleys as lockdown rumours spark panic shopping
By Nadia Fazlulhaq
View(s):
With trolleys piled high with milk cartons, rice, frozen food and dry rations and items being grabbed before other shoppers could reach them, crowds went supermarket sweep style following rumours of a curfew or lockdown over the rising COVID death toll.
All grocery shops were packed, particularly supermarkets in main towns due to their acceptance of credit cards, the availability of many items in one place, and hygiene practices.
A spokesperson of a leading supermarket chain said essential items such as rice, sugar and milk were in high demand this week with other products also selling fast.
"Although we expected big crowds in supermarket outlets in Colombo and suburbs, there is panic buying in the outstations as well," she said.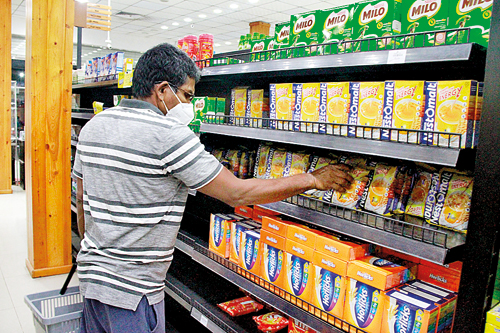 Apart from essential food items, yogurt, oil, eggs, biscuits, malted drinks and baby diapers too are selling fast, the Sunday Times observed.
Nirosh Weerapperuma, a grocery supermarket owner in Piliyandala, said people are stocking up on rice enough for a few weeks.
"The general belief is that supermarkets are safer than public markets and all items can be purchased from one place," he said, adding that even though shoppers were repeatedly encouraged to come singly for supplies sometimes an entire family came to the supermarket, crowding the area.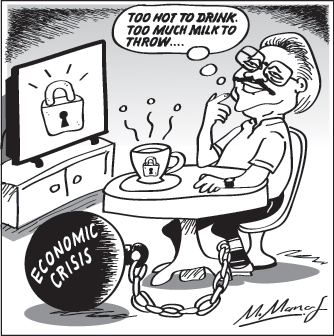 Housewives Association, president Deanna Rizvi, said many housewives are stocking up with essentials in fear of lockdown and worrying about feeding all home-bound family members.
"There is panic buying everywhere. Eggs are getting sold out quickly. People are collecting food in fear that there will be shortages like gas and milk powder," she said.
"Due to hiccups in online ordering and many older people not trusting or unaware of the ways of ordering online through apps, many people are going into supermarkets. Also, supermarkets accept credit cards unlike grocery shops," said one shopper, Charmaine, who plans to buy at least two weeks' worth of essential food.
For 70-year-old Sherman Fernando, a daily cup of tea is a must. His trolley at a supermarket in Colombo contained several cartons of milk.
"The shortage of milk powder has resulted in people stocking up with more liquid milk in fear of a milk shortage. With my age, I can't wait till the last moment and be in crowded supermarkets," he said.