Another COVID- hit year sees first kumbal perahera on empty streets of Kandy
By L. B. Senaratne
View(s):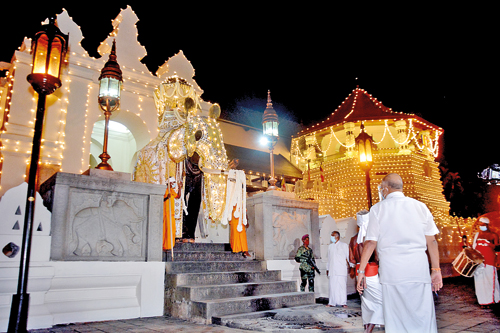 The Esala Perahera began on Friday with the first kumbal perahera parading the streets of Kandy. The perahera began at 7.18 p.m. with the Kataragama tusker 'Wasana' carrying the golden karanduwa.
The procession proceeded along Dalada Veediya, D.S. Senanayake Veediya, Pansala Road, Deva Veediya, Colombo Street, Raja Veediya, before heading back to the Dalada Maligawa, and the four devales.
The route followed was shorter than usual, owing to the current COVID situation and like last year there were no crowds to witness the spectacle.
Pictures show among others the majestic tusker coming down the steps of the Maligawa before the commencement of the perahera.