Sumanthriran's dinner discussion with US envoy doesn't go down well with rest of TNA
View(s):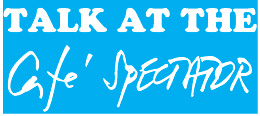 Constituent parties within Tamil National Alliance (TNA) were furious this week when they came to know that the party spokesperson Parliamentarian M. A. Sumanthiran was present at a dinner with Minister of Education G. L.Peiris on Wednesday at the residence of the US ambassador in Colombo.
The dinner hosted by US ambassador Alaina B. Teplitz saw the discussion focused on the proposed political solution for the 'ethnic conflict' through a new Constitution. The Experts Committee which was appointed to study proposals on the subject is yet to hand over its final report to the Minister of Justice.
It could be considered as an informal talk on the subject which is pending for decades. But for other party leaders in the TNA, this came as shocking news since the party's stand on the government has always been 'confrontational politics', said one of them.
They were unhappy with the fact that they were not informed about this meeting earlier and alleged the Ilankai Thamil Arasu Katchi- (ITAK), the main constituent party within the TNA is running its own show by a two-man team with an octagenarian leader. Sumanthiran justified his participation saying he went ahead with approval from TNA leader R. Sampanthan.
Other party leaders alleged this is another shoddy attempt by the government to score some points ahead of the upcoming UN Human Rights Council sessions in September where Sri Lanka would be on the agenda. One leader in particular noted that the price the TNA paid for being on 'honeymoon with the Yahapalanaya Government of 2015-2019' is the loss of three seats in Parliament. They are concerned that this kind of
engagement with the government will make the TNA even more unpopular among voters.
As for the Government Minister at the dinner, he believes he's the de-facto Foreign Minister and the Foreign Minister-in-waiting, said the grumpy TNA leader. Maybe the US envoy needs to expand her invitations list.
---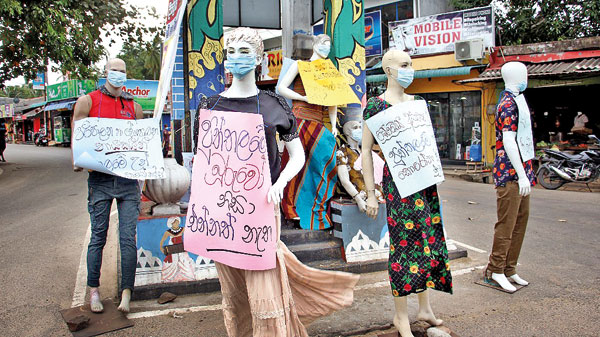 The widely publicised protest using mannequins. Pic by Hiran Priyankara
Vaccine request letter to Namal raises many an eyebrow
Amid accusations that the government's COVID-19 vaccination drive was way behind in certain districts, a copy of a letter allegedly sent by Puttalam District MP and State Minister of Foreign Employment Promotion and Market Diversification Priyankara Jayaratne requesting 100, 000 vaccines for his district started circulating on social media this week.
The matter elicited much comment because, despite there being three different ministers handling the health sector and various other senior officials, State Minister Jayaratne's letter asking for vaccines for his district had been addressed to Sports Minister Namal Rajapaksa.
Many wondered why a letter requesting for vaccines had been addressed to the Minister of Sports.
Minister Jayaratne confirmed the letter was authentic, but claimed he had sent it to the Sports Minister because at a meeting held at Temple Trees, MPs had been told to direct any issues related to vaccination in their districts to Minister Namal Rajapaksa. "This was reported in the media too. If we have been told to direct such matters to him, what's wrong with sending the letter? I copied it to the Army Commander as well."
Mr Jayaratne's letter came after a widely publicised protest using mannequins was held at Mahawewa town accusing the district's politicians of not doing enough to obtain vaccines for those in the Puttalam district.
---
An 'island in the sun' promo a hard sell nowadays
The Sri Lankan High Commissioner to UK Saroja Sirisena gave an interview to a travel magazine with the hope of reviving tourism in the near future, but it turned out to be something else.
Complimenting Sri Lanka military's response to the COVID pandemic, she declared that its high level of "disaster preparedness" acquired after the 2019 bombings that helped it cope well with
the crisis.
Some excerpts from High Commissioner's interview with UK based Travel Weekly produced below:
She told Travel Weekly: "When a country has gone through something, it comes out better prepared for things in the future.
"We have been really disciplined [with Covid]. Our approach was criticised by some because we got the military involved to handle some sections of the operation, but we moved really quickly. We shut our airports and wouldn't even let Sri Lankan nationals back in. The army set up hospitals in 10 days, and our healthcare system was phenomenal.
"There were about 20,000 Brits who actually opted to stay in Sri Lanka as they felt safe there. We had only 13 or 14 deaths until October last year."
She went on to refer to the country's rural beauty also.
"Our rural is rural, but not backward. It's beautiful and untouched but there is still electricity and internet connection," she said. "Visitors won't see unpleasant things. They are most likely to see kids in uniform walking through the rice fields to school. It's a very civilised society."
Unfortunately, Sri Lanka remains in the red list of countries at UK entry points, and other than Sri lankans with residence permits, they are not allowed in due to the virus spreading locally. Even those Sri Lankans who enter with a UK residence permit need to quarantine at the rate of GBP 1,740 (over Rs. 425,000) for 10 days abd pass PCR tests before being allowed into the country.
This is while we wait with garlands to welcome any tourist from the UK.
---
Failed attempt at dubious world record book
Politicians used to perform all sorts of gymnastics to keep their name intact among masses for their political survival, even if it's good or bad, everything is publicity. Otherwise, they fear, the voters will forget them before the next polls.
One such attempt was made by Ceylon Workers Congress Vice President Senthil Thondaman who applied to a dubious world body called World Book of Records, reportedly based in London in order to include his name as someone worthy of the Guinness World Record book.
Instead, he received a 'Commitment Certificate' from the organization appreciating his 'relentless commitment to promote safety against COVID-19 pandemic and to serve the society with honesty and sincerity for reducing human sufferings'. For his efforts at self-promotion, some of his colleagues from other parties also congratulated him for
his "achievement".
---
Welcome to Sri Lankan politics!
In Sri Lankan politics, Muslim parliamentarians from the sectarian parties are in a class of their own when it comes to self serving and enjoying government perks.
The fate of MPs of the Sri Lanka Muslim Congress (SLMC) who voted in favour of the 20th Amendment to the Constitution has been in the news lately for good reasons after the Central Political Committee met weeks ago.
This week, SLMC Leader MP Rauff Hakeem was at a meeting in Colombo and journalists asked what action was been taken against
the MPs who violated the party's decision.
Mr Hakeem, said rather casually that the Central Politburo decided unanimously to forgive those four MPs who supported the legislation citing various reasons.
After Hakeem left, a journalist recalled a statement by one of those MP's who infamously declared at a public meeting that they supported the legislation with the approval of the party leader. After all, it's the wheeler-dealer style of
Sri Lankan politics.
---
Acid attack under cover of the perahera
The Criminal Investigation Department (CID) has been called in to probe an acid attack targeting the vehicles of the Basnayaka Nilame of the Naatha Dewalaya in Kandy and one of his associates on Friday night when the historic annual perahera was in progress.
The attack had occurred while the vehicles were parked inside the high security zone of the Dalada Maligawa (Temple of the Tooth) while the first Kumbal Perahera that marks the start of the annual Esala perahera
was ongoing.
The two vehicles have been severely damaged in the attack and investigations are proceeding to identify and arrest the culprits.
---
Mystery of five in, five out
Five Sri Lanka Planning Services (SLPS) senior officers who were appointed to different ministries last week were taken by surprise when they were called over to take over their appointments.
They were among 10 officials of the SLPS with considerable amount of experience in government institutions and departments appointed to the ministries.
The five were appointed to the ministries of Irrigation, Labour, Samurdhi, Aviation and Urban Development.
The reason given by the Secretary to the Ministry of Public Administration J.J. Ratnasiri was that though the appointments were made, there were no vacancies according to the respective ministries.
However, the question is that if there were no vacancies how did five persons find places and five others left out even after being given their appointments.