Geoff Wijesinghe: Playing a straight bat in his own style – Appreciation
View(s):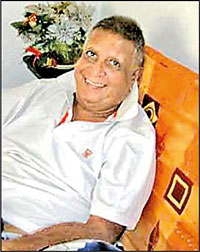 A blue sky with sunshine playing on the lush green turf of Colombo Oval, fluttering of blue-black and blue-gold flags all around the grounds, the ear-shattering rattling of rattles and the joyous scenes around the grounds packed with a ten thousand people made the opening sessions of a Royal-Thomian 68 years ago.
The scene in the Thomian Tent, however, was a marked contrast — the mood being sombre with grim long faces.  In only a couple of hours play or so, the cream of the Thomian batting was back in the pavilion with only their Captain P.I. Peiris, holding up one end while his colleagues who walked up to the crease were soon back in the pavilion. Only the legendary grit which they speak of could have prevented disaster.
G.L. Wijesinghe walked to the wicket with a jaunty stride.  Although there was much hope placed in him, not much was heard of his batting prowess particularly by us (small b…..) in the Middle School.
He dug in at the start and later together with his captain held back the baying Royalists.
After some defensive batting, the pair opened up and went on and on to pile up a match winning score, Peiris – 123 and Wijesinghe 64 in a 187-run partnership.
The match was won by an innings.
Peiris went on to play for Cambridge and later played for Ceylon but Wijesinghe disappeared from the main cricketing scene.
We met for the first time, about a decade later, when I was a reporter for the Ceylon Observer and Sunday Observer and Geoff Wijesinghe was going great guns for Daily Mirror, then a tabloid.
He frequently wrote the lead story on crime or defence affairs and faced stiff competition from his veteran colleagues in The Times Group.
As a journalist, Geoff led a devil-may-care life. His survival in the profession while flouting basic norms may have been due to his ability as a reporter to scoop stories while his survival, despite the hard life he led, could be due to his immense physical strength. His doctor and schoolmate told me: He is a 'medical miracle'. Geoff outlived his doctor.
In 1976, to my recollection, he had left the Times Group. I had been appointed the News Editor of the Daily News by its new editor S. Pathiravithane. He was at that time not satisfied with the Daily News news coverage which by and large amounted to re-written government handouts. He wanted fresh original stories. I persuaded Geoff to contribute to the Daily News and his first story itself was a scoop from the National Security Council. He continued to produce exclusive defence stories which were a welcome change for the editor.  Geoff told me that the Security Council had discussed about the Daily News carrying news stories the next day after the council's deliberations on the subject. They suspected a leak.
A top-brass of the military in the council had then remarked: That fellow Wijesinghe will never reveal his sources, even if he was lying on his death-bed.
That military top brass, Geoff chuckled to me, was the source of his stories — after getting my promise of confidentiality.
Geoff had the ability of a good reporter to make top officials or sources entrusted with confidential information to divulge it to him. They had trust in his confidentiality and loyalty.  Since he was known as a sportsman and most top officials in the police and security services too had been sportsmen, there was a kind of trust and camaraderie between him and them.
Geoff was not interested or involved in politics and thus could do the job he was entrusted with to the satisfaction of his bosses. How he managed to be the head of the national news agency Lankapuwath, to the tail end of a long career boggles the imagination of most of his colleagues but to Geoff it was effortless.
Geoff, despite his unorthodox ways, could get on with the political bosses of Lake House and be appointed editor of the staid Sunday Observer and the Daily News at the same time. This writer was far removed from the scene by the Beire Lake when that happened and we can only attribute it to Geoff's flexibility and versatility and commitment to do a job he was entrusted with.
Despite some of his unorthodox strokes in lifemanship, he was a man who played a straight bat, according to his own style. He had no ideologies and could serve varied governments to their satisfaction. But he was extremely loyal to individuals and would serve them without hesitation and with no back stabbing.
The greatest achievement of Geoff was his family — three sons, two of whom donned the striped blue-and-black blazer and the other an outstanding rugger player when college was on top of school's rugby. The eldest son, Suranimala played in 1977, 1979 and 1980, and took to tourism. He is now domiciled in Germany with his German wife; the second son, Johann, the ruggerite is a top mercantile executive who personally looked after their father and mother while the third son S. Wijesinghe played in 1993 and 1994, became an IT specialist and is now domiciled in New Zealand. All three sons were dedicated to the welfare of their parents and now would look after their mother Leela who with commitment and dedication, while going through great tribulations, kept the family going.
As a schoolboy cricketer Geoff performed a miracle on that famous day. As a journalist to have become the editor of two English language papers at the tail end of his unorthodox and buccaneering career is another miracle.
Esto Perpetua, Geoff
Gamini Weerakoon