Sri Lanka's quadrennial woes
By Shehan Daniel reporting from Tokyo
Authorities spell out checks, balances, illustrious recaps, besides cemented plan for Olympics
View(s):
Under floodlights and against a stiff evening breeze Mathilda Karlsson and her horse Chopin VA rode out to the Equestrian Park in Tokyo on Tuesday in the Individual Jumping event, the last of Sri Lanka's nine athletes to compete at the Tokyo 2020 Olympics.
In the time between Karlsson becoming the first Sri Lankan to qualify for the games and the last to participate, the entirety of Sri Lanka's Olympic campaign unravelled too much anticipation but ultimately little surprise.
A public relations campaign by the National Olympic Committee of Sri Lanka (NOCSL) weeks before the games to unveil the rebranded national Olympic team as Team Sri Lanka made a clarion call to the nine athletes to defy barriers, even though only three athletes qualified through merit, with the rest picked through Universality or through the Tripartite Quota – places set aside for athletes who fall short of entry requirements or are from countries that have only a few representatives at the games.
Karlsson's big unveiling in January 2020, having emerged out of nowhere keen to represent the country of her birth in a sport that had little interest and lesser scope, was followed by near static silence for almost one-and-a-half years before Sri Lanka could say a second athlete had qualified for the delayed Tokyo 2020 Olympics.
Gymnast Milka Gehani, who like Karlsson was a first-time representative of her sport at an Olympics, gained qualification in May this year through the Asian Continental Quota, having benefited from training she had received under a sports scholarship in Japan.
As the qualification deadline for Tokyo 2020 hit on June 29, sprinter Yupun Abeykoon was the third athlete and last Sri Lankan to gain direct qualification to the Olympics, thanks to his world ranking in the 100m, rewarded for making the decision to move to Italy to further his progress as an athlete that has since seen him shave almost half a second off his personal best.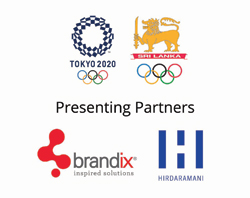 Shooter Tehani Egodawela had already received a tripartite allocation, with the names of swimmers Matthew Abeysinghe and Aniqah Gaffoor, 3000m Steeplechase athlete Nilani Ratnayake, Judoka Chamara Dharmawardena and badminton star Niluka Karunaratne being announced as the remaining members of the Sri Lanka contingent.
Ratnayake, for her misfortune, later learnt that she would not be travelling to Tokyo as she had not kept the required ranking to qualify for her event, and was replaced by 800m runner Nimali Liyanaarachchi, who by her own admission, was lucky to make the team.
It was up to these nine athletes – athletes who, for all their hard work, would have known the reality of where they stand in the world – to dream of defying barriers and produce the kind of unexpected victories like Karunaratne had in 2012, and Dharmawardene in 2016.
It was not how the Olympics panned out for Sri Lanka.
Egodawela finished 49th out of 50 shooters, Gaffoor could not qualify out of the first round, Nimali was last in her heat in the Women's 800m, while Karlsson, for all the pedigree of having competed around the world in show jumping, was automatically eliminated with an incomplete run.
If more was expected, it was from Karunaratne, Abeysinghe and Dharmawardena, having already had the experience of the Olympics, but none of them could also make an impact, with judoka Dharmawardena, the team captain, one of the quickest to exit the competition.
The only fleeting bright spot then was Gehani who, despite showing her inexperience in a sport, where most of her competitors were part of well-drilled, well-structured programmes running for decades, proved that she had the mental fortitude to put a bad performance behind her. She picked herself up from a sub-par floor routine, to deliver an attempt in the vault, that though lacking the pizzazz of a Simone Biles or Suni Lee, scored her an excellent 13.366 points.
It did little to impact her overall ranking however, as she finished 78th overall in the competition.
Ultimately there were no progressions, not even personal bests, with results suggesting the athletes had not even performed to the best of their abilities.
It was a point brought out by Sports Minister Namal Rajapaksa in Parliament this week, when he stated that some athletes treat events like the Olympic games as an 'overseas trip' and not as an opportunity of pursuing sporting excellence.
"Over the years, athletes have developed a mindset of winning only at national level, and not to succeed at international level. Some athletes treat this as an overseas trip, and that's why they can't even produce their personal bests at the Olympics," Rajapaksa said.
He also said there was an obvious lack of vision when it comes to sports in this country which he, like almost all his predecessors have claimed before him, has the solution for.
"Normally countries prepare 10-15 year plans when it comes to winning medals. In Sri Lanka, plans change every six months, which is why through the National Sports Counsel we are preparing a long term-plan targeting 2032. We are identifying athletes for that and sending them for overseas training," Rajapaksa said.
NOCSL President Suresh Subramaniam concurred with Rajapaksa in that a plan was needed, but it needed to be one with continuity.
"We need a long-term plan that will continue despite the changes in committees and ministers," Subramaniam said.
He also said that it needed to be cooperative, between all stakeholders involved in finding and developing athletes.
"We need the Sports Ministry, the NOC and the federations working together. We can give the opportunities for athletes to train overseas and become medalists, but we can't find the athletes and the potential. That's the federation's job," Subramaniam said.
They also both seem to agree on one crucial requirement, which is overseas training.
"We can give them overseas training, but that too, I believe you need to send two athletes, so that there is competition between them," Subramaniam added.
Sri Lanka has never been short of potential, but almost in equal measure are the number of stories of athletes slipping through the broken system, their potential never truly fulfilled. And it's not the first time that we have heard administrators and ministers talk about what needs to be done, instead of ensuring that what is necessary is put into action.
Until then, till a cooperative effort among all stakeholders yields a plan with no agendas and for the genuine interest of developing medal winning athletes, we will only have reality checks to have more reality checks, like we have had at Tokyo 2020.
Our athletes ought to be celebrated. Some of their stories are stories of victory even if it was to just make it to the starting line.
But let that not be the legacy celebrating participation only.