No pain, No gain!
By Champika Fernando
Sri Lanka's continuous plights at Olympics is a testimony to incapability of higher echelons
View(s):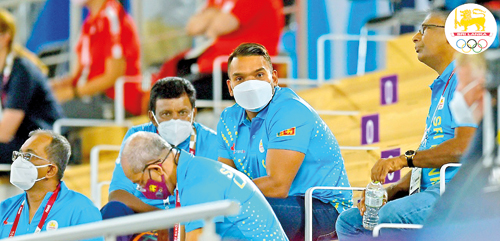 Sprinter Yupun Abeykoon was Sri Lanka's best chance at Tokyo Olympics. His personal best 10.15secs is nowhere near medal-winning, but had he replicated it, he would have progressed to the first round. And that would have been a cause of pride.
But Yupun clocked 10.32secs and crashed out from the preliminaries. It was a disappointment for the athlete who went to Tokyo to give his it best shot, having performed well in the pre-season.
This story is no different to the other eight Sri Lankan competitors who delivered substandard performances in their respective events. The swimmers were far from their best. The shooter was off-mark. The shuttler exited in straight sets in both games he featured. The half-miler was five seconds below her optimum and the show-jumper was eliminated. The judoka was knocked down in 30 seconds. Sri Lanka's display in Tokyo was disappointing.
But are we surprised? If you look at the contingent, barring Nimali Liyanarachchi, the 800m runner, no one has won a medal beyond South Asian level. A country that didn't produce an Asian Games medalist in 15 years in any Olympic sport (Sri Lanka men's and women's cricket teams won gold and silver at the 2014 Asian Games), to hope their 'stars' will clinch Olympic medals is akin to expecting the grindstone to bloom. Their performances in Tokyo remind us that the Olympics are not the South Asian Games.
It's a reality that most Sri Lankans–the athletes, the coaches, the administrators, the policymakers and the fans–must admit. They want to run when they can't walk properly, swim when they can't float. After being a national champion for a couple of years, the ego gets into most of the local athletes.
Hats off to them, though, for competing at the Olympics. After all, the most important thing in the Olympics is not winning but taking part. Medals separate the great from the good.
In the aftermath of the disappointing show at Tokyo, the obvious question is why does Sri Lanka struggle at these games? While there could be many reasons, two main factors spring to mind: the lack of a proper sports policy and of funding to develop infrastructure that supports excellence in sports. Sri Lanka has never approached sports with a coherent set of policies or the funding required to drive forth a clear development strategy.
For instance, after the 1996 Olympics in Atlanta, where UK won one gold and only 15 medals overall, finishing 36th in the table, they injected massive amounts of funds into Olympic sports propelling them to the company of today's big players. Since then, they have won over 100 gold medals, an achievement Sir Hugh Robertson, the chair of the British Olympic Association, says is "a moment that graphically illustrates the turnaround in British Olympic fortunes" (according to The Guardian).
Money plays a huge role in the success of sports. Cricket is the best example in our own backyard. After the 1996 World Cup win, financial inflows transformed cricketers from semi-professionals to full professionals. Infrastructure was developed as Sri Lanka became a formidable force in world cricket. But such funding is not available for athletics, shooting, boxing and weightlifting, some of the sports that have brought fame to the country by securing medals at multi-disciplinary sports events like the Asian, Commonwealth and the Olympic Games. And Sri Lanka, with a GDP income of US$ 80.7 billion compared to UK's 1.96 trillion GDP in 2020, cannot afford to pump money as UK did back then. But whatever the money available must be spent properly rather than on sending athletes en masse to global competitions without any return on investment.  In 2018 Sri Lanka sent a massive contingent of 185 for the Asian Games but their return on investment was zero. Games are a joy-ride for many, specially the officials of the National Olympic Committee and those in national associations.
Despite producing an Olympic medalist 21 years ago and a number of medals including gold medals at Asian Games, the access to scientific coaching and better training facilities that should be included in a high performance environment, are a far cry for local athletes across all Olympic sports.
Had they spent the Rs 700 million the government dumped in 2012 in a failed bid to host the Commonwealth Games in Hambantota on developing infrastructure, exposing athletes to better coaching and developing coaching standards, Sri Lanka might have won few medals at the Asian and Commonwealth Games held thereafter.
But for local politicians and those heading the National Olympic Committee, personal egos supersede wider national interests. Sports Minister Namal Rajapaksa, who was driving the Hambantota bid then, this week admitted in parliament the need to improve infrastructure facilities and give athletes scientific training to lift standards. He said he has initiated a project to facilitate the high-performance training of athletes with a view to win medals at global events in the future.
Olympians are not produced overnight. If the Minister continues the high-performance programme he says he started over a period of time, Sri Lanka could aim for the stars. But that, too, if we have athletes with an iron will like Susanthika Jayasinghe, who is a living legend in athletics.