Germany donates eight state-of-the-art electronic boards to CFSL in goodwill gesture
chess
View(s):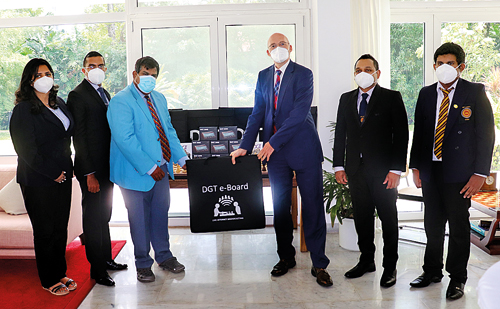 The Chess Federation of Sri Lanka (CFSL) received a bequest that would worth beyond its monetary value on Wednesday with the initiative from the German Ambassador to Sri Lanka, Holger Seubert.
Seubert, a keen chess player himself, presented eight electronic chess sets, that would ideally benefit the Sri Lankan chess fraternity with its state-of-the-art adherence to the global platform and more importantly, the differently-abled players and enthusiasts of the board game.
The donation from Germany aims to assist the promotion of chess within disadvantaged groups in Sri Lanka and the chess equipment from Germany, worth Rs. 1.5 million, has been designed to cater the handicapped persons in particular.
"I'm an avid chess player myself. I'm particularly impressed by CFSL's charitable work and its firm commitment to promote chess in Sri Lanka," making the presentation at his residence in Colombo, Ambassador Seubert said.
During the handover ceremony, Ambassador Seubert declared that the donation is a result of an initiative by the president of the CFSL, Luxman Wijesuriya.
"Germany is delighted to be able to support this valuable and praiseworthy initiative," he added.
Chess in Sri Lanka, has spread around the country and the president of CFSL stated that it intends to spread the game among different communities. CFSL has been the only sport that has been able to provide its players with competitions and training programmes even during the lockdown periods, with its online platform that is accessible to the registered players around the country.
Wijesuriya added that CFSL will continue its venture in taking the sport to the next level while thanking Germany and inviting all interested parties to join them in developing the nation using chess as an educational tool.
"It's a great support being a player himself, his Excellency, the ambassador and the Federal Republic of Germany has given to CFSL for our projects. This will be a great boost to our development ambitions," Wijesuriya stated.
The ceremony took place amidst strict health protocols at the residence of the German Ambassador in Colombo, with a limited number of invitees, including national rank players.