Galkotuwa and Rajinikanth win titles
Sri Lanka Online Rapid Chess Championship Cycle 2021 - Central Open and Northern Girls
View(s):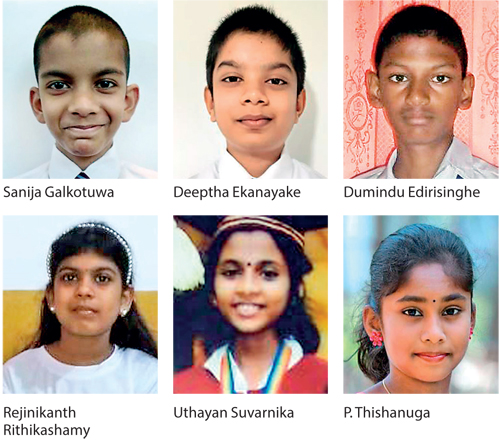 Sanija Galkotuwa of Dharmaraja College won the main title of the Sri Lanka Online Rapid National (Novices Division) Chess Championship 2021 with a better tie breaker after tying with four more players with the score of 6 points out of 7 games. Deeptha Ekanayake of Dharmaraja College and Dumindu Edirisinghe of St. Anthony's College were placed second and third respectively, also with the same tie breaker of 6 points. Other tied players, Dinod Abeyratne and D.D.B. Rajanayake had to be contended with fourth and fifth places respectively.
Galkotuwa beat Sujeewa Kirimetiyawa, Niketha Karunananda, Shahrook Fairooz, L.S.D. Chandrasiri and Sudhan Pragatheesh and drew with Hansana Godagampala and Deeptha Ekanayake to won the gold medal.
Deeptha won against Sanuth Lokuge, R.M.S.R.B. Rathnathilaka, Anuhas Weligamage, D.D. Wijesinghe and K.P.L. Liyanage and drew with the winner and Chiwath Gunaratne to reach 6 points. He claimed the silver medal. Dumindu Edirisinghe won the bronze medal by with six wins against Senuka Karunarathne, Venuka Gunaratne, Kavishka Alahakoon, Manith Sumanasinghe, Sudhan Pragatheesh and Hansana Godagampala and his only loss was to the silver medalist Deeptha.
Rejinikanth Rithikashamy of Singing Fish Chess Club won the Northern Region Women's title of the Championship, also on a better tie breaker after tying with 6 points with Uthayan Suvarnika of Jaffna College. Suvarnika finished at second place, while P. Thishanuga of Vembady Girls' High School, Jaffna was placed third with 5½ points.
Rejinikanth beat Ganeshkumar Shuruthiha, Gayathri Gajendriyan, Athithya Arulingam, Yuhansa Wickramasinghe, Panajaa Paramothiyan and Theyonne Barthelot and lost to Laxya Sivaskaran to score 6 points and claim the gold medal. Suvarnika beat Kavithma Jayathilake, Varsha Gangatharan, Angkavi Kulatunga, Athithya Arulingam, Anudini Pathirana and Panajaa Paramothiyan but lost to Anumitha Arunrojan to claim the silver medal. P. Thishanuga, conceding a default point to Kamalasaravanan Atchara in the first round, beat Chanumi Pathirana, Mathumira Jeyakanthan, Angkavi Kulatunga, Anumitha Arunrojan and Athithya Arulingam and drew with Kawmini Jayasinghe to score 5½ points and claim the bronze medal.
The Novices Division of the Sri Lanka Online Rapid National Chess Championships 2021 will be conducted in seven regions — Western I (Colombo), Western II (Gampaha and Kalutara), Central Province, Wayamba Province, Southern Province, Sabaragamuwa Region (Sabaragamuwa and Uva Provinces) and Northern Region (Northern, Eastern and North Central Provinces).
Top 22 players of the Central Province Open and the Top 15 players of the Northern Women will qualify to the appropriate Major Division Chess Championships to be held from late August.
The inaugural Sri Lanka Online National Rapid Chess Championship Cycle 2021 consists of four stages. The 'Cycle' started with the Novices events in seven regions, followed by the Major Division events in the same regions.
The top players will join with the selected players from Major Division events in the National 'B' event. The Top 14 players of the National 'B' will join the current national chess champion and the top rank player in the 15 round robin in the first stage of the finals, while a knockout of top four players of round robin event will play as second stage in the finals. The same structure will be followed in the Women's event as well.