Teachers might cave in on street protests but not boycotts
By Nadia Fazlulhaq
View(s):
Under growing pressure from the health sector, teacher-principal unions will discuss today whether to continue with protest marches and vehicle processions in coming weeks – but they vow to continue boycotts on online teaching and exam duties.
Another week of failed discussions, protest marches, vehicle processions and teacher arrests passed, with students from government schools losing online education for almost one month. Tomorrow marks the 27th consecutive day that their teachers have abstained from online teaching.
"Senior health officials, the Sri Lanka Medical Association and many in the health sector have reached out to us and requested to not hold protest marches and mass gatherings until the COVID situation is under control. We understand the situation and therefore will discuss with other unions on what alternative trade union action can be taken," the General Secretary of the Ceylon Teachers Union (CTU), Joseph Stalin, said.
More than 30 teacher-principal unions were participating in the union campaign, he said.
"A total of 247,000 teachers and 16,000 principals are fighting for an issue that has dragged on for the past 24 years. We are determined to carry on with this mission to get our salary anomalies issue sorted. We hope this will be discussed in tomorrow's Cabinet meeting," Mr. Stalin said.
Until a solution is reached, teachers and principals will stay away from rehearsals for the Ordinary Level aesthetic subject practicals scheduled for later this month, Advanced Level examination application submissions in schools, A/L examination duties, and online meetings conducted by the Education Ministry, provincial departments of education or zonal education offices.
"While demanding that the government solve the salary issue, we will also pressure the government to abolish the controversial Kotelawala Defence University Bill and ensure all students have online facilities for education," the General Secretary of the Ceylon Teacher Services Union (CTSU), Mahinda Jayasinghe said.
"We don't want to cause inconvenience for the children but this is a time when there is no equality in education: 60 per cent of students have no access to online education. We teachers and principals have waited for long seeking an answer to our salary issue," Mr. Jayasinghe said.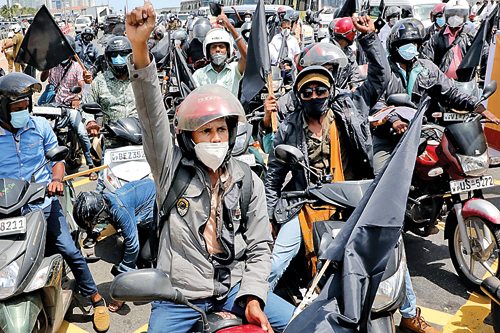 Thousands of teachers gathered in Colombo this week to take part in vehicle processions and a rally near the Presidential Secretariat to demand that the government immediately meet their pay increase demands.
Although twice police attempted to block the protests through court injunctions, both the Colombo Chief Magistrate and the Mahara Magistrate allowed the protests to continue with adherence to quarantine rules.
Forty teachers taking part in the protest were arrested near the Presidential Secretariat on the basis that they violated quarantine rules. The arrested teachers had to take the Rapid Antigen Test; all tested negative to coronavirus. The teachers were later granted bail by the Fort Magistrate.
"The police are the most inconvenienced party as they (police officers) have to risk their lives dealing with protestors during a pandemic," a senior police official told the Sunday Times, adding, "The police are bound by law to arrest those violating rules but then they (protestors) are released on the basis that the police have no strong evidence."
The President's Media Division said 120 protests have been held across the country in the last month with more than 1,500 people taking part in each of them.
Despite several rounds of discussions with Education Minister Prof. G.L. Peiris, Prime Minister Mahinda Rajapaksa and senior ministers Bandula Gunawardena and Gamini Lokuge in the past few weeks, the teachers said their salary claims were left hanging.
"This issue cannot be solved easily. It is not practical to make such demands in a situation where the government has been affected greatly in all its income sources such as VAT, Customs, excise duties and expatriate worker remittances, which are the main sources of state income," Prof. Peiris said.
"It is not reasonable to boycott teaching activities and school attendance abruptly over an issue that has existed for 24 years," the Education Minister said.
| | |
| --- | --- |
| Protest march heading to Colombo called off at Pasyala | |
| The Teacher-Principal Trade Union Alliance, a group led by Ven Ulapane Sumangala Thera has decided to suspend their protest march that was to reach Colombo tomorrow.The massive campaign started in Kandy on August 4 and was to reach Colombo with thousands of teachers and principals joining the march. The protest march was on its fourth day and had reached Pasyala, when Sumangala Thera announced that they will suspend the strike due to requests from Sri Lanka Medical Association and state health officials.However, teachers of the Alliance will continue to boycott online teaching. | |