Rotary Club of Colombo installs its 93rd President
View(s):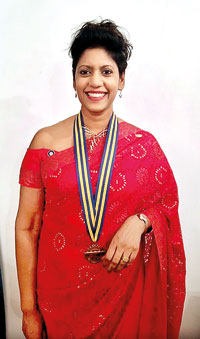 Rtn. Aroshi Nanayakkara was installed as the 93rd President of the Rotary Club of Colombo.
The mantle of leadership was transferred from outgoing president NithiMurugesuto Aroshi Nanayakkara and her new Board in a virtual installation ceremony witnessed by Rotarians around the globe.
Aroshi is the CEO of Global Consulting Company and an independent non-executive Director, Sampath Bank PLC, Asian Hotels & Properties PLC (John Keells Group), Hela Clothing (Pvt) Ltd, Foundation Garments (Pvt) Ltd, Vice Chairman and Board Director, Sri Lanka Institute of Directors and Chairperson, Women Director's Forum.
She has been an active member of the Rotary Club of Colombo for over 25 years and held many positions including Secretary under three Club Presidents, Director International Services and been on its Board on several occasions.
"Our efforts this year will focus on the dire needs of the country; On the one side, the health care system which will require essential medical supplies, machinery and drugs; and on the other side, alleviating the pain and suffering of the less fortunate who have been severely affected by the pandemic from the loss of livelihoods," she said in her speech.
"The Community Services committee is already working on many projects to supply critical equipment to hospitals which require them as well as to bring relief to the needy in the coming months.  We are looking at partnering with our international sister clubs to put through many Global Grants which will also be actioned this Rotary year," she added.
Chief guest David Holly, Australian High Commissioner for Sri Lanka & the Maldives, spoke of the relationship he has had with the club and the trade ties between the two countries. District Governor Aruni Malalasekera spoke on the fellowship of Rotary.