Yupun's meteoric rise to 100m stardom
By Shehan Daniel reporting from Tokyo
Takes honour of qualifying Sri Lanka in Men's 100m after 25 years at Olympics
View(s):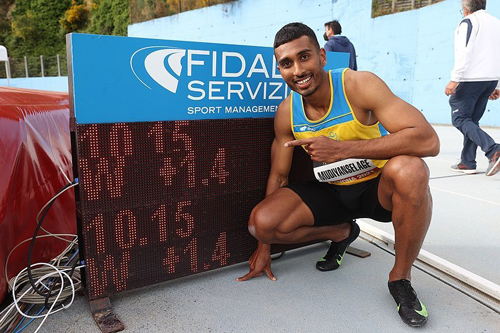 Like jumping straight to the last pages of a novel before reading the middle of the book, you already know how this story has ended. Like watching the last action sequence of a movie without enduring the throes of character build-up, you know if the protagonist has delivered or failed.
By now, you will know if Yupun Abeykoon is the real deal, able to go toe-to-toe with the best of the world or if, like the majority of Sri Lanka's athletes who have taken part at Tokyo 2020, this was a reality check of where he stands against better competition.
For the first time in 25 years, Sri Lanka fielded an athlete in the Men's 100m event – one of the main events in the Olympics schedule – book-ending a remarkable rise of a sprinter whose hunger, dedication and sacrifice has already seen him better the national record thrice.
But there's something special about Abeykoon, who had never previously represented Sri Lanka in an individual race at an event of this nature, and the way he's repeatedly outdone himself that suggests Tokyo 2020 might just be taster of greater things to come – that it's more a comma than a period.
And so rapid has been that surge that in the space of last four years, Abeykoon has shaved three-tenths of a second off his personal best, from 10.47secs in 2017 to his current best and national record of 10.15secs, becoming the first Sri Lankan to run the 100m under 10.2secs.
He is now the fastest man in South Asia, and the only representative from the region to have earned a direct qualification for the event at Tokyo 2020.
Correlated to that rapid improvement was Abeykoon's decision to move to Italy, where his parents live, in 2015 giving up a Sports Degree at the Sri Jayewardenepura University to instead hone his craft as an athlete and becoming one of the best the country has produced.
"From a technical point of view, everything you need to train is available there. And even though I don't get the exact same facilities and training as an Italian athlete would get – because I represent Sri Lanka – what I can utilise is really helpful," Abeykoon told the Sunday Times.
What he can fully utilise is the expertise of his coach Claudio Licciardello at the famed GS Fiamme Gialle Sports Centre, who has been instrumental in not only making Abeykoon a better athlete who has produced remarkable timings, but also fashioned the route that he would need to take to fulfil his Olympic dream – a dream that he decided to pursue in 2016 when he attended a Diamond League in Italy.
That dream came full circle earlier this year, when Abeykoon became the first Sri Lankan to participate in a Diamond League event, at the Golden Gala Pietro Mennea in Florence, with his fourth-place finish ensuring he had enough ranking points to qualify for the Olympics.
"After a very good indoor season we worked a lot on the ranking (to get Yupun to the Olympics). We had to create a route for him to compete in five races so that he could get enough points. I think we went about it in a very smart way by also slowly giving him the experience of running against top athletes," Licciardello shared with the Sunday Times.
During that indoor season, Abeykoon also set a national indoor record, running 60m in 6.59secs at the National Indoor Meeting in Ancone, Italy.
Being part of the Fiamme Gialle centre meant that Abeykoon was able to navigate the tricky lockdown periods imposed following the eruption of Covid-19 better than other athletes, even though Italy was one of the worst hit countries at the beginning of the virus' outbreak.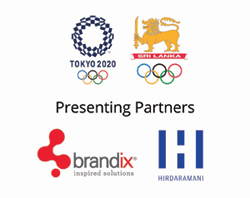 "We lived inside the stadium so we had the facilities to work without any problems. We stopped for maybe a couple of weeks, but after that we were able to prepare the right way. What affected our preparations was in terms of races. We couldn't travel outside Italy, because then you have to take a Covid test and then follow other protocols, but we had a lot of private races in the facility and we were able to replicate the atmosphere," the Italian said.
Licciardello himself is a former Olympian, albeit a sprinter over a longer distance, and so impressed was he with Abeykoon's potential even before they worked together, that when the opportunity came to partner, he jumped at it.
"I met Yupun while he was actually training with another coach. We shared the track while he was training, so I knew him. Then his coach had to leave, and Yupun asked me to collaborate, and I was really happy to get the chance to. Yupun has been easy to coach, plan with and develop," Licciardello said.
When asked what impressed him most about Abeykoon, the former 400m sprinter said: "He's fast! One of the best I have seen in terms of on-the-fly speed. He's outstanding. I haven't seen his level in a lot of athletes." At 26, Abeykoon has been a bit of a late bloomer, a point Licciardello agrees to. But that does not pose a problem for the Sri Lankan sprinter to keep improving and getting better.
"He can absolutely improve. He has the body, technique and the mindset. He's a young athlete, because he started late, but the future will make him better. The more competition he goes up against, he faces, the more comfortable he'll become with it. We'll keep working on his weaknesses and improving on his strengths. He holds three national records after all!"
Does Yupun have what it takes to come back and compete at another Olympics?
"I hope so. I don't see any reason that tells me that he can't. There are a lot of steps for him to understand, to get better, but I don't see anything to say that he won't be able to make it to Paris 2024," Licciardello also said.
Abeykoon himself doesn't sound like he is done with just one Olympics.
"What we have achieved has been over a short period of time (with the facilities in Italy). We need to continue and practice over a longer period of time," he said.
For a new generation of athletes, to whom Susanthika Jayasinghe is more a folklore than a memory, Abeykoon might just be the inspiration to remind them that reaching the Olympic Games, and its glamour events, is not impossible. The hope is they don't need to leave Sri Lanka to do it.