Mathilda and Chopin
By Naushad Amit
The incredible bond between the rider and stallion that represents Sri Lanka at Olympics
View(s):
By today, Sri Lankan born Swedish show-jumper Mathilda Karlsson has granted many 'firsts' in equestrian sport, as much as she enjoys the present outcomes of it. Karlsson becomes Sri Lanka's first representation in Olympics, and at a time when none were in sight, she also was the first to qualify for the Tokyo Games.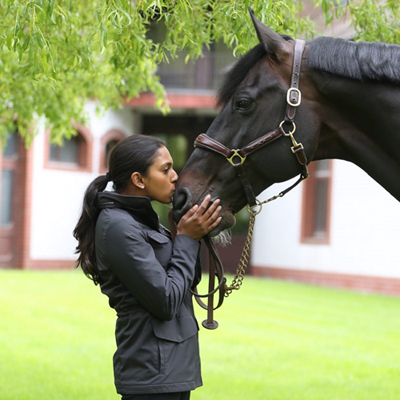 Since deciding to compete under the flag of her country of birth, when she had all the reasons to represent Sweden, Karlsson had to experience many unexpected incidents. This includes her qualification from South East Asia and Oceania region, to compete at Olympics being revoked by the Fédération Equestre Internationale (FEI). Her qualifying points were initially removed in February 2020, following an administrative error from the FEI, but was subsequently overturned by the Court of Arbitration for Sport, after a great struggle.
"I was trying to stay positive through the whole process. I think, I didn't do anything wrong, my team didn't do anything wrong, we didn't break any rules. If the governing body made mistakes in the schedules, they didn't really want to take responsibility on this, it was really left on my shoulders a little bit," Karlsson said.
But she had doubts greater than her positivity, as time was a crucial factor when Tokyo Olympics were originally scheduled during July and August of 2020. But due to the pandemic, it was pushed forward by an year, giving Karlsson positive vibes.
"First we went to the tribunal and then went to CAS, but the time was not on my side. Then the postponement came afterwards due to Corona. I got again another year to get this through the court. I was kind of lucky the postponement happened, not Corona. It was a little bit stressful but still manageable," explained the 37-year old.
Karlsson's decision to represent Sri Lanka was a result of her first visit to her country of birth in 2017. Born in Kandy in 1984, and was adopted by Swedish parents when she was barely three months, Karlsson is a perfect Nord, mainly due to her upbringing and the culture surrounding childhood to adult. But she had her fair reasons.
"Growing up in Sweden, I never really thought about Sri Lanka that much, because of my family and I felt very much Swedish. But growing older, I got really curious about where I came from. When I visited Sri Lanka in 2017 for the first time, I was amazed. I felt a natural change, I fell in love with the country and the people I met. I just felt very proud to have the opportunity to represent Sri Lanka in championships and show the world that Sri Lanka is one of the beautiful countries in the world," Sri Lanka's latest ambassador in sports, revealed.
But the 'first' many a Sri Lankan are unaware is the bond between Karlsson and Chopin VA, her 11-year-old stallion, whom she considers the most important cog of the wheel at Olympics. Many have praised Karlsson and her heroics in equestrian and that of beyond it.
Even before she decided to represent the island nation, Karlsson had build up a reputation as a professional show-jumper and a prominent figure in equestrian business in the Scandinavian region. Very little has it been noted that, though Karlsson has a number of horses in her stable, Chopin has a special place in her heart.
"Chopin is the most closest, he is the king of the stable. The very special thing about Chopin is he was born at my place, he had been by my side since he was born. I have followed him since his day one on this earth. He is very special", she explained with motherly love.
Unknowingly, yet destined to grow up and grow old with horses, the now reputed show-jumper her passion for horses and riding began at the age of seven. With time and tide, the passion only grew stronger, with show-jumping becoming her core in life by the time Karlsson reached 20. Never in her wildest dreams had ever Karlsson imagined of becoming who she is right now. But when it all started, it was for the mere love of horses.
"I was so in love with horses and in the end it all became natural to pursue this."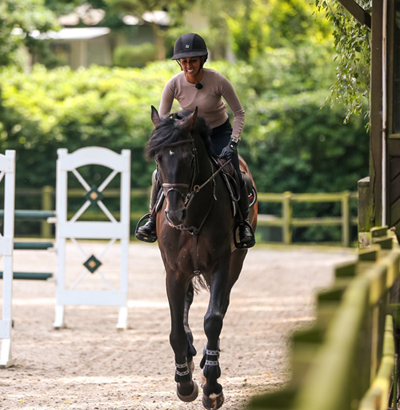 For someone who took up show-jumping seriously at 20 and being able to turn professional within a matter of a decade, was a journey Karlsson had paved gradually. Olympics was a platform she began to crave to dominate, soon after she became a pro. Turning professional, reaching international stage and competing at Olympics were never her goals during her early humble days. Yet, the love for horses remained intact.
"I knew that horses would become a big part of my life, but I never thought that I would become where I am today," she added, explaining further of her behind-the-curtain activities even during her Olympic qualification was disproved initially. Karlsson's preparation process, from the initial stage, was made focusing the real hero behind the scene, Chopin VA.
"I was continuing at shows, training my horses, there was never a change. We prepared my horse just as we would go to the Olympics. Chopin never had a clue if we had a trouble and he might not go to the Olympics. He was trained and managed just as nothing happened. Due to Corona again, there was less shows, but I was very fortunate that I could visit the stables and continue riding horses. We did have lesser shows, but we kept going to shows and trained the horses."
To make her journey worth and counting, Karlsson had a wonderful team of professionals handl0ing and training Chopin for the big event in Tokyo. The groomer of Chopin, Nikolay Borisov Nikolov, breeder Manfred Von Allwoerden, who joins her team in Tokyo as horse assistant personnel, veterinarian Jaky Lilian Marie and training pass Aenne Mueller have been shadows behind through Karlsson's journey to Tokyo and at the Games.
"In 2019, my qualifying year, I told my trainer that I may change my flag to Sri Lanka, and he believed in me strongly that the entire team put their fullest effort through the whole process."
Chopin VA has three owners, out of which Karlsson is one and the other being Manfred, the horse's breeder. Even the owning group were unanimous in their decision to make Karlsson's Olympic dreams come true.
"I'm so blessed to have them both on my side, It's not every day that people will be around you to support. Chopin is very special, he's one of the best horses in the world. A lot of people have offered extremely huge amounts to buy him but we are highly realistic. When you are offered a lot of money, any owner would obviously sell the horse, and I would understand if they did. They were strong-headed to keep this horse for me to take to the Olympics. I only can thank these two people for giving me that belief."
That trust and belief had uninterruptedly moved on with Karlsson through her journey to Tokyo, as the whole team is highly focused on Chopin. Karlsson hopes that her combination and understanding with Chopin, that ages nearly 12 years, will somehow provide a remarkable dividend when they showpiece their skills on Monday, August 2, at the Sea Forest Cross Country Course.
To make that hope a reality, Karlsson highly banks on Chopin, as he does on the rider and his most trusted human companion.
"We do have other horses as well. But presently, Chopin is the spotlight. It's not only about his character. He is such a talented horse, he is a pleaser, I can feel him, he does everything to please me. He knows what I like and what I don't like. I have been following him, just as he knows everything about me. He trusts me, he thinks I'm the best rider of the world, because he doesn't know anything else. He believes so much in what I do and with his talent, it's so easy for me to look good. It's incredible."