Appreciations
View(s):

He built up a virtual empire through his astute, visionary and skilful leadership qualities

R. Rajamahendran  

Having led a life of virtual anonymity, this trail-blazing icon, with his untimely demise, has at last put a face to a name for the whole nation to see! In spite of having seen the mega performances brought to all of Sri Lanka and beyond, on his Maharaja Broadcasting Corporation (MBC) network and the production of groundbreaking films, the general public had so far, not seen the 'face behind the scenes' so to speak!

A gentleman to the core, he stood tall among his peers with his decisive, honest and forthright stance in all his dealings. Known as 'Killi' to his close family and confidants and 'RR' to his many associates, beneficiaries and company executives, he was a philanthropist and businessman par excellence!  A little known quality was that he was an aficionado of exquisite art and crafts – a connoisseur of classical art.

He built up a virtual business empire through his astute, visionary and skilful leadership qualities. His vision was to create a Sri Lanka sans corruption and graft! His mission; to even stake his life in exposing the many wrongdoings of those criminally inclined politicians, public servants and business leaders alike. He directed his media bravely in an attempt at ensuring justice to the public, in the face of threats to himself, his business and to his family and friends. The gargantuan task he undertook was to fight for the sovereign rights of the common man to voice their opinion, despite the shackles of political oppression, through the mandating of media freedom!

Like the proverbial 'Phoenix', he virtually rose from the ashes; first when his manufacturing empire was burnt down to the ground, in spite of most of his closest friends, group directors, staff and associates, being Sinhalese and secondly, when his state-of-the-art media studios were ruthlessly destroyed. He came out of both catastrophes without one word of despair, hatred or vengeance. He proved his true mettle by supporting his staff economically and with nerves of steel built up an even more formidable business empire.

Though he ran a formidable, well oiled publicity machine, he shunned publicity himself. He was never seen on a political stage or even in his mega-entertainment events. He only appeared in public when he paid tribute to his own galaxy of employees. With the rise of his business enterprises, his primary motive was to build up a nation of talented sportsmen and sportswomen, especially in the fields of cricket, netball, basketball and athletics. He helped to revolutionize the former two games, so they could bring pride to the nation. Accountability and transparency were his key words and his motto: the 'courage to be different'!

Countless employees and beneficiaries have enjoyed his generosity and assistance in their personal distress. 'Magnanimous' is the word in describing the helping hand he extended to all who reached out to him. A few of them, sadly, are conspicuous by their refusal to reciprocate or even admit the step up the ladder in life, which they received from him. Numerous are those in the sports and entertainment scenes who have reached greater heights through his sponsorships and competitions. All these were done spontaneously, with the aim of providing an equal opportunity for those 'haves' and 'have nots', with exceptional talent!

He had a superior knowledge on any subject of business, political or general significance. Not a man for mincing his words when seeing injustice being done, he would steadfastly stand by his convictions and would 'play his cards straight', or as they say, 'shoot from his hip' even at the risk of drawing flack from his detractors.

He initiated the innovative 'Sirasa Gammedda Team' which comprised committed personnel who could identify, address and solve problems of the needy which were beyond their means or control. They were members of his own regular staff, who selflessly volunteered to dig deep into the grievances of villagers in the interior of the country, that he could not personally reach.  This was a prime example of his humanity and concern for the needy!

Ever willing to entertain family and friends with open arms, his charming personality engulfed one and all! Whether entertaining diplomats, VIPs and international visitors, colleagues, friends or staff members, he was very cordial and kept everyone amused with his jokes, anecdotes, even entering into superficial arguments. This he did just to let his hair down. He was so attentive to each and every one of his guests, even to the extent of personally seeing that everyone had their 'fill', opening vehicle doors and seeing them settled in their seats when leaving.

He has left an indelible mark in the hearts and minds of the people. He has left behind a legacy that will enable his heirs and the Capital Maharaja Group leadership to continue following in his exemplary footsteps, boosting the economy of the nation while standing up for those deprived Sri Lankans who are voiceless.

His legend will live on.

On behalf of a sad but proud family!

Desmond de Silva
---
Grateful for the precious love that a father and daughter shared 
 Ranjit David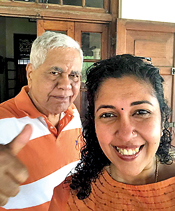 How does one write an appreciation to a person who meant everything to you, who supported you every step of the way and brought you to where you are today? Usually when someone near to our family passes, my dad, used to ask me to write an appreciation and he would check it for me. Today, I sit alone writing this appreciation – knowing he's not there to check this for me, but hoping I have made him proud in some small way. It's been nearly four months since my dad left me and every day has been hard.
Dad – Ranjit David, was an amazing man, and this is not just a daughter's perspective, but this is about a man who was a great father, husband, father-in-law, grandfather, brother, uncle, cousin, colleague, neighbour and friend. If I was asked to describe him in one word, I would not be able to. He was generous and giving, humble and honest, caring yet assertive, loyal and dedicated, wise and cautious, humorous and fun, and most of all to me, loving and concerned.
Growing up with him as my dad was the best gift I could have been blessed with. He was always an active part of my life as a father, from making sure my school booklists were in order – to the extent of neatly writing out our names on special stickers on school books, to my days at the Law Faculty, where he would make sure he gets all the necessary government publications for me to make sure I want for nothing – as far as my studies were concerned.
Family meant everything to him. The way he cared for his siblings was an example to us all. Respect those older to you, regardless of human failings was something he showed us by example through how much he respected both his elder brothers and sisters. His love for his youngest sister, despite differences was obvious given his concern for her wellbeing to the very end. His nieces and nephews were treated like his own children. He would always check on families, make sure he made routine calls and visits to those not well, or lonely.
As a true sportsman, he did his alma mater – St Michael's Batticaloa proud, being on the national basketball team, and the team for cricket and football. In the later part of his life he was an ardent tennis player, and we would have constant banter about his sports trophies versus mine for music. He never boasted about his achievements, rather silently continued to help others and give them the push they needed to start a career.  He didn't insist that I also pursued sports, but instead encouraged me, together with my mother, every step of the way in my musical journey.
I can proudly say that without his support, my musical career certainly would not have got started. Dad would patiently wait till my music lessons were over, and pick me up from Manning Mansions every week. He would get me my favorite pizza – which was then from Sponge- and stand by the gate of my school, to make sure my lunch break was sorted during both my O'L and A'L examinations. Education was important to him. He was a strict disciplinarian and made sure correct values were instilled in me -dressing decently and neatly, where respect would be earned by the way you carry yourself and behave, to values of commitment, hard work and loyalty. Reporting to work, unless you were really sick was something he insisted upon.
He would make it a point to talk and joke with my classmates – memories they fondly shared, a few weeks ago. He would talk to all the girls in the choir, whenever they visited home for choir practices, and put up with all the noise. If I had a concert coming up, it was dad who insisted that I had proper publicity. He hated not being in control and wanted to do things 'his way' – but always with the best of intentions. He would always tell me 'time and tide wait for no man" and insist on making the most of every opportunity.  Procrastination was taboo. He led by a life of example. Time was precious, which is probably why he lived life to the fullest, with no regrets. He taught me to dream big, accept challenges and always be positive.
He was never too busy for anyone, a lesson most of us can learn from him- including myself. Anonymous calls and pranks on sometimes innocent victims were a favourite pastime and I fondly recall the many times together with his nephew Jude, he would make prank calls and we would be in fits of laughter.
He was wise in his decisions, and humility was key- wealth was not a want, but rather need based, and his needs were very little. In my opinion, dad was the perfect role model for a dad, – where he would silently watch me grow, advise me when needed, but most importantly support me on every move of my life.  He would always be encouraging and not forget to give a word of support or show appreciation.
He was an honest man, and would not fail to point out mistakes. Lies and deceit he detested. Life throws at us many obstacles and challenges along the way, but to be able to face them all, in a dignified manner was what my dad did. Never have I seen him being anxious – or rather if he was, he never showed it. He was God fearing and believed in a personal relationship with God, not merely out of duty or obligation.
I could go on and on about the man who was my hero, who was indeed the best gift God gave me. He taught me many lessons in life, but I think the most important lesson he taught me was when he left his earthly dwellings – in that – nothing in life is permanent, and I quote from a note he left behind "Everyone has to go through birth, aging, sickness and death, there is no exception, — this is life"– but in this journey of life, it is important that we leave behind beautiful memories for those who will continue to travel on the train of life.
My dad – Ranjit David, left the best of memories for me, and so many others to treasure forever. As I continue to try to keep his legacy alive  and uphold the values he instilled in me, I live in hope that I would someday meet him never to be parted again. Till then, I would always remain – Ranjit David's daughter, something he never wanted me to forget. They say a daughter/father bond is very special, and I am truly grateful I got to experience the precious love that a father and daughter shared -memories I cling on to.
Soundarie David Rodrigo
---
 The dapper, extraordinary man of science is no more
Dr R.O.B. Wijesekera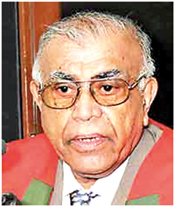 It is with great sadness that we record the passing away of Vidya Jyothi Dr R.O.B. Wijesekera (or R.O.B. to many) on July 12. He was 93.
Dr Wijesekera took chemistry at the University of Ceylon and started his career as a Research Officer at the Medical Research Institute (MRI), primarily working on medicinal plants. He had his postgraduate studies at the University of  Sheffield in late 1950's and was well known for his work on tannins. He later joined the Ceylon Institute for Scientific and Industrial Research (CISIR and ITI now) where he took the lead in building the portfolio of projects on natural products.
I first met him during this time when he, as a visiting lecturer, taught us Organic Chemistry. I was often fascinated by his lectures not because of the organic chemistry content but because he would always connect natural products and plants to organic chemistry. I am not sure whether the syllabus had these elements, but he would go deep into plant products, and the medicinal properties of plants, just as a Weda Mahatmaya would. Amongst the academic staff, he held a special place always very dapper in matching clothes with a pipe tucked into his trouser belt.
When I was on my postgraduate studies in England, one of the Professors having learned that I came from Sri Lanka, asked me about Dr R.O.B. whenever we met. They had been in Sheffield together and he held Dr R.O.B. in high esteem.
Dr R.O.B. then moved to the international arena, mostly with UNIDO; he was in the West Indies for a considerable time working on essential oils and was later responsible for developing UNIDO's technical assistance programme on medicinal and aromatic plants. His work was well received by the international community; he was the proud recipient of the Guinness Medal for outstanding achievements.
Upon retirement from UNIDO, he was appointed the Chairman of Industrial Technology Institute (ITI formerly CISIR); our paths crossed again when he was appointed the first Chairman of the newly established National Science & Technology Commission (NASTEC), the apex body to coordinate science and technology. I had just left the Sri Lanka Council for Agricultural Research Policy (CARP) which has a similar mandate on agricultural research. Since he was very keen on having NASTEC achieve its objectives, we would have long discussions on these 'apex' bodies, and how these could be used for betterment of coordination in science and technology. However, at the end of his tenure at NASTEC, he was quite disappointed; the 'apex' bodies which have mandate over several different Ministries could not function properly because coordination was almost impossible.
Dr R.O.B. continued to support the scientific community in Sri Lanka. He was a Founder Fellow and an active member of the National Academy of Sciences of Sri Lanka. He was also a Past President of the Sri Lanka Association for the Advancement of Science and the Institute of Chemistry. One of the lecture halls of the Institute of Chemistry is named after him.
Dr R.O.B's immense contribution to the development of natural products is well recognised. He was very forthright and would express his views without fear or favour. His wisdom and splendid gift of repartee will be sorely missed by the scientific community. His autobiography, 'Clouds are not spheres, nor mountains cones', is a rich collection of his work and life and as he says, a world of experience to look back on.
Ranjith Mahindapala
---
He contributed much to the education sector
Al-Haj A. C. M. Zairdeen
Marhoom Matale Al-Haj A. C. M. Zairdeen, an educationist of extraordinary talents and successful administrator who contributed much to the education sector passed away on Friday, June 4.
Zairdeen was the son of Abdul Kader, a businessman formerly a CID Officer in the Police Department in Matale. Zairdeen received his early education at Zahira College, Matale and completed a science degree at Madras Christian College. His first appointment was as a science teacher at Akkaraipattu Central College in 1960.
He worked with then Principal I. Ibralebbai to start the science division at the Akkaraipattu Central College.  The Akkaraipattu region has since then produced many doctors and engineers.
At the time when Marhoom Zairdeen was serving at Akkaraipattu Central College there was no fence to demarcate the boundary of the school. He took the initiative to instal a fence bringing wooden fence posts cut from the nearby forest. Some students were arrested by the police when carrying the logs and  Zairdeen solved the issue after meeting his elder brother, then Ampara DIG A. B. A. Gafoor, travelling from Akkaraipattu to Ampara on a push cycle via the forest path.
He was transferred to Matale Zahira College and after serving as a Principal there for a short period, went to Mawanella Zahira College and served many years as Principal.  I was then in the G. C. E. A'L class.
He started the science stream at the Mawanella Zahira College and produced many science graduates, doctors and engineers from the school, further developing the structure formulated by M. S. A. Wahid who served as Principal before him.
Marhoom Zairdeen became Principal of Gampola Zahira College on the invitation of then Education Minister Badi-ud-din Mahmud.
When M. H. Mohammed was Minister of Muslim Religious and Cultural Affairs, Zairdeen was appointed Director of the Department of Muslim Religious and Cultural Affairs, the only appointment outside the Sri Lanka Administrative Service. After serving three years in this post, he was appointed  Government Agent (GA) of Trincomalee.
He was Acting Principal of Colombo Zahira College for a short period when he was serving as the Director of the Department of Muslim Religious and Cultural Affairs.
He married Rehaan and they had three children. Sons Rushdie and Umar, both in IT are in the USA and their only daughter is a pediatrician.
He was involved in politics in the Matale District from the United People's Freedom Alliance (UPFA) in 1994 but unfortunately was not elected.
May Allah offer him his esteemed Jannathul Firdouse.
Al-Haj N. M. Ameen
---