Tug o' war over Wayamba's new medical unit
By Tharushi Weerasinghe
Historical disputes drag back university, hospital upgrades
View(s):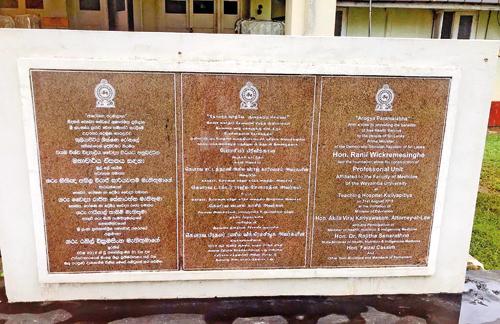 Government politicians are agitating against any move to shift the construction of Wayamba University Medical Faculty's Professorial Unit from Kuliyapitiya to Kurunegala as a committee appointed to assess the proposed move holds fire on a decision.
There has been toing and froing over the university, its medical faculty and now a professorial unit under successive governments.
"All this is the result of resource mismanagement for political reasons but we have to make the best of the situation now," Sri Lanka Freedom Party General Secretary, Minister Dayasiri Jayasekara, told the Sunday Times.
During his tenure as chief minister of Kurunegala in 2014, the University Grants Commission asked Mr. Jayasekara for land upon which to build Wayamba University's medical faculty. He allocated 14 acres of land just 3km away from Kurunegala town for the project.
Reversing this decision, the Yahapalana government that took over in 2015 with Akila Viraj Kariyawasam as education minister brought the medical faculty to Kuliyapitiya.
The Sunday Times reached out to Mr. Kariyawasam for comment but he was not available.
Mr. Kariyawasam procured a German loan for the development of the university. The budget for the Professorial Unit alone was set at Rs. 7.9 billion. The rest of the construction was budgeted at Rs. 19bn and the initiation of the masterplan itself was to cost Rs. 9bn, according to Mr. Jayasekera.
"The money, though borrowed, has not been utilised for what it was supposed to be utilised," Mr. Jayasekara said.
Only a foundation had been laid for the construction of the Professorial Unit in 2018 before a government change in 2019 halted the project yet again.
"About 40 lakhs have already been spent on soil tests for the unit at Kuliyapitiya and the completed design has been paid for, so we would only exacerbate further misuse of resources if the decision was again reversed to bring the unit to the Kurunegala Teaching Hospital," Mr. Jayasekera said.
He added that while former minister Kariyawasam's decision to bring the faculty to Kuliyapitiya was misguided, the consequent improvement of Kuliyapitiya Hospital had been of benefit to people in surrounding electorates.
Mr. Jayasekera claimed the Government Medical Association's current pushback against building the Professorial Unit at Kuliyapitiya was driven by personal agendas as consultants were reluctant to work in rural areas such as Kuliyapitiya. "They claim that the Medical Council is against the unit staying at Kuliyapitiya: why, then, did the Medical Council agree to send it there a few years ago?" he asked.
Preclinical training for the 2017/28 batches of medical students has been held up from last year. The training envisages that a Professorial Unit be ready as planned at Kuliyapitiya by 2023. "The best option now is to go ahead with the plan that was started," Mr. Jayasekera said.
The decision to build a medical faculty for Wayamba University was made in 2014 by then education minister S.B. Dissanayake. It was built in 2016, together with hostels and other components, at a cost of Rs. 5bn.
Medical faculties are usually attached to a teaching hospital – Peradeniya and Kalubowila are examples – but as the closest such institution was Kurunegala Teaching Hospital, 37km from the Kuliyapitiya, a decision had been made to make Kuliyapitiya Hospital, then simply a base hospital, a teaching hospital, a source told the Sunday Times on the basis of anonymity.
Thus, Kuliyapitiya Hospital was gazetted as a teaching hospital in 2019. "But this was merely a label," the source said, claiming that the required facilities for the hospital to function as a teaching hospital did not eventuate.
This became even more problematic when a gazette of 10 April 2021 documented the minimum standards of medical education into common law.
Regulations require that the teaching hospital affiliated with Wayamba University contain certain attributes that Kuliyapitiya Hospital lacks.
The Sunday Times' source said about Rs 17bn worth of construction would be needed to give Kuliyapitiya teaching hospital status.
Kurunegala Teaching Hospital, on the other hand, only needed a few more wards to gain the requirements of a professorial unit. "Kurunegala Hospital is ready whereas Kuliyapitiya Hospital is not," the source said.
Assadduma incumbent Venerable Rathana Bharathi Thera, who has overseen religious activities in the electorate and at Wayamba University since the university's inception in 1991, claims delays in building up Kuliyapitiya Hospital are the fault of divisional secretariats that did not release allocated land in time.
"The building was to have an accident ward and a professorial unit with 15 and 9 units allocated for each respectively," he said.
Since Kuliyapitiya Hospital's hospital facilities had not been properly developed people were reluctant to seek treatment there, he said, but added, "It's common sense that once the facilities are given, patients will come".
Ven. Rathana Bharathi Thera also said people in the area were disappointed with their representative's response to their wishes. Earlier this week, Kurunegala Minister Johnston Fernando claimed medical experts and not politicians should decide where the Professorial Unit should be built.
Last month, Prime Minister Mahinda Rajapaksa issued instructions for the building of new units at Kuliyapitiya Hospital. How this will affect the pending decision on the Professorial Unit remains to be seen.